Gallery
GE Healthcare Innova IGS 540

Innova IGS 540
Tour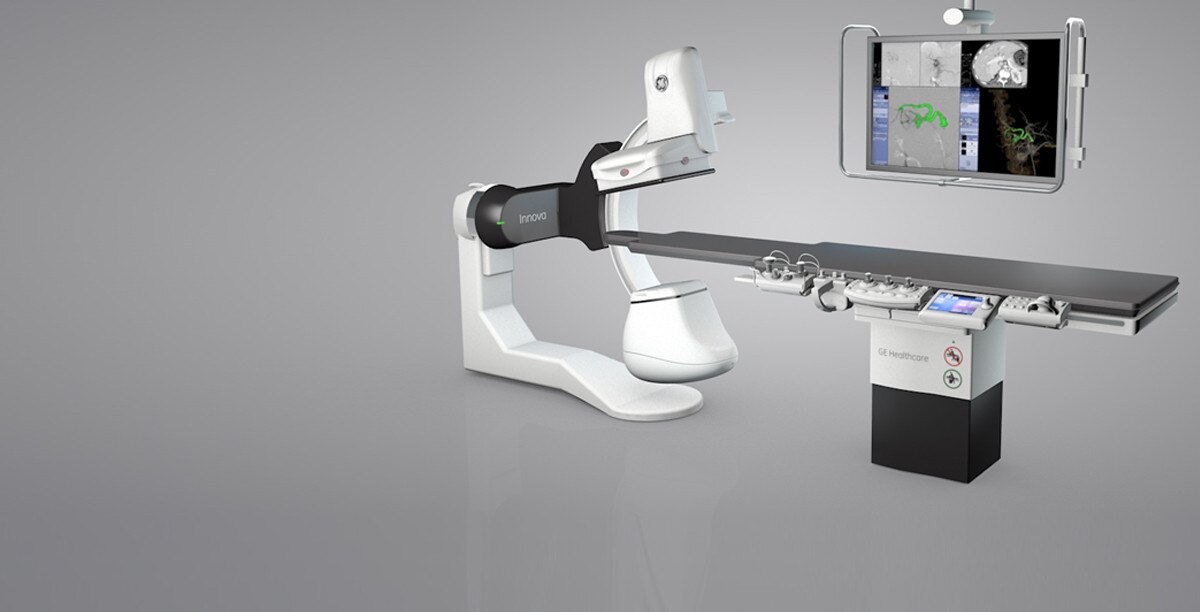 Excellent anatomical coverage

The Innova IGS 540 with its 41 x 41 cm (16.1 in) square flat-panel digital detector boasts one of the largest fields of view for vascular and interventional imaging. It can cover large anatomies, such as both legs simultaneously, designed for fewer runs than smaller detectors, enabling efficient use of contrast and dose.

Superb image quality with high Detective Quantum Efficiency (DQE)

The proprietary angiography flat-panel detector offers one of the industry's highest ratings for Detective Quantum Efficiency (DQE), a parameter internationally acknowledged as an index of detector performance in contrast- and dose-limited imaging performed in clinical studies. High DQE enables better-quality images at the same dose, or the same quality image at a lower dose.

Lower dose by design

GE designs systems from the ground up with the tried and trusted GE imaging chain, optimized to provide the image clarity you need while keeping dose as low as possible. Our dose-reduction features empower you to easily optimize and personalize dose settings from the tableside, while maintaining clinical details you need to make well-informed decisions. But improving dose management takes a strategy – what we call the GE Blueprint. It includes low-dose imaging technologies for minimally invasive procedures, but also considers the people, culture and processes around them.
Learn more.

Simple, centralized, automated controls

Control your system and images with integrated, intuitive tableside controls. With simple menus, the Central touchscreen lets you control most system functions, configure the system, modify imaging parameters, control your large display monitor, and manipulate advanced applications – all at the tableside. The comfortable, easy-to-grasp control knob makes it easy to pan the table, position the gantry, and perform procedures.
All-in-one large display monitor

The full-color 142 cm (56 in) diagonal 8 megapixel medical-grade large display lets you view multiple images from multiple sources. Get up to 120 customized layouts, easily changeable at tableside with the Central touchscreen. Zoom in comfortably without loss of detail or pixilation to get the clinical focus you need.
Clinical Applications
Over 20 advanced applications to help you plan, guide and assess complex procedures
GE Healthcare offers a full suite of advanced applications designed to help improve your lab efficiency and enhance clinical confidence to plan, guide and assess complex procedures. They can be used across a full range of interventional procedures whilst being built to answer dedicated challenges. Example of a brilliant innovation in Interventional oncology is FlightPlan for Liver that helps plan TACE procedures by automatically highlighting vessels traveling from the catheter tip to the hypervascular lesion.
Procedures
Liver embolization
To deliver therapeutic material to tumors during trans-arterial chemoembolization therapy, it is essential to identify the liver vessels accurately. But the liver's complex vasculature can make precise identification of tumor-feeding vessels in 2D and 3D images a challenge, often requiring significant time, radiation, and contrast media.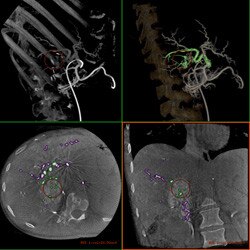 Plan
FlightPlan for Liver helps you plan your liver embolization procedure. It automatically highlights vessels traveling from the catheter tip to the vicinity of a liver hypervascular lesion.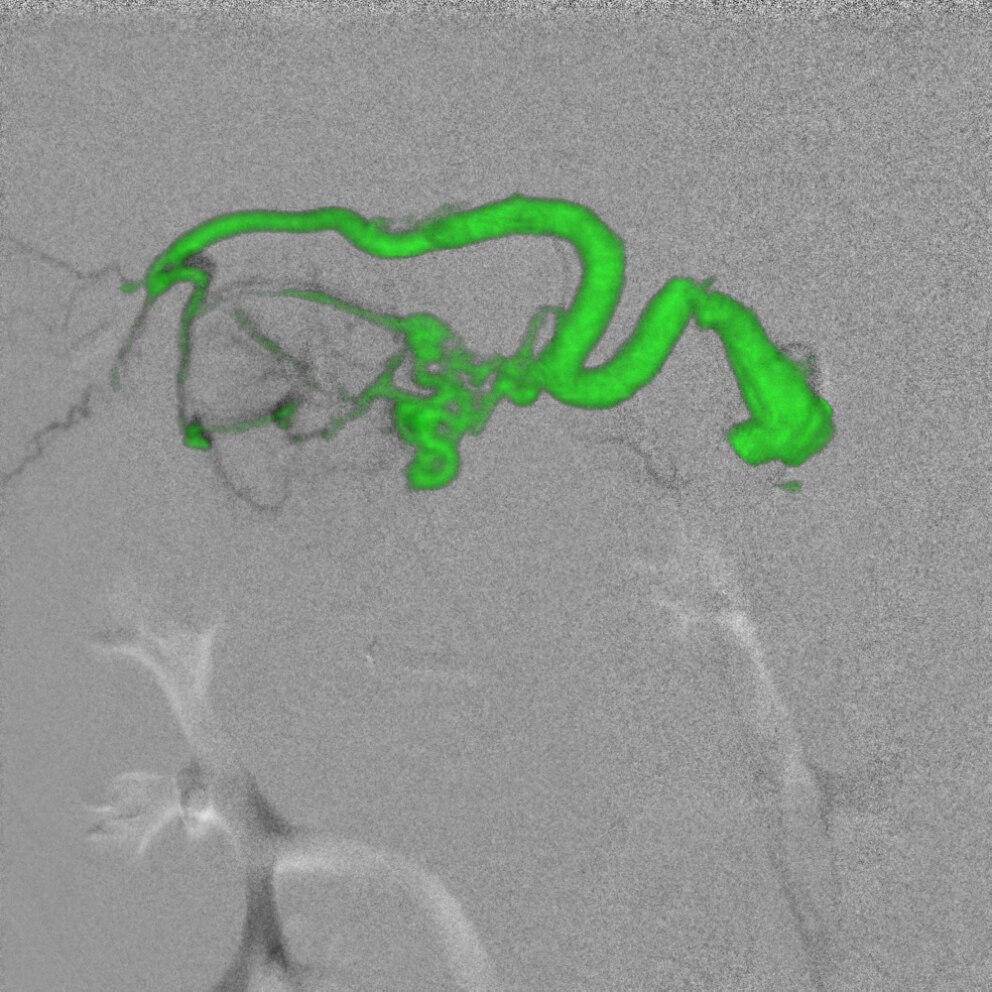 Guide
Once ready, you can send the FlightPlan for Liver 3D model to Innova Vision with a single click and use it as a 3D roadmap to guide catheters across tortuous vessels and bifurcations, helping you perform the embolization with confidence.
Needle procedures
Performing needle procedures in the interventional suite frees up your CT system and provides better access to the patient. However, under fluoroscopic guidance, it may be challenging and time-consuming to find the right entry point and advance the needle while avoiding critical structures.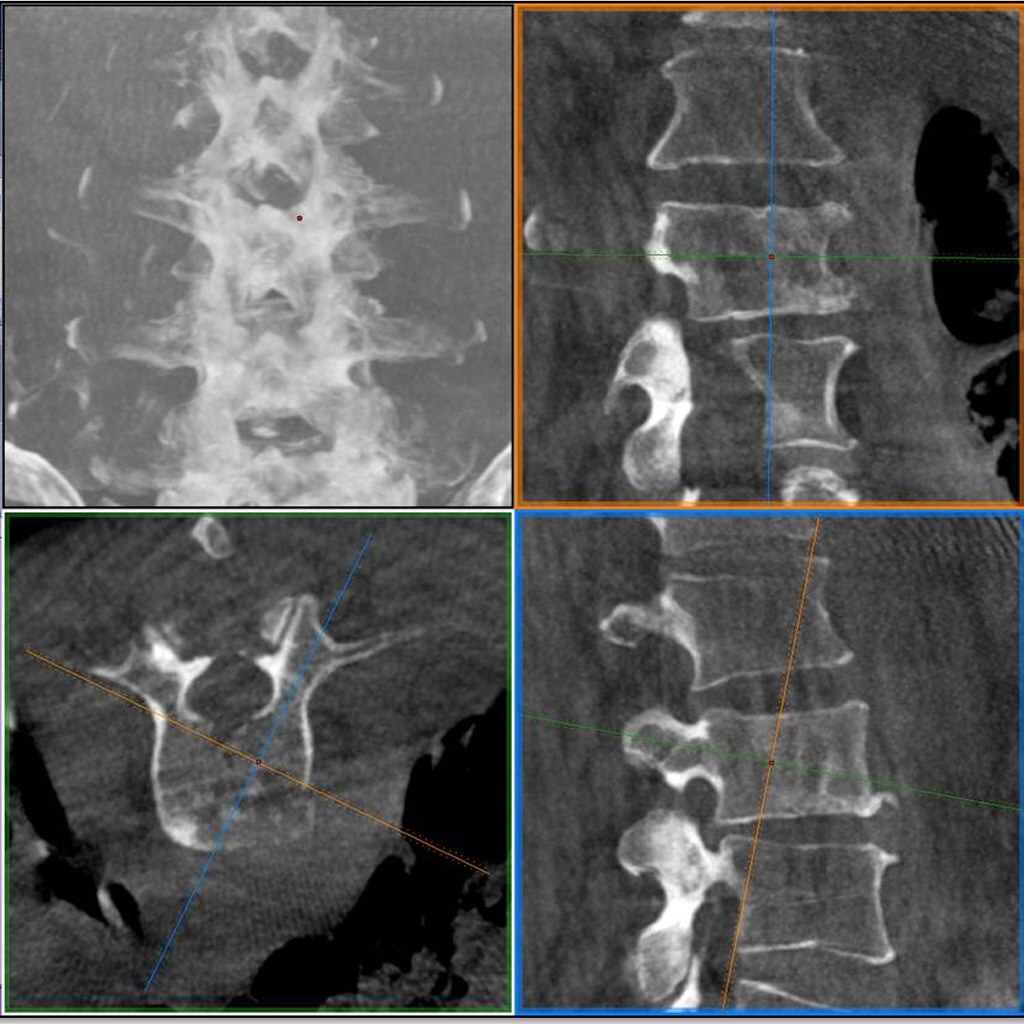 Plan
With Volume Viewer and Trajectory Planning, you can plan the procedure using outstanding 3D information and determine the optimal skin entry points and needle paths.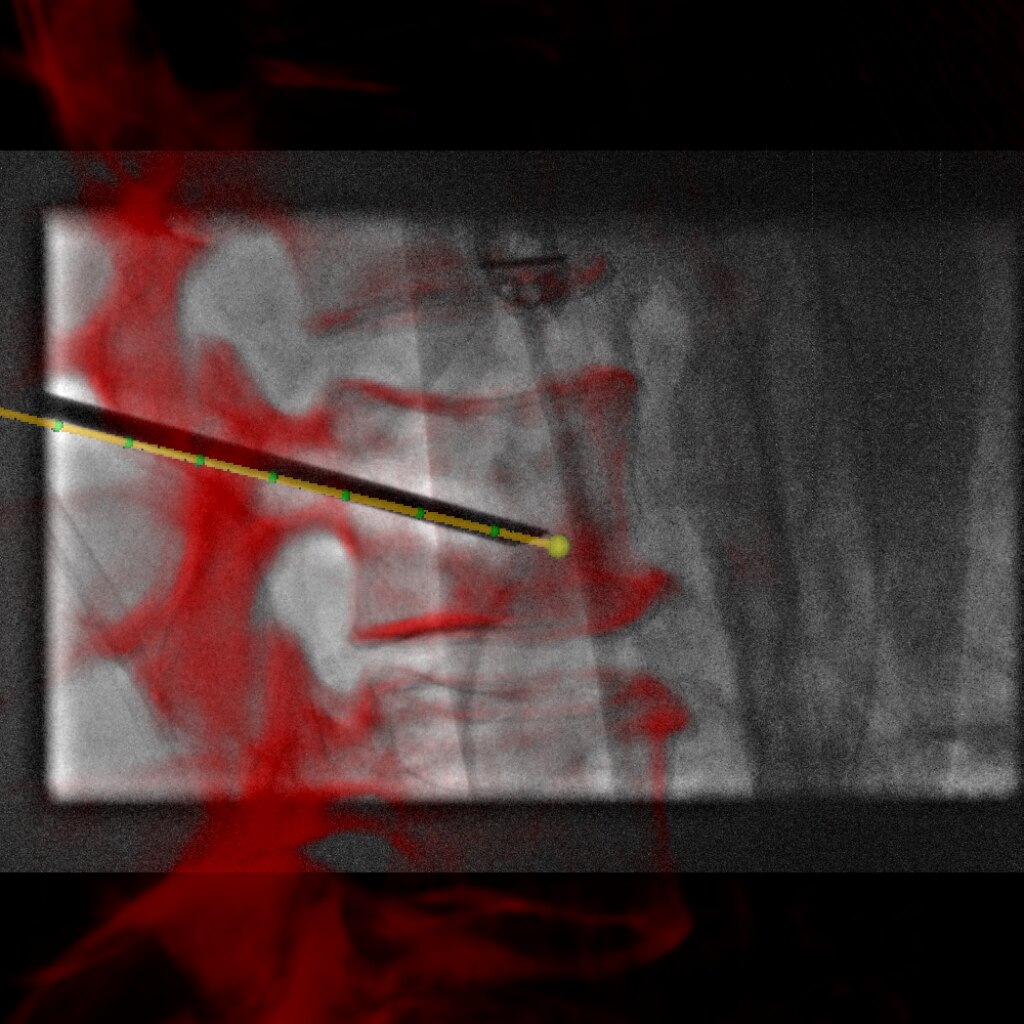 Guide
With Innova TrackVision, you can guide your needle along the trajectory that will follow the C-arm angulation and table movement. Plus, a dedicated algorithm overlays the bone anatomy and helps you correct for even small patient motion, helping to facilitate accurate needle trajectory registration at any time during your procedure.
Portal Vein Embolization
The objective is to embolize only the branches that correspond to the part of the liver that will be resected. The portal vein has numerous anatomical variations, with many different branches that can be difficult to distinguish one from another on 2D fluoroscopic images. To do this with confidence, you must understand the exact position of the catheter in the anatomy and control the embolization phase in real time.
Plan
With Innova 3D, you can depict the full liver portal system and select the branches to be embolized without being bothered with vessel tortuosity and superimposition issues.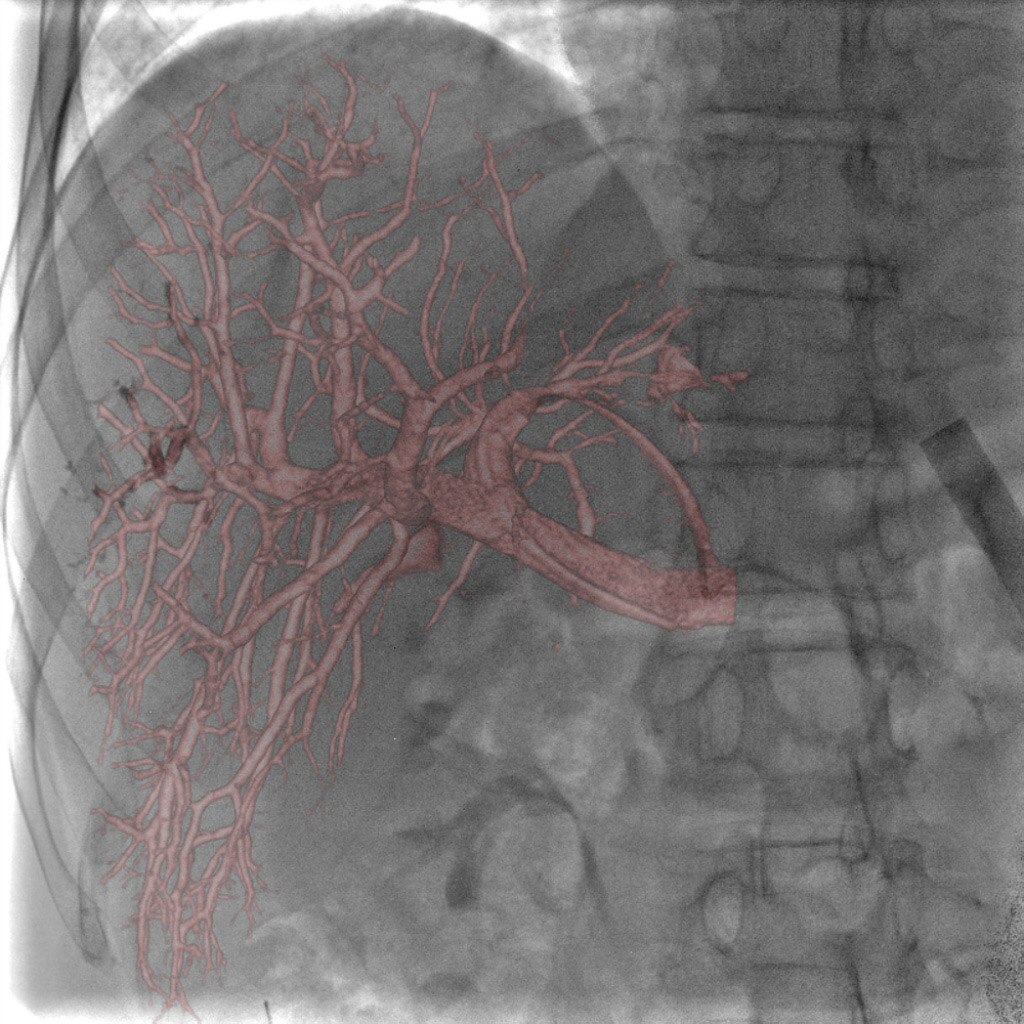 Guide
Using Innova Vision, you can fuse the 3D information on live fluoroscopy in the lab with real-time adjustment of the C-arm angulations and table position, offering virtual support to navigate in the anatomy and control the embolic agent material injection.
In clinical use, the results of the application of dose reduction techniques will vary depending on the clinical task, patient size, anatomical location and clinical practice. The Interventional radiologist, assisted by a physicist as necessary has to determine the appropriate settings for each specific clinical task.
1 – Option
2 – Except in following countries: Germany, Switzerland, Austria, New Zealand where that list is limited to 3 preferences
3 - For XA modality series, Integrated Registration currently supports only 3D X-Ray angiography images (stored as CT Image Storage DICOM objects) acquired with GE equipment and reconstructed with the 3DXR application.