System
Rethink your possibilities.
With the Discovery™ IGS 7 gantry, nothing on the floor or ceiling obstructs your work or limits your mobility - your freedom is nearly absolute. An untethered, laser-guided gantry carries the imaging C-arm. You can move it to the table to image any part of the anatomy, then power it back, out of the way, to precise pre-chosen positions.
Movable gantry puts clinicians in control.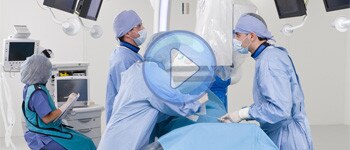 The Discovery IGS 7 provides full flexibility in your clinical space. Controls available at tableside and at the back of the gantry let you maneuver the system easily and conveniently. When in position for imaging, the gantry swivels around the table on a defined path, with precise laser guidance. Combined gantry and GE OR table movement enables you to stop and image at any point for coverage from head to toe.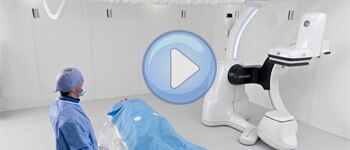 One-touch back-in and back-out means fully flexible procedures.
With the Discovery IGS 7, you can truly have it both ways: Move the gantry to the table for imaging, move it aside when needed - and all at the touch of a button. From the imaging positions at the table, you can back the gantry out to up to eleven predefined locations1. Back-out distances are customizable to suit different room sizes.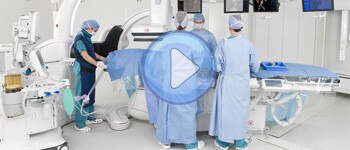 Teams work better with nothing in their way.
The Discovery IGS 7 gives physicians, nurses, anesthesiologists and technologists ample space to work together effectively. Clinicians can position on either side of the patient, according to preference. With the offset C-arm, the anesthesiologist can work comfortably at the patient's head.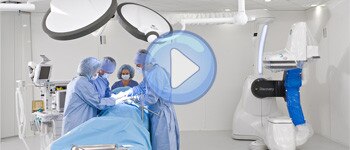 Customized parking provides the maximum freedom.
When it's not needed for imaging, you can move the gantry aside completely, allowing complete patient access at the table and enabling easy room cleaning. You can pre-configure two parking spaces to suit your room size and shape.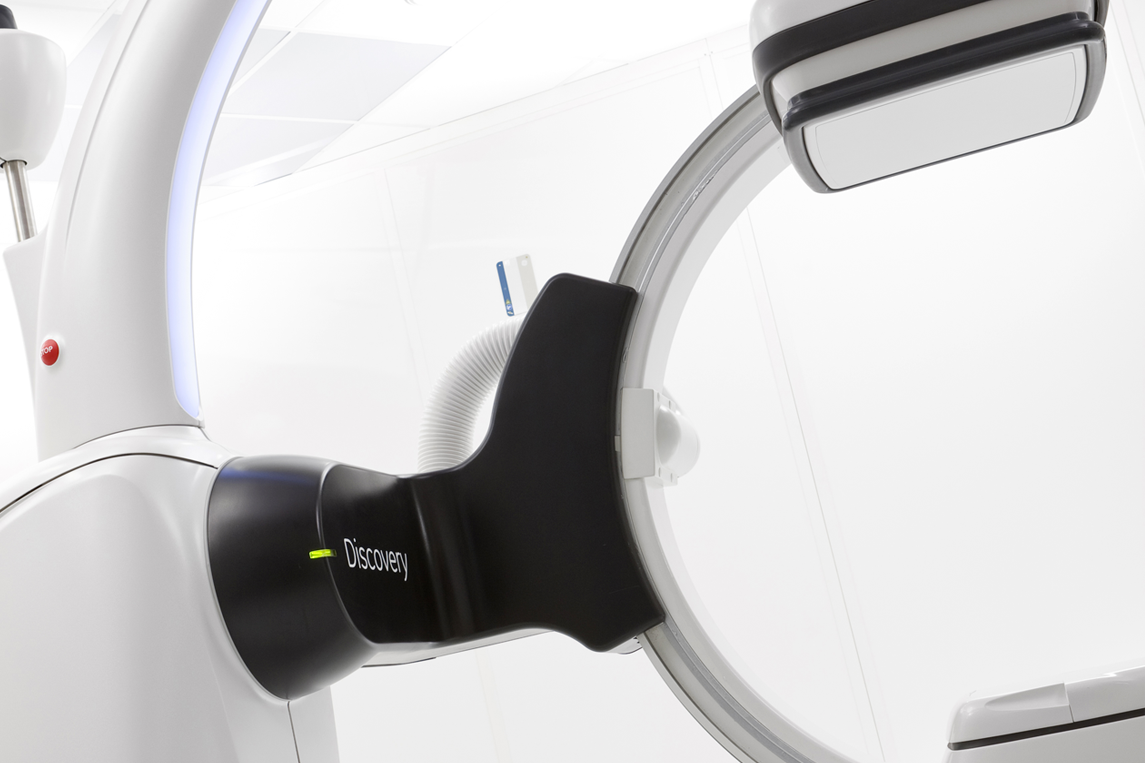 A wide-bore C-arm expands your options
With a full 129 cm (50 in) of space between the tube and the detector, the Discovery IGS 7 features one of the largest bore among major angiography providers. It provides collision-free 3D imaging to let you image large patients easily and perform cone-beam CT acquisition even for patients with arms down and intubated9.
Offset C-arm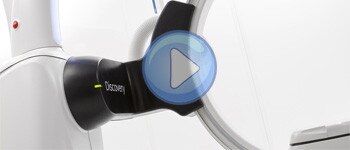 With its unique offset C-Arm, the Discovery IGS 7 enables improved access to patient head in complex interventions and helps cover head to groin without moving the gantry.
Optimal detector size adds clinical versatility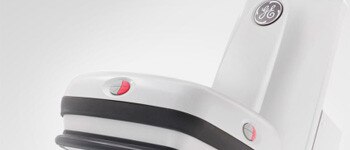 With the 31 x 31 cm (12.2 in.) detector, the Discovery IGS 7 is designed for a wide range of cardiovascular and interventional procedures. You can perform steep angulations for cardiac procedures, without compromising detector coverage for peripheral vascular procedures.
With its broad 41 x 41 cm (16.1 in.) detector, the Discovery IGS 7 system boasts one of the largest fields of view for interventional imaging.
Simple, centralized, automated controls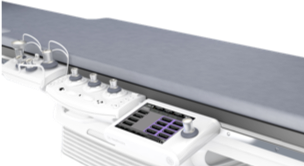 Control your system and images with integrated, intuitive tableside controls. With simple menus, the Central touchscreen lets you control most system functions, configure the system, modify imaging parameters, control your large display monitor3, and manipulate advanced applications – all at the tableside. The comfortable, easy-to-grasp control knob makes it easy to pan the table, position the gantry, and perform procedures.
Lower dose by design

GE designs systems from the ground up with the tried and trusted GE imaging chain, optimized to provide the image clarity you need while helping you keep dose as low as possible. Our dose-reduction features empower you to easily optimize and personalize dose settings from the tableside, while maintaining clinical details you need to make well-informed decisions. But improving dose management takes a strategy – what we call the GE Blueprint. It includes low-dose imaging technologies for minimally invasive procedures, but also considers the people, culture and processes around them.

InnovaSense

Advanced patient contouring technology that uses capacitive sensor to assess movement of the gantry and select the optimal position for the image receptor relative to the patient. 2

DoseMap

Display of the distribution of the estimated local cumulated dose all along the exam as well as the current projection of the beam. Alerts at configurable dose thresholds.3
3DCT HD

3DCT HD provides fine image details simultaneously on cross-sections and volume rendered to help you clearly visualize vessels, small devices and soft tissues.4
Specific acquisition parameters and automatic artifact reduction algorithms can improve image quality and increase your clinical confidence for each application.
3DCT HD MAR reduces streak artifacts induced by the presence of small metallic devices such as coils or clips within the 3D field of view.8
3DCT HD Motion Freeze is designed to reduce artefacts caused by involuntary respiratory motion during the rotational acquisition and recover small detail visibility impacted by motion.8

InnovaSpin

The offset C-arm permits fast-spin rotational angiography over a maximum range of 200° at variable speeds from 20° to 40°/sec (maximum speed of 30°/s from LAO to RAO) with flexible cranio/caudal oblique angulations. The enhanced InnovaSpinTM trajectories are not constrained to a single transverse plane and can be used at oblique angulations within physical constraints.3

InnovaBreeze

Follow the contrast bolus in real time subtracted images, using variable panning speed control, with an easy workflow.
Image pasting to visualize the entire length of the subtracted bolus chase on a single image.5
OR Solutions
Re-evaluate your options
Use precious space well with flexible room designs. Build your room into a new fully functional hybrid OR, re-configure a small room, or re-purpose an existing room. You can install the Discovery IGS 7 in rooms as small as 35 square meters (377 square feet).6 You'll have the potential to increase the procedure mix in your OR with exceptional equipment for minimally invasive procedures.
Suspension-free design removes a source of contamination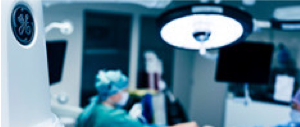 The mobile gantry leaves the room ceiling suspension-free, helping prevent contamination from airborne agents. It allows laminar flow above the surgical field even when in position for imaging, helping to meet the criteria for ISO 5 classification.7
Sterile draping adds protection
The detector and tube can be easily fitted with sterile covers specially designed not to interfere with any gantry or detector motion. Sterile drapes attach quickly and easily inside the C-arm using four simple side-mounted clasps.3
GE OR table for endovascular and open procedures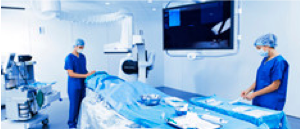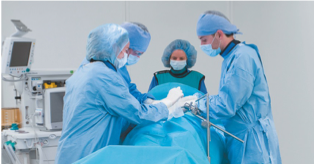 A long free-floating tabletop (333 cm) with power-assisted motion facilitates panning for heavy patients with up to 170 cm of longitudinal table travel and accommodates long catheters. The OR Table with covers and tableside user interfaces is specifically designed to reach the IPX4 level. Removable rails can be installed during the procedure by sliding the sleeve onto the table to accommodate retractors and other surgical or comfort accessories.3
1. System is delivered with default settings. Customization requires a GE representative.
2. Option. Available on IGS 730 configuration.
3. Optional on Discovery IGS 7
4. 3DCT HD is an option sold separately. Includes 3DXR. Requires AW workstation and Volume Viewer
5. InnovaBreeze is optional and it requires an AW Workstation. Advantage paste is included in InnovaBreeze.
6. 35m ² rooms can accommodate a maximum of 2 back-out. Space left for additional equipment may be limited.
7. According to simulations performed with a surgical monitors suspension using the open monitor suspension option
8. MAR & Motion Freeze are optional features of 3DXR. Sold separately. The improvement related to Motion Freeze depends on the acquisition conditions, table position, patient, type of motion, anatomical location and clinical practice, it has been assessed visually on a physical phantom.
9. Collision management features are not intended to be a substitute for careful equipment operation