Vscan Extend handheld ultrasound for helping in the treatment of COVID-19 patients
Vscan Extend™ handheld ultrasound can be used to help confirm and monitor progression of acute respiratory diseases like COVID-19.
It can help clinicians triage patients suffering from acute respiratory and cardiovascular disease with deep and shallow scanning for lungs and cardiovascular conditions with a single probe. It's portability, ease of use, connectivity (DICOM to PACS or cloud storage solutions) and cleanability makes an ideal tool for diverse care settings such as isolation wards.
COVID-19 Resources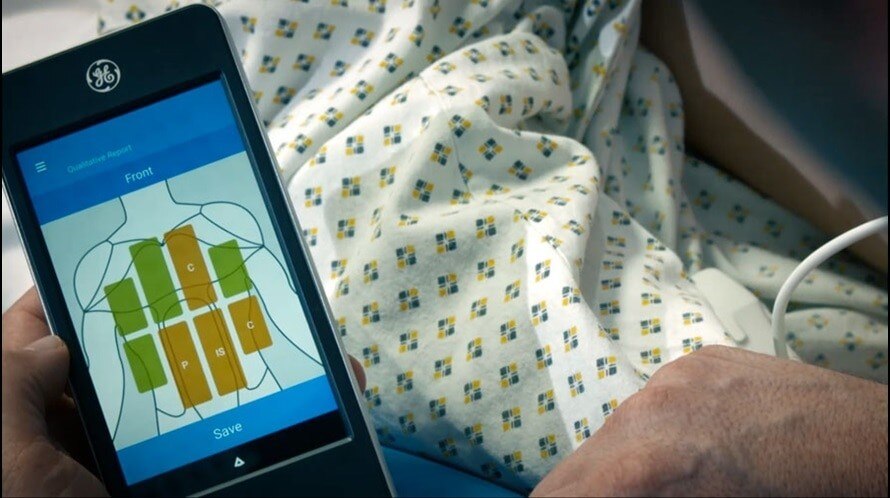 Systemic lung evaluation can be cumbersome


With Vscan Extend's Lung Protocol app you can navigate through a systematic lung ultrasound exam. The app automatically activates your scanning preset and annotates each image acquired during the lung exam. You can assess the images qualitatively or leverage a scoring system. You can configure the lung protocol according to your needs.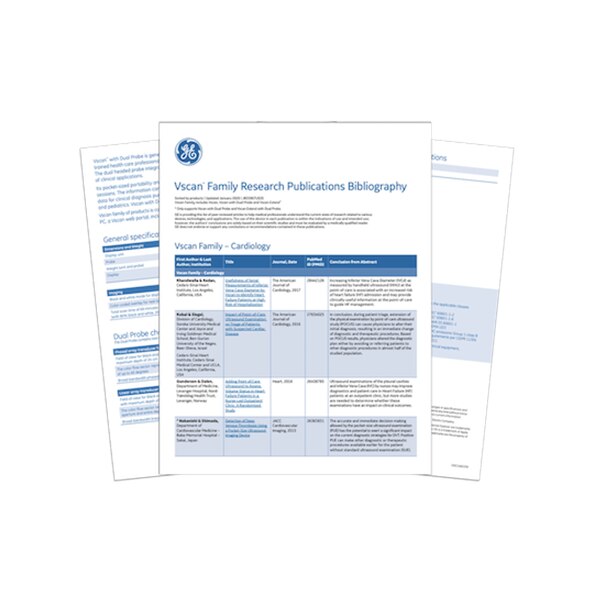 Impact of Pocket Ultrasound Use by Internal Medicine House Staff in the Diagnosis of Dyspnea
Filopei & Kory, Beth Israel, Journal of Hospital Medicine
Residents participating in lung ultrasound training with a pocket ultrasound device showed improved diagnostic accuracy in their evaluation of patients with dyspnea. The two residents who received extended training had a total increase in diagnostic accuracy across all causes of dyspnea.
Read More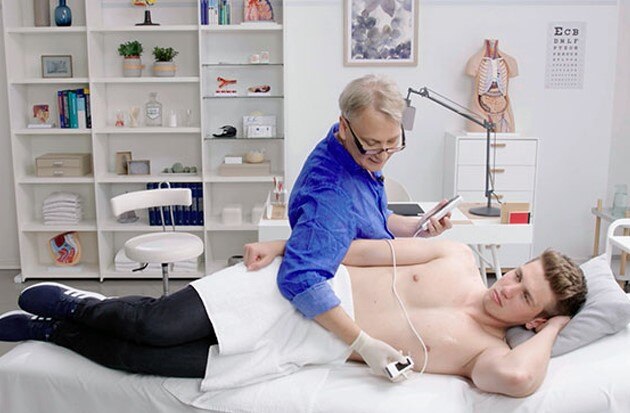 Ongoing Training: Point of Care Ultrasound (POCUS) Focus Class by 123Sonography**


The Point of Care Ultrasound Focus Class provides professionals with world-class instruction on point of care ultrasound. This package includes access to five hours of video content to help you enhance your skills and confidence with using ultrasound in your clinical practice. This program is designed for Primary Care, covering a variety of exam types, including cardiac, OB, abdominal, lung and joints.
Download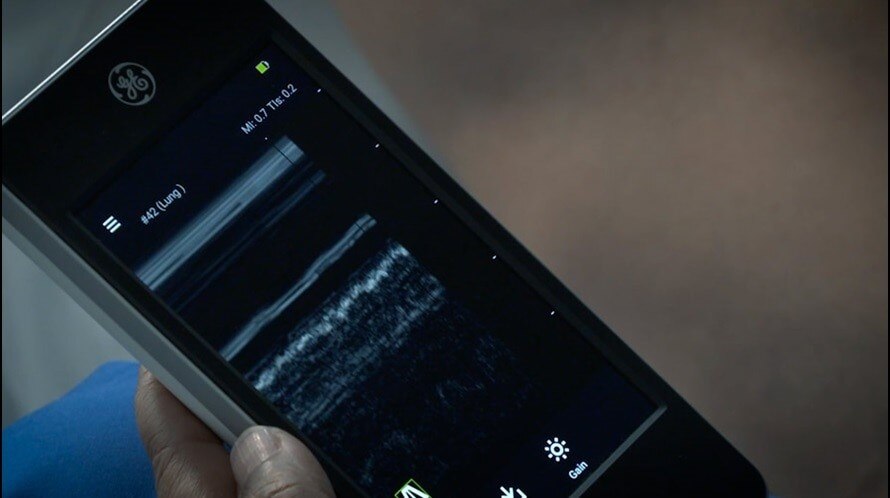 Lung M-Mode


The Lung M-mode app provides the M-mode capability specifically to support the assessment of lung and documentation of signs like seashore. After entering this lung M-mode tool, a centered vertical M-mode cursor line will be applied to generate the anatomical M-mode display. Such tool will be enabled for linear transducer with lung preset and sector transducer with cardiac preset (the recommended preset for lung assessment with the sector transducer).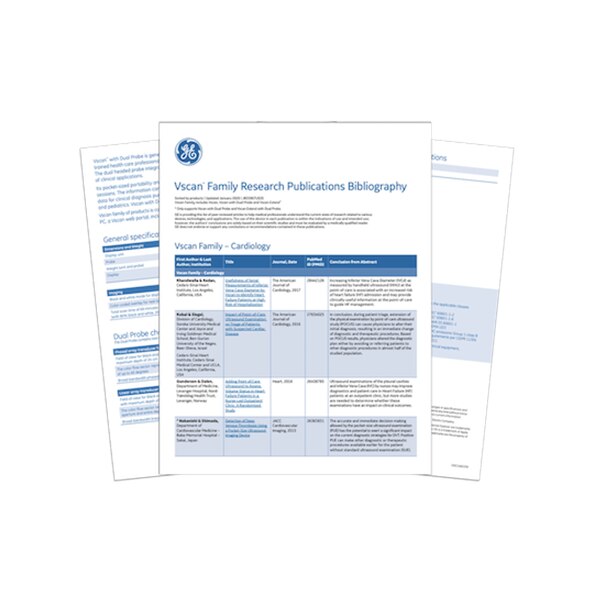 Rapid evaluation by LCI integrated US for differentiating HF from pulmonary disease in the emergency setting - Cardiovascular Ultrasound
Kajimoto & Abe, Cardiovascular Ultrasound
This study demonstrated that rapid evaluation by lung-cardiac-IVC (LCI) integrated ultrasound is extremely accurate for differentiating acute dyspnea due to AHFS from that caused by primary pulmonary disease in the emergency setting.
Read More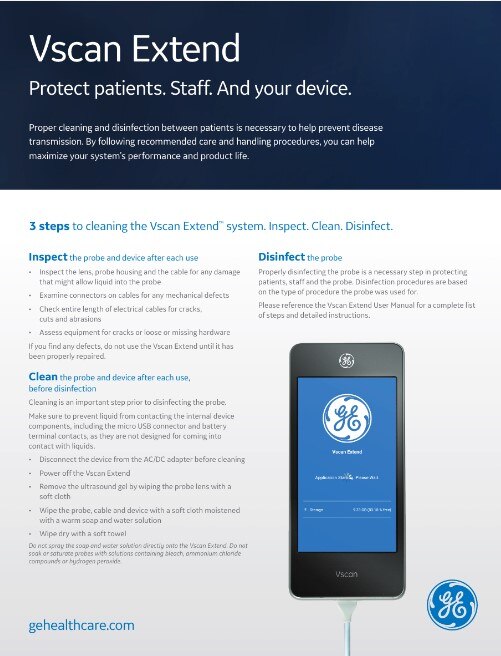 Vscan Extend: Protect patients. Staff. And your device.


Proper cleaning and disinfection between patients is necessary to help prevent disease transmission. By following recommended care and handling procedures, you can help maximize your system's performance and product life. Download our cleaning guide to learn more.
Download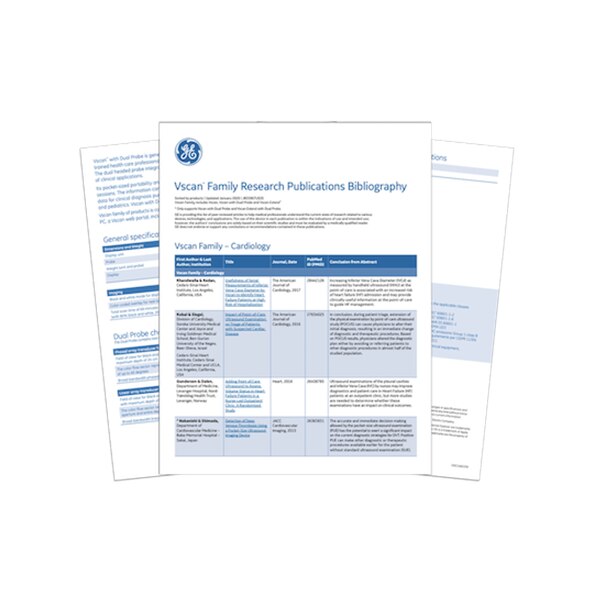 Does the integration of personalized US change patient management in CC medicine? Observational trials
Breitkreutz & Seeger, Emergency Medicine International
We propose the development of novel ultrasound-based clinical pathways by integration of PersUS.
Read More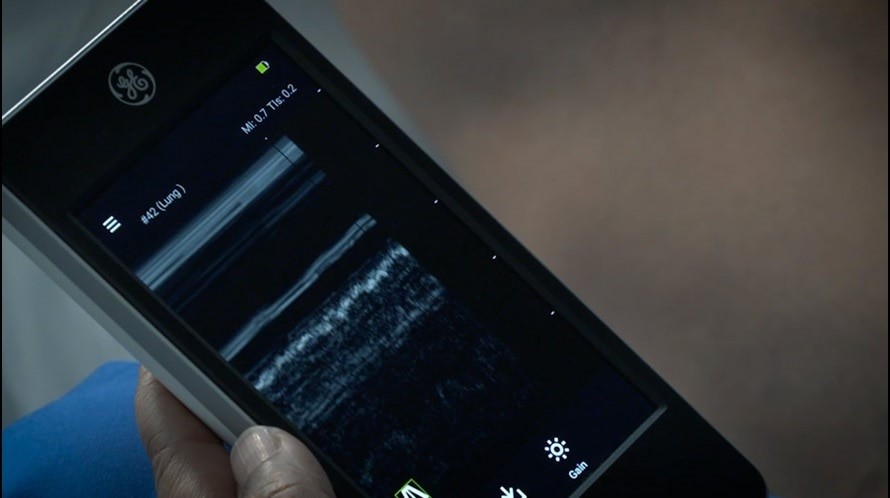 LVivo EF*

LVivo EF app is an FDA-cleared EF app that calculates ejection fraction, end-systolic and end-diastolic left ventricular volumes by automated edge detection of the left myocardial wall using apical 4-chamber views. This app has been developed by and licensed from DiA Imaging Analysis Ltd.

NOTE: Applications under GE Marketplace are available as options (not available in all geographies).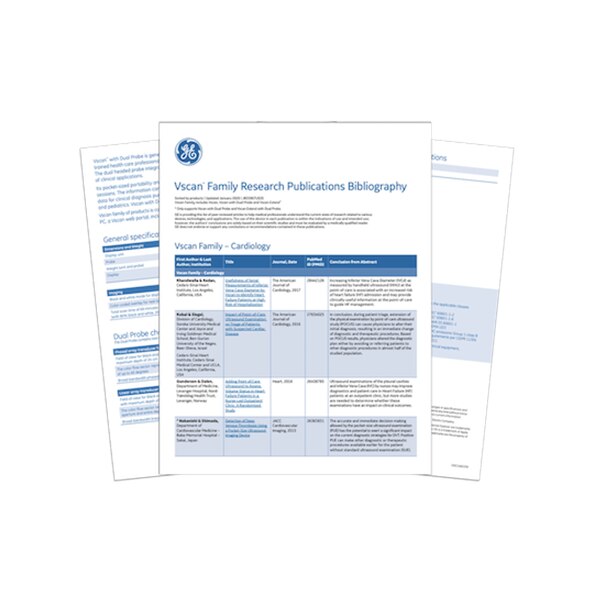 Imaging congestion with ultrasound, prognostic implications in patients with chronic heart failure
Gustafsson & Johansson, Journal of Cardiac Failure
With the use of a handheld ultrasound device, signs of pulmonary congestion could be demonstrated. When found, these had a significant prognostic impact in clinically stable HF.
Read More
*Available for purchase. LVivo EF app is developed and licensed from DiA Imaging Analysis, Ltd.
**GE Healthcare is an authorized reseller of 123sonography Point of Care Ultrasound (POCUS) FocusClass.
The power of new apps, right in your pocket

Robustness of Vscan Extend

The Roadmap of Vscan Extend
Benefits of Vscan Extend
Handheld Ultrasound: Make decisions at the point of care

Two transducers in one probe for easy exams

An interface that feels like your smartphone

Wireless image transfer makes documentation a snap

Access to GE Marketplace - Extend your power
Point of Care Ultrasound Training
POCUS Focus Course

Brought to you by 123Sonography,* the Point of Care Ultrasound Focus course helps to address the knowledge gap within ultrasound, providing professionals with world class instruction on point of care ultrasound. This package includes access to five hours of high quality video content, easy to follow hands-on demos, practical clinical examples and proven didactive principles to help you be more competent and confident in your clinical practice. All from the comfort of your office with online learning. This program is designed for Primary Care, covering a variety of exam types, including cardiac, OB, abdominal, lung and joints.

Preview Heart course Preview Aorta course download PDF

SonoSim 365 for GE Healthcare

A portable, virtual ultrasound training experience utilizing real patient cases with a broad spectrum of normal and pathologic conditions. SonoSim 365 for GE Healthcare provides convenient ultrasound education through integrated didactic instruction, hands-on training, and knowledge assessment. This offering includes a SonoSim Probe, SonoSim Drive, and your choice of five modules immediately accessible online – choose from a wide selection of modules including anatomy, physiology, and clinical procedures.

download pdf

Remote Training

Whether you need help with a certain feature or are looking to better optimize your system after using it for a little while, our dedicated clinical sales team is here to help. You can request their time virtually in increments of 1 hour with flexibility to meet your busy schedule.
Through our online training portal, our clinical specialists can share the screen or live video of the system, as well as video of themselves so you can chat virtually with our experts.

download pdf
More power in your pocket with Vscan Extend apps
Scan Coach FATE

Scan Coach RHD

Scan Coach FCU

Bladder Volume

Lung M-Mode

LVivo EF*

Lung Protocol

Auto Optimize

Screen Mirror

Comprehensive Label

Protocol Creator

Tricefy Uplink
Education Offerings for Primary Care Ultrasound
Vscan Family Evidence

Backed by more published papers than any other pocket-sized ultrasound device

The use of this device in each publication is within the indications of use and intended use. The authors' conclusions are solely based on their scientific studies and must be evaluated by a medically qualified reader. GE does not endorse or support any conclusions or recommendations contained in these publications.

view vscan research publications bibliography
General Overview

Battery

Configuring Image Server

Exams

GE Marketplace

Menu

Monitor Display

Presets & transducer selection
The device has been verified for limited use outside of professional healthcare facilities. Use is restricted to environmental properties described in the user manual. Please contact your GE Healthcare sales representative for detailed information.