GE Healthcare is here to support you in the COVID-19 pandemic.
SmartMix BP Cuff Consultative Services
Addressing your continuum of patient care.
Our BP cuff specialists offer comprehensive programs that help reduce costs and enable workflow solutions in complex hospital environments - places where reusable or disposable options are sometimes not enough. SmartMixTM BP Cuff Consultative Services spans your continuum of care.

New RADIAL-CUF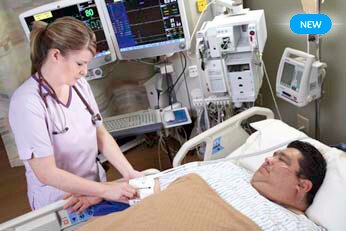 Introducing the first-to-market, clinically validated solution for accurate and repeatable BP measurement of obese patients.
The CRITIKONTM RADIAL-CUF delivers NIBP readings from the forearms of obese patients - a population in special need of accurate measurements. It was carefully designed for the forearm and validated in a clinical study1 - and the first of its kind.
Accurate BP measurements are essential to patient care and help support quality outcomes. Upper arm BP cuffs may not properly fit the conical-shaped arms of obese patients, and our clinical study found that using an upper arm cuff on the forearm will understate the systolic BP by 10 mmHg on average.2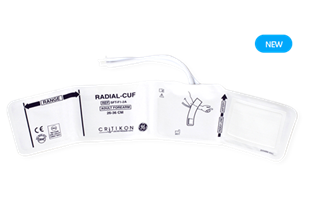 This limited-reuse cuff can be paired with a single patient throughout the hospital stay, helping your infection control efforts. The RADIAL-CUF is made of soft, absorbent material and has rounded corners for patient comfort. The material does not contain DEHP or natural rubber latex, enhancing your patients' safety.
Download the RADIAL-CUF White Paper
Download the RADIAL-CUF Brochure
1. GE Healthcare sponsored and compensated Clinimark, LLC for managing and executing the clinical portions of this study. (March 2008/December 2011)
2. GE Healthcare sponsored clinical study report - Accuracy Study of a Noninvasive Forearm Blood Pressure Cuff in Comparison to Invasive Radial Arterial Blood Pressure, DOC1102668.
New RADIAL-CUF Gallery
Dr. Bikovski discussing obesity statistics

Dr. Bilkovski and Clinical accuracy of NIBP reading

2014 Innovation Celebration winner: GE Healthcare

CRITIKON RADIAL-CUF application
DINACLICK Connector
DINACLICKTM and Neo-SnapTM are GE's latest connection systems for both single-tube and dual-tube CRITIKONTM blood pressure cuffs.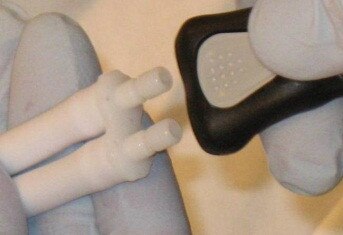 DINACLICK
Innovative and easy-to-use design allows clinicians to quickly connect/disconnect adult and pediatric blood pressure cuffs and provides standardization of your monitors. The audible click lets users know there is a proper connection, and the ergonomically-designed system makes the DINACLICK nearly effortless to use.
DINACLICK connector benefits:
Improved safety. Minimizes the possibility of misconnections with luer-style connectors
Improved workflow. Decreases manual connection time
Universal connectivity. Standardization solution for single-tube and dual-tube BP cuffs
Intuitive design. Easy-to-use
Non-metallic components. Material design allows for use in MR environment
Patient safety. Not made with natural rubber latex or DEHP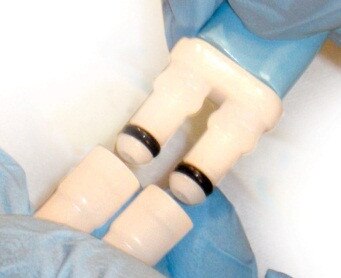 Neo-Snap
The Neo-Snap connector for neonatal blood pressure cuffs is designed to standards that help prevent unintended disconnections. The Neo-Snap connector provides a secure connection with audible click and tactile feedback.
Neo-Snap connector benefits:
Improved safety. Connector meets international standard for improved patient safety
Secure connection. Prevents accidental disconnection
Easy-to-use. Smooth, 360 degree connection that does not have to be aligned to make a secure connection
Patient safety. Not made with natural rubber latex or DEHP