Achieving zero preventable harm is at the core of patient safety initiatives worldwide. It is believed that up to 3 million people die each year globally due to medical errors.1 In US hospitals alone, over 98,000 deaths and approximately 400,000 adverse events happen each year due to medical errors.2
A leading cause of medical errors is patient misidentification. In fact, the first goal of the Joint Commission's National Patient Safety Goals is to improve the accuracy of patient identification.3
Pointed efforts required to navigate away from patient misidentification
Based on a review of published studies focused on patient identification errors, the ECRI Institute identified five overarching themes regarding potential solutions for decreasing patient identification errors.4
Improve the design of physical, electronic, and assigned patient identifiers
Provide identification alerts during order entry
Employ technology and automated-systems safety checks
Improve registration measures
Gain local cultural acceptance of processes to provide feedback, avoid workarounds, and monitor processes
The report further states that despite the priority placed on patient misidentification by the Joint Commission, significant problems remain. A combination of good equipment design, smart technology, staff acceptance of changes, and outcomes measurement is likely required to enact improvement with patient misidentification.
In radiology, patient misidentification can lead to wrong anatomic site/side imaging as well as a missed or delayed diagnosis, unnecessary patient exposure to ionizing radiation, and a decrease in resources and department efficiency.
Improvements for the mobile X-ray workflow with patient safety in mind
Portable chest radiography represents 69% of patient misidentification errors in radiology.2 This is likely due to mobile X-ray being used throughout the hospital at the point of care—the bedside, emergency room, operating room, intensive care unit, critical care unit, and neonatal intensive care unit—often with a patient who is unable to communicate with the technologist because they are intubated, unconscious, or asleep.
GE Healthcare understands the importance of eliminating patient misidentification errors. The newly released AMX™ Navigate delivers a Zero-Click Exam and Effortless Workflow that simplifies and automates the exam from patient verification to image acquisition—with up to 100% reduction in user clicks. Here's how it works.
Effortless Workflow employs RFID badges, a barcode reader, automated protocol selection, and gridless software, along with artificial intelligence applications. At the bedside, the technologist swipes their badge to log in. Next, they utilize a handheld barcode reader to scan the patient's wristband, automatically matching the patient to the worklist to reduce the risk of incorrect patient selection.
Then, Auto Protocol Assist automatically recognizes the type of exam for this specific patient and displays the appropriate imaging protocol while auto advancing to the image acquisition screen. The technologist then initiates the exam. For chest exams, the system verifies that there is no protocol mismatch, that the images match the order, and that there are no quality errors, such as an incomplete field of view or incorrect image orientation. If an error is detected, the technologist will receive an on-screen alert and in the case of an image rotation error, the system will auto-rotate the image.
In addition to reducing patient identification errors, Effortless Workflow on AMX Navigate reduces exam and patient set-up time, increasing the technologist's productivity. AutoGrid software is compatible with Zero-Click Exam, and will automatically apply grid software if the protocol calls for the use of a grid and no grid is present. And by automatically assigning the protocol, this technology reduces variation in imaging technique, thereby improving the quality of mobile X-ray imaging.
Innovating imaging technology for a safer tomorrow
Innovation in imaging enhances patient safety and ensures high-quality clinical insights in radiology departments and practices across the US, especially in high-volume imaging exams such as X-ray where efficiency is critical. Improving equipment design, enabling automated, "zero-click" workflow, providing identification alerts, and using automated-systems safety checks are solutions that can help.
Whether it's avoiding patient misidentification, enabling consistency in imaging technique, or identifying critical conditions, GE continues to invest in solutions that innovate workflow and improve the imaging experience for both patients and technologists.
---
Learn more about how artificial intelligence with Critical Care Suite is helping identify critical cases, facilitate ET tube placement, and provide Quality Control feedback in portable X-ray.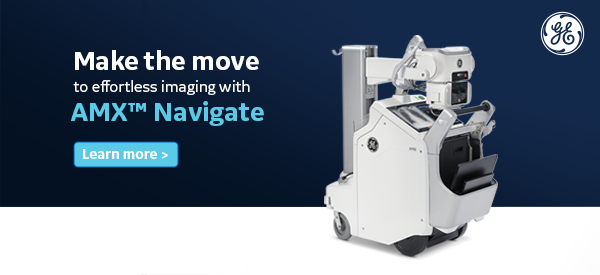 ---
REFERENCES
Available at https://patientsafetymovement.org/. Accessed on June 1, 2022.
American Journal of Roentgenology, 2015, 205, 337-343. 10.2214/AJR 14 13339
The Joint Commission. National Patient Safety Goals. January 2022. Available at https://www.jointcommission.org/standards/national-patient-safety-goals/-/media/131f1a35ea9743eca04b9858b73b0a93.ashx. Accessed on June 1, 2022.
ECRI Institute. Patient Identification Errors. June 2016. Available at https://www.ecri.org/Resources/HIT/Patient%20ID/Patient_Identification_Evidence_Based_Literature_final.pdf. Accessed on June 1, 2022.