In its first earnings report as a standalone company, GE HealthCare announced yesterday that its organic revenue* grew 13% in the last quarter of 2022. Double-digit growth was driven by the newly independent company's Imaging and Patient Care Solutions businesses.
"GE HealthCare delivered strong revenue growth in the fourth quarter and full year 2022, driven by robust end-market demand, improved pricing, and easing supply chain pressures," GE HealthCare President and CEO Peter Arduini said. "Revenue growth reflects our progress to offset delivery challenges and improve product fulfillment."
GE HealthCare completed its spin-off from parent company GE in the first week of 2023 and now trades on the Nasdaq exchange under the ticker symbol GEHC. Arduini continued, "Looking ahead, we're confident that our accelerated investment in innovation, as well as standardization across platforms, will drive revenue and margin growth. We're seeing customers continue to invest, along with macroeconomic tailwinds, such as increasing healthcare digitization, expanding access to care, and an aging population globally. We are well positioned to deliver on our 2023 commitments."
"I'm incredibly proud of the work our team has done to complete the spin-off of GE HealthCare," Arduini said. "The energy across the company is palpable and there is tremendous excitement and focus around our purpose to create a world where healthcare has no limits."
The company reaffirmed the financial guidance for 2023 that it provided earlier this month, including organic revenue growth* of 5% to 7% year over year. It also provided adjusted earnings per share (EPS)* guidance of $3.60 to $3.75, versus $3.38 of standalone adjusted EPS* in 2022.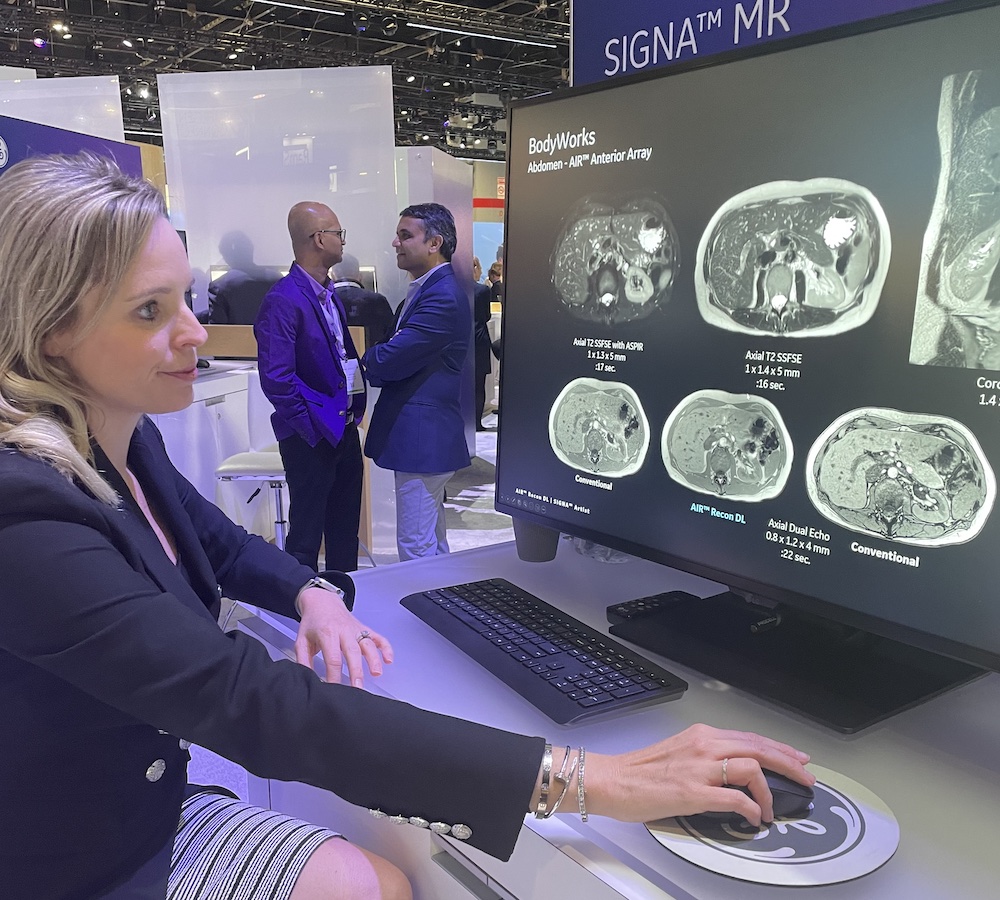 GE HealthCare's AIR Recon DL MRI software improves the image quality of MRI while also reducing time spent in the scanner.
Also driving the strong financial results are technological innovations that GE HealthCare is bringing to market for the first time. GE HealthCare's deep-learning-based MRI software, AIR Recon DL, both improves the image quality of MRI and speeds up what can be a long time in the scanner, something that can difficult if the patient is anxious or in pain. This technology was recently named "Best of What's New" by Popular Science magazine.
GE HealthCare is also adding innovative technology in fast-growing areas. One example is a novel way to guide doctors when they conduct minimally invasive interventional procedures such as biopsies and ablations. Developed by a French company, IMACTIS, CT-Navigation uses 3D imaging to help doctors navigate to the precise point in the body to conduct certain procedures faster, and it is already in operation at 80 sites in Europe and the U.S. GE HealthCare announced plans to acquire IMACTIS in early January to help bring this advancement to a global healthcare market.
CT-Navigation uses 3D imaging to help doctors navigate to the precise point in the body to conduct certain procedures faster.
Emphasizing the importance of technology excellence in the future of healthcare and medical devices, Arduini also highlighted the recent appointment of Taha Kass-Hout as GE HealthCare's chief technology officer. Kass-Hout was most recently vice president of machine learning and chief medical officer at Amazon, and also served as the FDA's first chief health informatics officer. Precision care, a pillar of GE HealthCare's strategy, aims to deliver a highly personalized course of treatment based on a patient's genetic makeup, health history, family medical history, and lifestyle choices. By using healthcare artificial intelligence (AI) applications to better understand, monitor, and predict a patient's health journey, precision care can help with disease prevention and, when diseases occur, enable clinicians to make more informed treatment decisions.
For the fourth quarter, revenues of $4.9 billion increased 8% and 13% on an organic basis* year over year, driven by growth in Imaging, Patient Care Solutions, and Ultrasound. GE HealthCare's net income was $554 million, versus $564 million for the prior year, while adjusted EBIT* was $844 million, versus $827 million. Additionally, standalone adjusted EPS* for the fourth quarter of 2022 was estimated at $1.06, which includes the impact of standalone costs, interest, and tax.
For the full year, GE HealthCare's organic revenue* grew 7%, at the higher end of the company's growth target. While China was impacted by COVID for most of the year, the company saw increased momentum coming out of the fourth quarter. Globally, there is a healthy backlog heading into 2023 as customers continue to invest in Imaging, Ultrasound, and Patient Care Solutions, Arduini said.
Adjusted EBIT margin,* a measure of the company's profitability, declined to 15.6% for 2022, impacted by inflationary pressures and planned R&D investments. The company has several levers to expand margins through strategic pricing, enhancing volume and mix, and increasing variable cost productivity, said Arduini. Adjusted EPS for the full year was $4.63.
"We expect to capitalize on robust demand in 2023 as we continue to execute on clear revenue growth drivers across our segments," said Arduini. "And we are optimizing the business through lean, giving us confidence in our ability to reach our margin target and drive meaningful shareholder value creation over the long term. Our full team is united and excited by our purpose-driven approach for the benefit of the customers and patients that we serve."
*Non-GAAP financial measure. The reasons we use these non-GAAP financial measures and the reconciliations to their most directly comparable GAAP financial measures can be found within GE Healthcare's fourth-quarter 2022 earnings materials, at investor.gehealthcare.com.
Forward-looking Statements
This communication contains forward-looking statements. These forward-looking statements might be identified by words, and variations of words, such as "will," "expect," "may," "would," "could," "plan," "believe," "anticipate," "intend," "estimate," "potential," "position," "forecast," "target," "guidance," "outlook," and similar expressions. These forward-looking statements may include, but are not limited to, statements about the Company's expected financial performance, including revenue, profit, taxes, earnings per share, and cash flows, and the Company's outlook; operational improvements; demand; the Company's strategy, innovation, and investments; and shareholder value creation. These forward-looking statements involve risks and uncertainties, many of which are beyond the Company's control. Factors that could cause the Company's actual results to differ materially from those described in its forward-looking statements include, but are not limited to, operating in highly competitive markets; the actions or inactions of third parties with whom the Company partners and the various collaboration, licensing, and other partnerships and alliances the Company has with third parties; demand for the Company's products, services, or solutions and factors that affect that demand; management of the Company's supply chain and the Company's ability to cost-effectively secure the materials it needs to operate its business; disruptions in the Company's operations; the global COVID-19 pandemic and its effects on the Company's business; maintenance and protection of the Company's intellectual property rights; the impact of potential information technology, cybersecurity or data security breaches; compliance with the various legal, regulatory, tax, and other laws to which the Company is subject and related changes, claims, or actions; environmental, social, and governance matters; the Company's ability to successfully complete strategic transactions; the Company's ability to operate effectively as an independent, publicly-traded company and achieve the benefits the Company expects from its spin-off from General Electric Company; and the incurrence of substantial indebtedness in connection with the spin-off and any related effect on the Company's business. Please also see the "Risk Factors" section of the Company's Form 10 filed with the U.S. Securities and Exchange Commission and any updates or amendments it makes in future filings. There may be other factors not presently known to the Company or which it currently considers to be immaterial that could cause the Company's actual results to differ materially from those projected in any forward-looking statements the Company makes. The Company does not undertake any obligation to update or revise its forward-looking statements except as required by applicable law or regulation.