The COVID-19 pandemic affected the healthcare system worldwide with simultaneous disruptions in routine healthcare and significantly increased pressures on urgent care operations due to rapidly rising numbers of infections. The many unknowns about virus transmission and protecting the safety of patients and healthcare providers early in the pandemic led to the suspension of many elective procedures, cancer prevention programs, surgeries and specialty care including important cancer treatments.
Even before the pandemic, cancer was a leading cause of death across the globe. But initial calculations to assess missed screenings for various cancers, along with patients' fear of returning to healthcare environments implies dramatic impacts on cancer. The resulting impact is that, in addition to severe disruptions in cancer services, fewer cancers may have been detected and now the result is expected to be seen in higher numbers of late-stage cancers, more complex and costly treatments, and indirectly cause more cancer-related mortalities. [1]
Clinicians have been working tirelessly to maintain progress in cancer care and health workers around the globe have regrouped to support patients' physical and mental health, and resume screenings and diagnostics to ensure safe environment for treatment. New approaches to cancer care have become a priority, such as rapid diagnostic clinics like a One-Stop Clinic for Breast Care, new mobile units enabling lung health checks centered around low dose CT, and artificial intelligence (AI) technology embedded solutions. Facing an uphill battle, these healthcare heroes continue to encourage patients from all different regions and socioeconomic backgrounds to return for important screenings and treatments. They will provide treatments for increasing numbers of projected newly diagnosed and advanced cancer patients due to missed care or diagnoses during the pandemic.
The impact of missed screenings on cancer detection
Cancer screening is an effective preventive measure that can reduce cancer incidence and mortality.[2] Experts believe the disruption to cancer screening services because of the global pandemic will have a significant impact on patients, health care practitioners, and health systems.[3]
In addition to the continued focus on meeting the current demand for cancer screenings, health providers also need to focus efforts on democratizing care by reaching out to patients who don't have access to healthcare or who have missed screenings during the months when these services were suspended, and creating a strategy around fully serving their patient communities as the number of patients able to be seen per day has likely decreased due to the new safety protocols.
Under these new circumstances, the value of patients understanding their own risk factors for breast cancer for instance, such as breast density and genetics--is particularly important. 
New strategies for improving access to care
Industry partners like GE Healthcare are supporting healthcare providers with new strategies for improving access to care including capacity and workflow redesign and leveraging advanced imaging technologies for early cancer detection. GE Healthcare is strengthening innovations through partnerships with companies like Elekta to enhance radiotherapy for cancer treatment, and SOPHiA GENETICS and Optellum to bring AI into cancer care. Utilizing state-of-the-art imaging solutions such as  tomosynthesis for breast cancer screening mammography can facilitate diagnosis, and data sharing and AI tools can help to seamlessly coordinate care. Resourcing strategies are also being developed to help providers utilize the best system in each location for each patient's condition. 
The impact of COVID on care providers
While cancer prevention and screening is integral to personal and population health, the cancer industry is experiencing seismic changes due to the COVID-19 outbreak. [4],[5]  
Providers remain on a continuous mission, despite the pandemic, to improve everything about cancer care, from better health outcomes to making care more convenient. From increasing collaboration on multidisciplinary care teams to designing care around the patient's needs with flexible scheduling and increased use of telehealth options, they continue to navigate care delivery as the pandemic continues.
The global pandemic further increased the stress on healthcare systems with increased workloads, environmental stress and the adoption of complex protocols to reduce the risk of spreading the virus in the clinical setting. Because of increasing staff turnover and burnout, healthcare administrators continue to face challenges around solving for the potential for increases in demand for screening and cancer care services.
Solutions to improve the oncology clinical workflow
Recognizing the need to alleviate staff stress and improve workloads and productivity, radiology administrators report that "improved department workflow and productivity" is a very high priority and will be top of mind for the next several years[6] to address some of these challenges.
Industry partners, such as GE Healthcare, are working with partners like the Union for International Cancer Control (UICC) to come up with ways to provide new solutions to facilitate the oncology clinical workflow. They are also making improvements using data analysis tools and AI to assist in areas such as patient triage and imaging protocol management.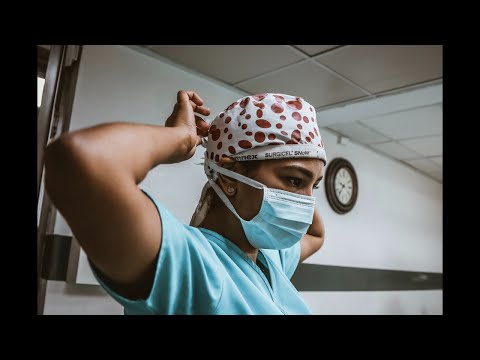 World Cancer Day 2022: Shining a light on heroes working in cancer[7]
Screening, telehealth and remote care are opportunities to impact the future of care
The COVID-19 pandemic acted as a transformation catalyst across all of healthcare, accelerating the wider utilization of patient services like pre-visit screenings and triage, telehealth and remote care. And many sites offered the ability for clinicians, such as radiologists, to work and access training remotely. 
The ability to continue to use these tools in care delivery is an opportunity to impact the future of care, not just for patients currently in treatment, but for those patients in cancer survivorship care. With many types of successful, advanced treatment options for various cancers, many patients' lives are extended, and healthcare providers can continue to monitor their long-term health and well-being follow up care with respect to recurrence and addressing cancer-treatment-related co-morbidities.  
According to experts, telehealth is an opportunity to enable improved access to cancer survivorship care.[8] It can help to assess health status, examine psychosocial behavior, manage symptoms, facilitate information exchanges, and manage care costs. Due to the pandemic, post-treatment care delivery has been able to make a transition in some cases to online health consultations.
Industry partners are also working to facilitate wider access to post-treatment tools, such as ongoing screenings for survivors. Advanced diagnostic imaging tools also provide clinicians with a consistent longitudinal history of patient disease before, during and post treatment that can inform ongoing survivorship care. Data sharing tools also allow for facilitated communication with care teams post treatment.
Focus on wellness for both patients and staff
COVID-19 also shed an important light on the rarely addressed topic of mental health and wellness of both healthcare workers and patients, as they delivered and received care, respectively.  As a result, health systems, industry and advocates are placing much needed emphasis and attention on managing the stress and wellness of healthcare providers, as well as patients, along their entire care journey, including after treatments have ended.
In light of the many lessons learned throughout the pandemic, heroic healthcare providers continue to provide urgently needed cancer care and healthcare leaders are taking the opportunity to make positive and lasting changes to the future of cancer care delivery.
---
RELATED CONTENT
GE Healthcare's oncology solutions help cancer care providers gain the upper hand. Explore how our diagnostic and treatment technologies improve detection, clinical and operational efficiency, and outcomes. Learn more here.
---
DISCLAIMER
Not all products or features are available in all geographies. Check with your local GE Healthcare representative for availability in your country.
REFERENCES
---
[3] Cancino RS, Su Z, Mesa R, Tomlinson GE, Wang J. The Impact of COVID-19 on Cancer Screening: Challenges and Opportunities. JMIR Cancer. 2020;6(2):e21697. Published 2020 Oct 29. doi:10.2196/21697
[4] Waterhouse DM, Harvey RD, Hurley P, Levit LA, Kim ES, Klepin HD, Mileham KF, Nowakowski G, Schenkel C, Davis C, Bruinooge SS, Schilsky RL. Early Impact of COVID-19 on the Conduct of Oncology Clinical Trials and Long-Term Opportunities for Transformation: Findings From an American Society of Clinical Oncology Survey. JCO Oncology Practice. 2020 Jul;16(7):417–421. doi: 10.1200/op.20.00275.
[5] Ren X, Chen B, Hong Y, Liu W, Jiang Q, Yang J, Qian Q, Jiang C. The challenges in colorectal cancer management during COVID-19 epidemic. Ann Transl Med. 2020 Apr;8(7):498–498. doi: 10.21037/atm.2020.03.158. doi: 10.21037/atm.2020.03.158.
[6] The IMV 2019 Global Imaging Market Outlook Report
[8] Frost & Sullivan. (2022). Frost & Sullivan. Global Cancer Survivorship Care Growth Opportunities. https://store.frost.com/global-cancer-survivorship-care-growth-opportunities.html