Meet two employees who help to make superconducting magnets for MRI machines at the growing Florence, SC plant.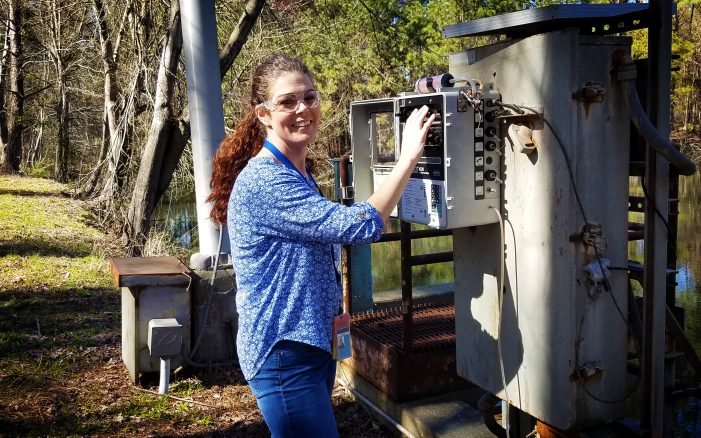 Ashley Wallace, EHS Technician at the Florence plant, checking the flowmeter at the storm water pond located next to the Post-Closure site
Florence, S.C., situated about 100 miles from the Atlantic Ocean, is home to GE Healthcare's magnet facility, a key component of MRI machines. With 30-year roots in South Carolina, 350 employees represent Florence County's seventh largest industrial employer. The skills in Florence range from high-skilled welders to advanced technicians to assemblers and engineers who boast an average tenure of over two decades.
GE Healthcare is investing $40M to expand the plant to support the growing MRI product line and is projected to add 100 jobs to the team. Ashley Wallace, an Environmental Health and Safety (EHS) technician has been working at the Florence plant for 12 years. "It's great to see so many new products being produced in Florence," said Wallace. "It shows that we are continuing to invest in this great technology and can bring it to even more patients. I'm thrilled to see new people join our team and these new jobs also offer the opportunity for current employees to try something different or expand their skillset."
Wallace studied chemistry in undergrad and started at the plant as a technician on the production side. Several years ago, Wallace told her manager she wanted to learn more about the environmental side of the business and use her chemistry degree. She was encouraged to volunteer for EHS projects to see if it would be a good fit. And last year, she got promoted to EHS technician focusing on the environmental impact of the plant and assessing how to dispose of materials properly.
"Now I have a macro, cross-functional view of the plant," said Wallace. "And I'm expanding my skillset; it was tough to leave my old job because I really loved it, but I took a leap and I'm glad that I did!"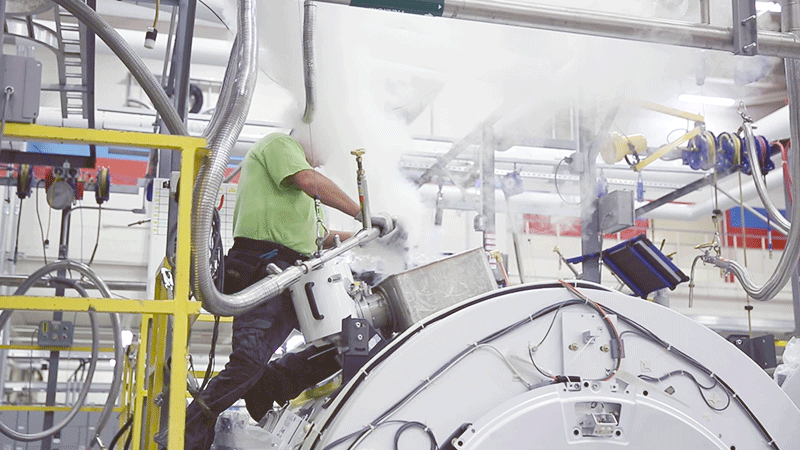 When asked what her favorite thing was about the Florence plant: "I love the people," commented Wallace. "I know a lot of people say that but the culture here is just awesome. It's very family-oriented…you really do know everyone." For Wallace, the Florence plant is literally a family business as her father, Andrew LeGette, has been working in the Florence plant for nearly 41 years. And her husband, Mark Wallace, is a staging technician working on quality testing of the MRI systems.
Investing in Florence
Over the past several years, GE Healthcare has been investing in the plant to bring state-of-the-art technology to the manufacturing process that makes the state-of-the-art MRI systems.
The 500,000 square foot facility now features a liquefaction system that recycles helium that is lost during the manufacturing process. Helium, a key component of superconducting magnets, it's a finite resource; this system helps save cost and supports GE's ecomagination commitment to enhance productivity while reducing the environmental impact. Similarly, Florence installed 5,184 solar panels last summer that produce around 2.5 million kWh annually – more than enough to power the factory at peak demand. During Florence's hot summers and cold winters, power demand surges. Thanks to the solar farm, the grid will be freed up at these crucial moments to help local families cool or heat their homes, rather than powering the manufacturing plant.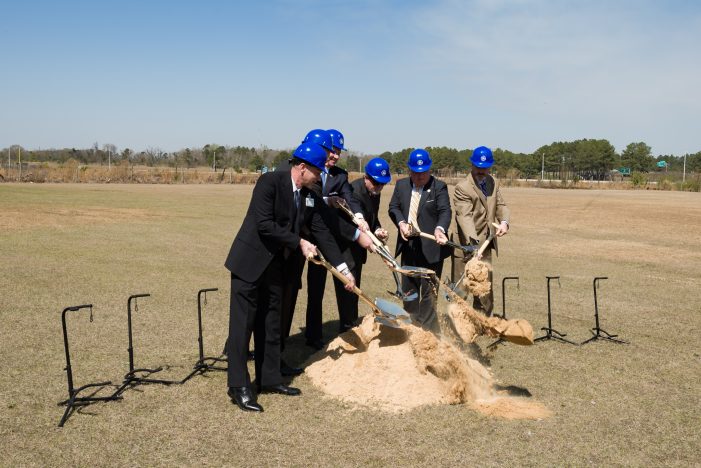 Breaking ground in Florence, SC at the expanding magnet facility where the team is growing as is the MRI portfolio
Attracting Tech Talent
Justin Rivers, born and raised in Florence, S.C., started his career in home construction before turning his passion for cars into a family business. After 12 years of owning an auto body shop specializing in customization, Rivers decided it was time for a change. Rivers, whose parents both worked their entire careers at the Florence plant, knew it was a great place to work and a career that could support a family. "I literally walked in the door one day and asked if they had any open jobs," said Rivers.
He was hired on as a contractor in 2015, brought on full time in 2016, and recently promoted to be a Support Specialist for the assembly line for the magnets. "I make sure that we are planning ahead, have the right resources in place to keep things moving, and keep the team productive," said Rivers. "We need a continuous flow through the line and I work to solve problems along the way so we can keep the line moving smoothly."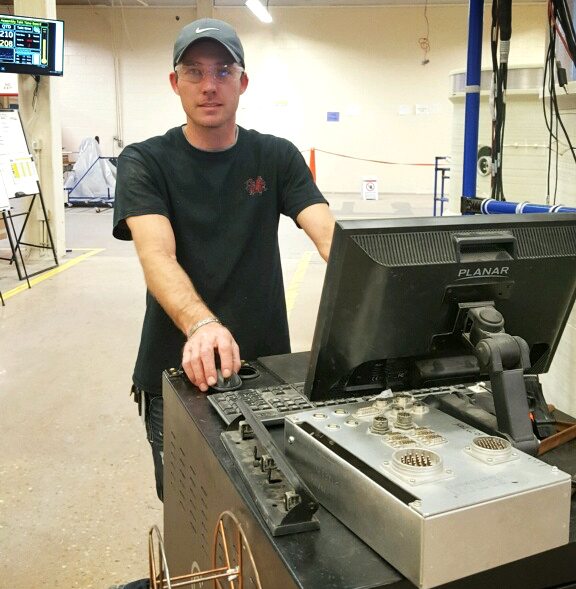 Justin Rivers, support specialist on the assembly line, performing a final warm cart test in magnet assembly.
"I learned a lot about project management, staying on deadline, managing a team, engineering, and problem solving when I owned my own business," said Rivers. "Then I went through a technical training program when I started to learn the details of how to assemble the magnets."
When asked why he liked to work at Florence: "I like always moving around, building something, putting things together," said Rivers. "My father helped teach me which end of the screw driver to use. I've always been good with tools. When I'm done [with a magnet], I gives me the satisfaction that I helped build that. I think it's great that we are bringing in new talent to the team here."
Hiring is already underway in Florence and the plant expansion is expected to be done mid-2018, setting the team up to ramp up production to support the growing MR product line. The future is bright down in South Carolina.