A new 10-year commitment aims to integrate AI into every aspect of the patient journey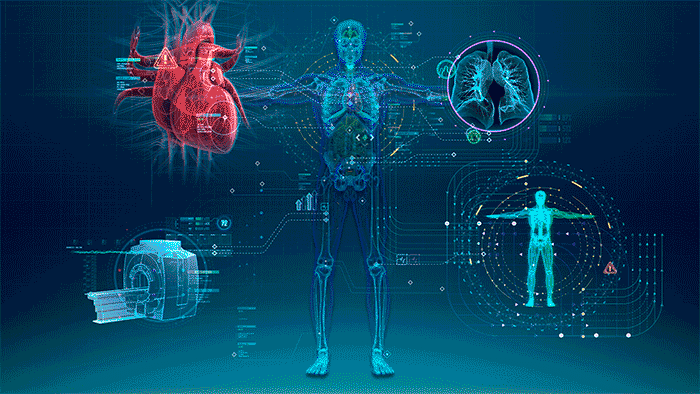 Rarely are there such juxtaposed views around the potential of a technology than those surrounding AI in medicine. As skeptics ask for proof, supporters sell the dream. Both know that it's mostly unchartered territory ahead.
That's why one hospital system is pinpointing what's been holding AI back and developing the business model, platform and tools to ensure clinicians and patients can benefit from its potential.
"Instead of building AI solutions in isolation, we should think about the technology the way we are growing to think about patient care – as a continuum, spanning care areas and disease states," said Mark Michalski, MD, Executive Director of the Massachusetts General Hospital and Brigham and Women's Hospital Center for Clinical Data Science.
But to take on AI in this capacity, Dr. Michalski and his team knew that they could not do it alone. Partners HealthCare, an integrated health system founded by BWH and MGH, sought the partnership of healthcare technology and solutions provider GE Healthcare, and today, the two entities announced a 10-year collaboration to make this theory a reality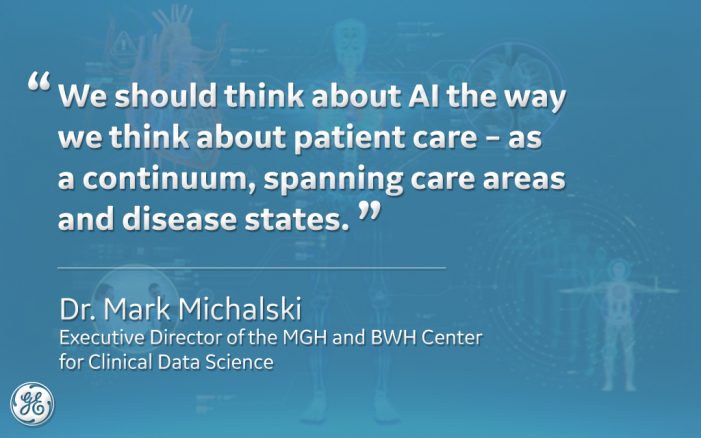 Their strategy is to approach AI holistically – build not just one tool but an open platform; develop not just one application but an entire library; integrate the technology not just into one hospital or health system but into every imaging machine and the GE Health Cloud, which can be leveraged around the world.
Dr. Michalski explains what the result might look like. A patient enters the emergency room after a car accident. He has a spinal injury and has experienced back issues before. To avoid significant or permanent damage, a clinician must rapidly sort through 300 images generated by an CT, two prior spine scans, and clinical notes in the patient's electronic medical record before making a diagnosis. It's a race against the clock that could be supported by AI. Among the deep learning applications to be developed is one that sorts through the worklist, analyzes the flood of data, and identifies the most critical images for the radiologist to read. For the spinal injury patient, this could mean a more timely, accurate diagnosis. For the clinician, this could mean valuable minutes returned to their day.
Another scenario in which deep learning applications could help, Dr. Michalski explains, is for a patient undergoing cancer treatment. Knowing whether the treatment is working, and pivoting course accordingly, is critical to the patient experience and treatment success. Currently, there is great variability in the way tumors are tracked after therapy. Part of this is due to natural human variability; part of it is because hospitals may differ in their approach. By using a deep learning application that automates and standardizes measurement, clinicians can feel more confident in determining whether a patient's reaction is positive or negative and better understand the signals or features that indicate such response.
Worklist prioritization, faster intervention and predictive prognosis are not the end of this AI collaboration. These targeted outcomes are just the beginning. By co-developing solutions that span medical specialties, starting with radiology and ultimately including pathology, genomics and population health, as well as clinical care areas, including cardiology, oncology and emergency medicine, the team ends the industry's previous one-off or narrow approach.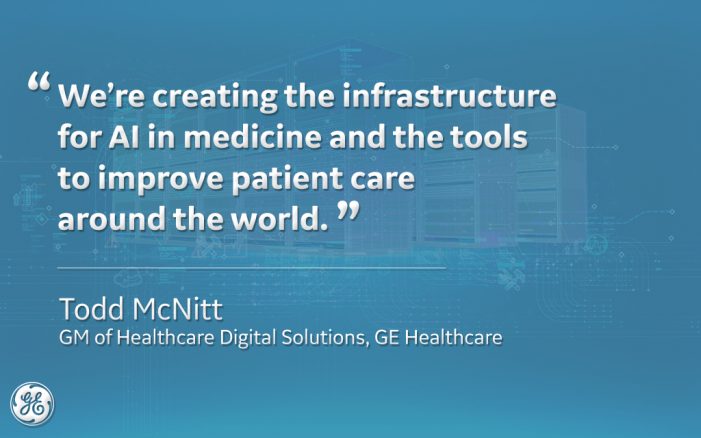 "We are building the technology based on not just data availability but clinicians' greatest pain points and patients' greatest needs," said Todd McNitt, General Manager of Healthcare Digital Solutions for GE Healthcare. "On top of that, we are creating the infrastructure and business models to seamlessly integrate the tools into clinician workflows and patient care."
The open platform to be developed will enable rapid prototyping and validation of the solutions. It will also benefit from third-party development and support. To ensure patients and clinicians globally can access the technology and growing knowledge base built into the tools, the applications will be integrated into smart imaging devices and deployed on the GE Health Cloud.
Note: Technology in development that represents ongoing research and development efforts. These technologies are not products and may never become products. Not for sale. Not cleared or approved by the U.S. FDA or any other global regulator for commercial availability