The software behind online shopping recommendations comes to healthcare.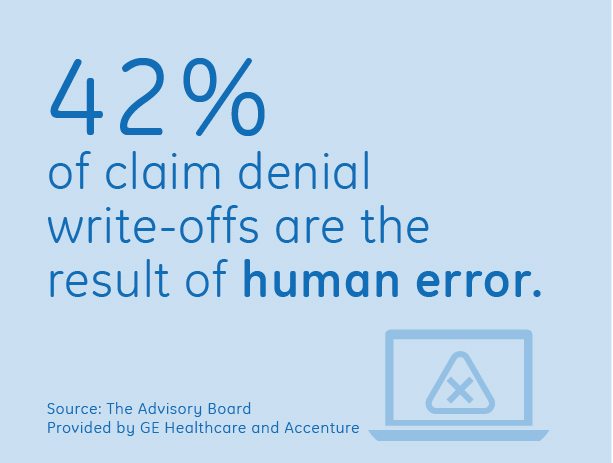 Medical claims management, processing claims and related cash flow for healthcare providers, is one of the largest areas of lost revenue in the U.S. healthcare system.
Of the one in every five claims that's denied, it will cost a typical health system, on average, $25 per claim to re-process. In some cases, denied claims are never recovered and written-off.
For a $1 billion health system, reducing claims denials can yield a 0.5-1 percent lift in operating margin amounting to $5 to $10 million annually. That's why Val Cina, chief revenue officer, Southwest Diagnostics, jumped at the chance to join forces with GE Healthcare and help create a new Denials IQ dashboard. "It doesn't help to continuously spout statistics, we needed better diagnostics to help solve this problem," Cina said.

The software uses powerful deep learning algorithms originally designed by GE's Global Research Center for GE's Aviation business. Similar to online shopping software that prompts a user with product recommendations, DenialsIQ alerts administrators to hidden patterns and root cause factors before medical claims denials negatively impact the revenue cycle.
The solution has uncovered $2 billion of actionable health insurance claim denials for its customers since January 2016. Of the $2 billion, approximately 30 percent of those denials result from coding issues, costing providers on average between $9 and $24 million per year. Another 19 to 22 percent of those denied claims stem from eligibility discrepancies, resulting in an average of $6 to $15 million in lost revenue. Also among the top culprits for actionable denials are issues with timely filing, prior authorization and credentials.
Cina didn't need to be a software engineer to understand the complex process of medical claims and know what success looked like across the industry. "We knew when we had denials out there, but needed a way to easily see how or why they were happening," Cina said.
While Southwest Diagnostics denials rate is considerably below the industry average, at any given time they have approximately 16,000 outstanding denied claims, representing about $1.5 million in potential revenue. "I am a happy woman," said Cina of the software. "With Denials IQ, we are seeing that research and analysis that can take a month, can now be done in a week."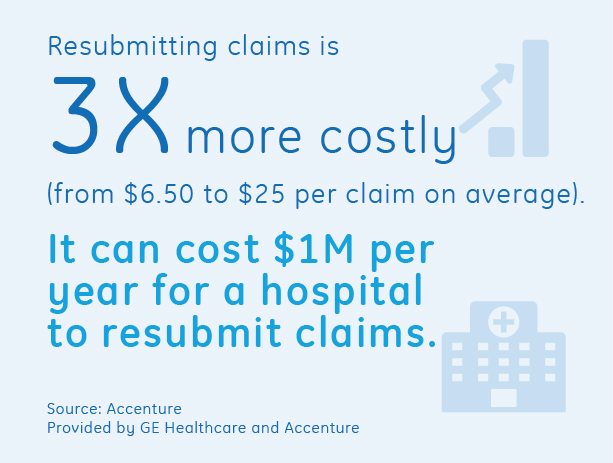 "In this challenging economic environment, healthcare providers are seeking new ways to address quality, cost and access issues by looking to unique purchasing, imaging and clinical productivity solutions," said Jon Zimmerman, General Manager of Value Based Care, GE Healthcare. "Yet in the back office, many providers are now discovering the source of unnecessary financial loss – insurance claim denials – and making significant changes as a result."
To help get the solution in the hands of more facilities that need it, GE Healthcare is showcasing the analytics software this week at HIMSS Booth #2943.