Driven by an increase in the population and the rising cost of treatment, the Gulf Cooperation Council (GCC) healthcare market is projected to grow from US$40.3 billion in 2015 to US$71.3 billion in 2020[1]. As part of measures to address this, investments in new hospitals and clinics, as well as the introduction of mandatory health insurance, are expected to improve healthcare delivery. While government investments will principally improve access to health services, a growing appetite for strategic public private partnerships is also emerging as the industry embraces new business models to drive improved and sustainable healthcare outcomes.
"While private sector investments can help reduce the burden of costs on governments, a sustainable model of healthcare delivery that can assure better patient outcomes, must consider the entire healthcare ecosystem including the development of a superior and modern healthcare infrastructure," said David Mezher, General Manager, GE Healthcare Middle East.
Several GE Healthcare initiatives are already helping to transform care throughout the region, including the Patient Centered Program (PCP), announced this week at Arab Health. This innovative program has been initiated across Saudi Ministry of Health hospitals to drive better patient outcomes through performance measurement and change management. PCP has already been implemented in 30 of the busiest hospitals in Saudi Arabia, training over 300 Saudi professionals to achieve improvements in hospital operations; staff and patient satisfaction. It targets high patient traffic areas—emergency, inpatient, and outpatient—to improve operations, patient care, and clinical outcomes.
"In delivering healthcare, hospitals must be quick to diagnose and treat, efficient in disease management and patient pathways, and rely on a digital information management system to support patient care. That is the opportunity that the region's healthcare sector has today. Through our focus on partnerships in the region, GE is bringing its global capabilities, technological innovations and risk-sharing approaches to support the ongoing transformation of healthcare in the region", concluded Mezher.
GE Healthcare Partners has also signed a Memorandum of Understanding with the Dubai Health Authority (DHA) to jointly explore opportunities to drive the optimization of operations at various DHA hospitals and primary care clinics to deliver its patient experience transformation strategy. It could cover such issues as patient pathways through inpatient, outpatient, radiology, emergency and laboratory departments. The partnership also includes the development of Dubai-based Centers of Excellence to drive better healthcare for Dubai, the UAE and the region. GE is already contributing to the UAE healthcare delivery system, such as the 'Unison' partnership to enhance 11 radiology departments across the country.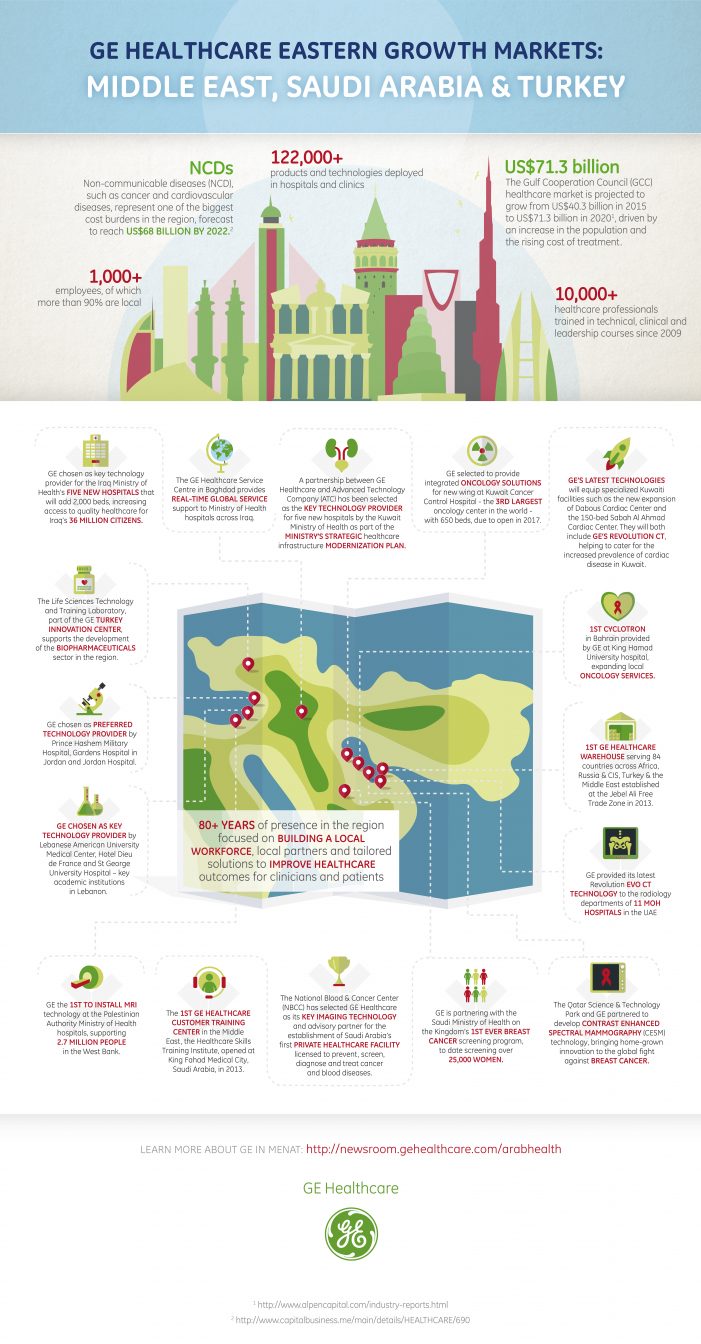 [1] http://www.alpencapital.com/industry-reports.html