More than 80 percent of all hospital and health system visits include at least one imaging exam.[1] X-Ray technology plays a fundamental role in these encounters, along with ultrasound, it counts for most of the estimated 4.2 billion imaging procedures that were performed in 2019.[2] The global diagnostic imaging market is projected to increase another 5.7 percent by 2026, driven primarily by the increasing demand for early disease diagnosis, widening scope of clinical applications, along with a rapidly growing geriatric population and the subsequent increase in the prevalence of associated disease.[3]
Increasing demands and expanded clinical applications have led to a tremendous increase in imaging exam volume that a radiology department needs to handle on a daily basis. Unfortunately, many radiologists and technologists report experiencing work-related musculoskeletal injuries and repetitive strain injuries as a result of the labor-intensive tasks they perform to provide high quality patient care.[4],[5] To handle the enormous workload, there has been a demand to increase the workforce in the radiology department, as well as for the development of ergonomically designed imaging systems and innovative workflow improvements.   
Focusing new mobile X-Ray design on ergonomics to relieve stress
Prioritized focus areas of the most recent innovations in mobile X-Ray were on advancing imaging technology as well as on improving the ergonomics of imaging systems to reduce the stress and strain on radiologic technicians and radiologists. They've also incorporated artificial intelligence (AI) tools to improve the operational and reading workflows. Portable X-Ray systems are an important imaging resource that can easily reach patients in the Emergency Department (ED), operating room, or any in-patient area, but can create stress and strain for the technologist who needs to position detectors behind patients, and position patients for each image, or for the radiologists who are reading them. Effective imaging equipment needs to be efficient and generate clinically consistent imaging, but also needs to alleviate the physical challenges associated with operating it that may cause stress and strain, as well as the need to repeat imaging acquisitions.
One of the newest mobile X-Ray systems available has been uniquely designed to facilitate ease of use, help reduce imaging errors and address areas of technologist and radiologist stress and strain. Intelligent efficiencies have been included at the system design level that facilitate its ease-of-use by the radiology staff. As the industry continues to innovate imaging technology in areas such as X-Ray and the frequency of work-related injury continues to rise, the need for user-experience-focused innovation becomes a very necessary component of medical imaging equipment design.
Preventing work-related injuries in radiology
Designing a radiology suite requires many considerations that can range from aesthetics to patient flow to budget, but possibly overlooked is the importance of equipment usability and ergonomics for the staff. Without these considerations, staff can be at risk for work-related injuries.
Work-related injuries can lead to a decrease in quality of life and difficulty completing personal and professional tasks, as well as an increase in health care costs, absenteeism, and even leaving a profession earlier than planned.[6] According to the U.S. Bureau of Labor and Statistics, $13.7 billion were spent on injuries related to overexertion in 2017. In healthcare settings, one quarter of work-related injuries are related to moving equipment.[7]
In the case of X-Ray technologists, every diagnostic examination requires moving some equipment. Eighty-five percent of X-Ray technologists that were surveyed in a 2018 study reported lifting, transferring, or moving heavy objects 5 to 10 times in an 8-hour shift.[8] While newer equipment often includes features that decrease the amount of equipment manipulation, mobile X-Ray requires technologists to manipulate heavy portable imaging systems and often to move furniture to access patients' rooms.7
According to The Journal of Diagnostic Medical Sonography, studies show that between 67 and 83 percent of X-Ray technologists report suffering from some type of pain or discomfort while performing work-related tasks.[9] 
The Radiological Society of North America (RSNA) has recognized these issues and recently reported that radiology practices and departments across the US are taking steps to better understand how ergonomics contributes to repetitive stress injuries, physician wellness and burnout, and to improve the radiology workplace.[10]
Designing mobile X-Ray systems that address workplace injury risks
Industry imaging equipment manufacturers have brought many innovations to advance medical imaging that do address some of the issues related to facilitating the clinical workflow and acquiring consistent clinical images, but additional innovation, especially with respect to ergonomics, has recently taken place in mobile X-Ray. By working directly with users to understand the physical challenges they have when using mobile X-Ray systems, manufacturers have incorporated more ergonomic and intuitive features into new product designs that can address them.
To address the challenge of constantly moving the system's tube head and detectors, new mobile X-Ray systems' design includes a motor-assisted telescoping column. Automated processing of images also frees up time for technologists to spend with patients.
"To significantly impact mobile X-Ray, there should be a concerted effort focus on the needs of the technologist, as well as the radiologist. To improve care, the technologists, radiologists, and imaging systems need to function at their best. By understanding the challenges in mobile X-Ray, we're able to deliver intelligently efficient innovations that can address current risks and prevent additional work-related stress injuries," said Katelyn Nye, General Manager of GE Healthcare Mobile X-Ray & Artificial Intelligence.
Digital X-Ray improves radiologist's workflow and impacts patient outcomes
The AI environment in radiology is growing rapidly, with an increase in product offerings to support efforts in image acquisition, reading, triage and clinical decision support. The increase and projected growth in the demand for imaging and the availability of high-resolution advanced imaging techniques have also led to large workloads for radiologists; however, lower resolution imaging, such as X-Ray, remains one of the most common modalities relied upon for initial diagnosis.
Embedding AI tools in imaging systems is helping to automate some manual tasks for technologists and helps provide reading radiologists with new clinical decision support resources. To help prioritize critical cases, AI tools are being used to help detect subtle or complex patterns within X-Ray images, moving critical cases to the top of the reading list. Using these AI tools can help to result in improvements across the board in efficiency, quality and clinical accuracy.
Integrating this technology, along with the prioritized improved design, is bringing mobile X-Ray to the next level. A collection of AI algorithms embedded on the mobile X-Ray system allows for automated measurements*, case prioritization and quality control. The new suite of tools includes a feature intended to assist technologists to correct anatomical positioning, and options to confirm protocol selections at the time of the scan. Images are also automatically rotated to save time for reading radiologists. To improve triage of urgent cases, the AI suite also automatically analyzes images, upon acquisition for critical findings such as pneumothorax. Triage notifications are sent directly to PACS and flagged for prioritized radiologist review, saving time for reading physicians and highlighting the most urgent cases that warrant their earliest attention.

An intelligently efficient future in mobile X-Ray
The topic of occupational health and safety is top of mind for hospitals and health systems. Similarly, eliminating work-related injuries in radiology is a priority for imaging equipment manufacturers. Ergonomic solutions, AI tools and thoughtful design features can help to alleviate physical stress and strain that is associated with mobile X-Ray in radiology. Continued collaborative efforts by radiology staff with industry leaders can potentially reduce the high prevalence of musculoskeletal injury in radiologic professionals and create highly intuitive, ergonomically designed equipment that supports occupational safety as well as high quality patient care.
---
RELATED CONTENT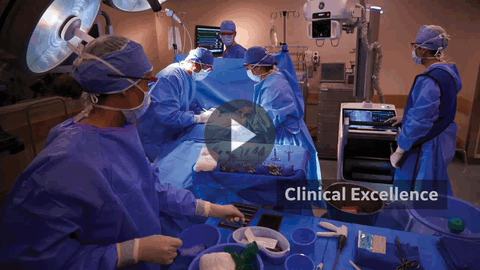 For more information on new mobile X-Ray, AMX™ Navigate—click here.
For more information on the collection of AI algorithms embedded on the X-Ray device, Critical care suite—click here.
---
DISCLAIMERS
---
Not all products or features are available in all geographies. Check with your local GE Healthcare representative for availability in your country.
* Not cleared or approved by the FDA. Distributed in accordance with FDA imaging guidance regarding COVID-19 public health emergency.
REFERENCES
[1] Smith-Bindman R, Miglioretti DL, Johnson E, et al. Use of diagnostic imaging studies and associated radiation exposure for patients enrolled in large integrated health care systems, 1996-2010. JAMA. 2012;307(22):2400-2409.
[2] 2019 Global Imaging Outlook Report, IMV, https://imvinfo.com/
[3] https://www.marketsandmarkets.com/Market-Reports/diagnostic-imaging-market-411.html
[4] Siegal DS, Levine D, Siewert B, Lagrotteria D, Affeln D, Dennerlein J, Boiselle PM. Repetitive stress symptoms among radiology technologists: prevalence and major causative factors. J Am Coll Radiol. 2010 Dec;7(12):956-60. doi: 10.1016/j.jacr.2010.05.024. PMID: 21129687.
[5] https://doubleblackimaging.com/2020/02/19/reducing-repetitive-strain-injuries/
[6] Fisher TF. Radiologic and sonography professionals' ergonomics: an occupational therapy intervention for preventing work injuries. J Diagn Med Sonogr. 2015;31(3):137–147.10.1177/8756479315580020
[7] Werderman DS. Reducing Work-Related Musculoskeletal Disorders in Radiologic Technologists. Radiol Technol. 2020 Sep;92(1):33-48. PMID: 32879015.
[8] Elshami W, Abuzaid M, Ateeq E, Al Fozan S, Bensahraoui N, Zira D. Prevalence of repetitive stress injuries among radiologic technologists. Am J Diag Imaging. 2018;3(1):12–17.
[9]  https://journals.sagepub.com/doi/pdf/10.1177/8756479315580020
[10] https://www.rsna.org/news/2020/July/Ergonomics-Intervention