By Ger Brophy
An insider's take on how the healthcare industry will embrace this change

The race to deliver the world's first-ever approved autologous cancer cellular therapy is quickly approaching its first major milestone. For years, researchers and therapy providers have been studying and investing in the field tirelessly. We have heard stories of terminally ill patients turning to cell therapy trials as a last resort and seeing their cancer cells disappear. We have waited for the day when one of these therapies is approved as a commercially available treatment. And now, the end seems in sight.
Just last week, Novartis announced that it had received Priority Review status from the US Federal Drug Administration (FDA) for its CTL019 therapy for children and young adults with B-cell acute lymphoblastic leukemia; the most common childhood cancer in the US. Kite followed Novartis' lead shortly thereafter, filing a U.S. marketing application for its cellular therapy KTE-C19, intended for the treatment of relapsed/refractory aggressive non-Hodgkin lymphoma (NHL).
Today, these cancers have very few treatment options. The new therapies from Novartis and Kite could mean that in the span of a few months, a cancer diagnosis of this sort could change from a dismal prognosis to one of hope.
The promise of these early-stage therapies is stunning. Behind Novartis and Kite over 800 regenerative medicine clinical trials are underway; almost 70 of them already in Phase III. Over 40% of the ongoing trials are within cell therapy oncology, and cell therapies are expected to bring major improvements to cancer treatment[1]. The market for these medicines is expected to reach USD 30 billion by 2030[2].
But, it is the industry's readiness to embrace these new treatments together with the right supporting infrastructure that will determine whether patients can realistically expect to be able to access these amazing clinical outcomes.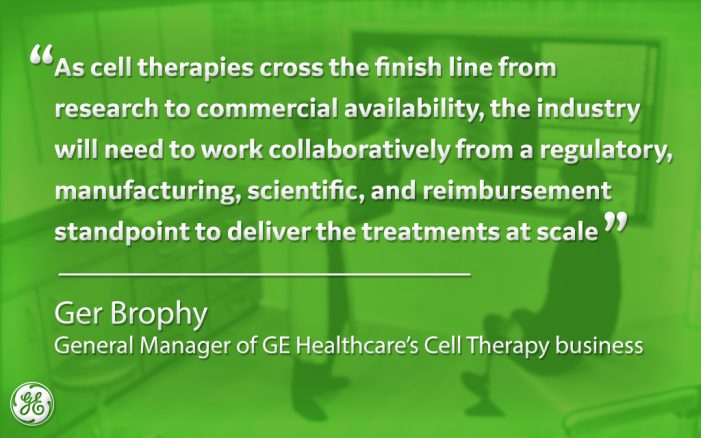 Readying the market for the next generation of cancer treatments
It is important to consider the logistical challenges that need to be solved for the individualized cell therapies to reach their full potential; in terms of their access, availability, and scalability once approved. Will the industry be equipped with the right infrastructure to manufacture these treatments on demand - highly complex in nature, and customized for every individual patient and for the thousands who need them?

GE Healthcare's cell therapy business is tackling the daunting challenge of answering those needs. We are innovating on technologies and solutions that facilitate automation, efficient and scalable production, data and analytics, safe storage and transport, and next-generation tools for the quickly evolving science.
And we are teaming up with industry players to introduce workflows and technologies that will help develop, produce, and deliver these therapies, at scale, to patients all over the world.
Needless to say, as cell therapies cross the finish line from research to commercial availability, the industry will need to work collaboratively from a regulatory, manufacturing, scientific, and reimbursement standpoint to deliver the treatments at scale. With approvals, hopefully just around the corner, there is no better time for the industry to work together to get these treatments into the hands of patients as quickly as possible.
Ger Brophy is General Manager of GE Healthcare's Cell Therapy business
[1] ARM 2016 Annual Report, Link: https://alliancerm.org/sites/default/files/ARM_2016_Annual_Data_Report_Web_FINAL.pdf
[2] http://www.centerwatch.com/news-online/2015/10/23/t-cell-immunotherapy-market-may-be-worth-30b-by-2030/