cSound
Faced with diverse body types and complex medical issues, many conventional ultrasound systems too often yield non-diagnostic exams that may hinder the efficiency of coordinated care. Recognizing this challenge, GE has taken cardiovascular ultrasound to a higher level with a new imaging platform called cSound.
Echo Lab
Visualization
Crisp imaging. Deep views.
Experience the exceptional image quality powered by GE's XDclearTM probe technology paired with cSound's advanced software beamformer technology. Additionally, view detailed images of the heart for assessment and diagnoses in the echo lab. Navigate smooth, continuous and detailed images with ease via new enhancements in color and clarity.
Image a wide range of patients
Vivid S70N delivers superb performance in your shared services operation, including cardiac, stress echo, vascular, abdominal, OB/GYN and small-parts applications.
Adult Echo Color Doppler

B-Flow

Virtual Convex
Quantification
Define the care path
Quantification with Vivid S70N is all about helping providers evaluate problems and pursue the path forward. Count on a full suite of intuitive tools to make your work easy and efficient. Quickly, accurately and automatically2
*Optional
2User review and acceptance required.
Auto EF 2.0*

Automated Function Imaging (AFI) 2.0*
Workflow
Streamline your exams Vivid S70N with cSound performance empowers your team with a variety of efficient tools. You'll find it easy to achieve consistent information across a wide variety of patients. Tools like the ability to quantify wall motion abnormalities can help you diagnose. You'll also appreciate the easy-to-use tablet-like experience of the Image Manager and configurable interface.
Cardiac Auto Doppler
Interventional
Visualization
Make your work easy and efficient.
With TEE procedures growing, so is the need to find ways to achieve the benefits of 4D imaging without compromising productivity.
4D Markers* –

4D TEE

Intracardiac Echocardiography (ICE)* –

Micro TEE

View-X*
Quantification
Explore and evaluate with ease Accurately and automatically quantify LV and other functions with a full suite of intuitive tools.
4D Auto MVQ*

4D Auto AVQ
Workflow
Facilitate complex procedures You can move smoothly through your work, with tools that help to simplify workflow and reduce scanning time.
FlexiViews
Ergonomics

Designed for reliability and ease of use

Flex Fit – Adjust control panel and monitor for comfort and convenience
Easy mobility with smart standby
Small footprint
12" ultra-high-resolution, multi-touch LCD screen
21.5" wide screen High-Definition(HD) flicker-free LCD display with articulating arm
Connectivity and Security
Image and Measurement Transfer
Raw data and all measurements (including customized) from Vivid™ Systems
DICOM*** and public DICOM SR from 3rd party
EchoPac Post- Processing
Full access to GE raw data
Access to all Vivid measurement tools
Review, post -process, and measure using AFI, Wall Motion Scoring, etc.
Image Management
Store and review cine loops and static images
Measure
Annotate
Export
Send to/Retrieve from Long Term Storage
Reporting
Create clean, comprehensive, easy-to-read reports
Complete reports faster with quick report templates
Report templates for TTE, TEE, Stress, Vascular
Enhanced DICOM review – Accelerate reviewing and reporting by using contrast, brightness and zoom/pan controls to optimize DICOM images.
Pediatric DICOM SR Support** – Pediatric measurements sent by SR automatically populate the pediatric report on the receiving side for fast, accurate review elsewhere.
IT Integration
HIS Interface (HL7)
Patient Data
Orders
EMR Interface (HL7)
Report Text
Formatted report (Adobe PDF**)
PACS Interface (DICOM)
Export
Long term Archive


Security
LDAP –Help ensure patient data safety with Lightweight Directory Access Protocol, which allows your IT team to maintain greater control of who's in the system, reducing the risk of breaches.
Configurable system password – There are fully configurable user log-on passwords and internal passwords that can meet your IT department's requirements regarding security strength.
Disk Encryption –of the drive, which contains patient archive and images, helps ensure safety and privacy of the data, even in case of theft.
** Optional
***DICOM is the registered trademark of the National Electrical Manufacturers Association for its standards publications relating to digital communications of medical information.

DIGITAL EXPERT for Vivid E95, E90, S70N & iq
Clinical training at your fingertips
Hands-on learning, personalized experience

Learning how to use your Vivid system is not a one-time occurrence. Beyond initial classes and installation, you need knowledgeable and customized training in order to ensure that you are maximizing the use of your equipment and utilizing the functions and features to its full potential.

GE Digital Expert is a mobile solution that delivers virtual face-to- face training for you and your clinical team. Utilizing a mobile tablet, Digital Expert connects you to a clinical applications expert allowing you to learn at your pace and at your schedule.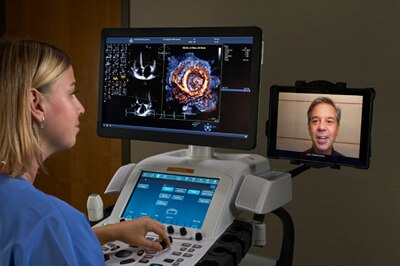 Flexible and convenient training to fit your schedule
Go beyond initial training to learn advanced usage while on your own consoles

Learning sessions that fit your work and personal schedule

Maximize your time with very little disruption to your daily life
Digital technology connecting you to clinical experts
We provide you a mobile tablet allowing you to communicate directly to a clinical applications expert

Online content and embedded training material

One-on-one virtual training allows for more personalized experience
Digital Expert Onsite Training
10 weeks, 20 courses

One-on-one or small groups

$3,000 USD

Courses available at your convenience
Basic operations

2D/M-mode optimization

Color/PW/CW doppler optimization

BiPlane/TriPlan imaging

4D/4D color acquisition

4D navigation

4D quantification

Strain

Stress tests

Reporting

... and more
Digital Expert is separate from the system, and is for education and training purposes only
Vivid Club
You're invited to join the club.
We invite you to join the Vivid Club, a network of thousands of fellow Vivid ultrasound users. Club membership gives you access to many tools and resources which are only available to members, helping you experience the full power of your Vivid ultrasound system. Members are regularly informed about developments in Vivid ultrasound technology and provided with special offers and opportunities which are announced on the club's own Vivid Club website.
The benefits of club membership are many:
Information on new products and offers
Educational offerings & online trainings
Application tips & tricks
White papers & user guides
Clinical image gallery
If you are not a member, consider joining today to begin taking advantage of these outstanding tools.

Gallery
Vivid S70N

Vivid S70N

Vivid S70N