Benefits
Promoting Neurodevelopmental Care and Growth
The Giraffe Incubator Carestation was thoughtfully designed to nurture the close connection between babies and their caregivers, allowing parents comfortable, close access to their babies and family-friendly information about their babies' progress, while clinicians can closely care for their newborn patients. Additional benefits include:
Enhancing the Care Continuum
Offers clinicians the intuitive and reliable neonatal solution they need, while parents receive the access and support they want, to promote optimal neurodevelopmental care.
Comprehensive Design in a Controlled Environment
When paired with the Giraffe Shuttle, the Giraffe Incubator Carestation provides continuous warmth during intrahospital transport, in addition to promoting the growth and stability of even the most fragile of patients.
Easy Access to Success
With integrated features, including the translating and rotating mattress, an elevating base and the removable in-bed scale, the Giraffe Incubator Carestation empowers clinicians to send babies home safe, healthy and as quickly as possible by providing enhanced visibility and patient interaction.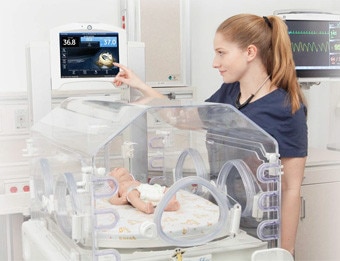 Technology
The Warming Touch of Care
Every part of the Giraffe Incubator Carestation was thoughtfully engineered to enhance the care experience, while providing the best possible neuroprotective environment for the newborn.
Heat loss prevention
If either door panel is opened, Air Boost can be easily enabled to protect the baby from heat loss and support thermal stability.
Patented Baby Susan rotating mattress
Thanks to the patented Baby Susan* technology, clinicians can easily reposition the baby, reducing negative touch and stimulation, while improving procedural success. Additionally, the mattress is pressure diffusing, thus reacting to the impact of the baby's body and adjusting accordingly, to reduce stress and improve comfort.
Connectivity capabilities
Stay up-to-date on all your patients' medical history with a system that can be connected to electronic healthcare records and hospital information systems. Note: This technology is equipped for future updates and upgrades.
Touchscreen display
10.4" color display touchscreen helps caregivers streamline information and control the baby's environment, while making important information readily available to eager family members; contributing to the personalized patient and family-friendly care environment.
Hands-Free Alarm Silence
With the wave of a hand, clinicians can quickly silence alarms, making it easier to provide immediate care, while maintaining a calm, soothing environment for the baby.
Specifications
Dimensions
Maximum height (bed raised): 70 in (178 cm)
Minimum height (bed lowered): 60 in (152 cm)
Footprint: 45 in x 26 in (114 cm x 66 cm)
Weight: 304 lbs. (138 kg)
Floor to mattress height: 33 in to 43 in (84 cm to 109 cm)
Mattress size: 25.5 in x 19.2 in (64.8 cm x 48.8 cm)
Drawer size: 19 in x 20 in (48 cm x 50 cm)
Physical Characteristics
Full Color Touch Display: 10.4 inch (26.4 cm) LCD
Mattress tilt angle: 12° – continuously variable
Microfilter: 0.5µ – 99.8% efficiency (3M Filtrete™)
Tubing access ports: 13
Data collection: RS-232
In-Bed Scale Performance
Accuracy: ±0.35 oz. (10 g)
Range: 0.66 lbs. to 17.6 lb. (300 g to 8 kg)
Resolution:
10 g (Factory setting) or 5 g (user selectable on non-EU scales)
The resolution of scales distributed in the EU region may vary depending on the scale revision:

Scales with revision 2.72 only have a resolution option of 10 g.
Scales with revision 2.86 have a resolution of 5 g for weights up to 5 kg and a resolution 10 g for weights from 5 kg to 8 kg.
The resolution on EU scales with software 2.86 and above is not user selectable.
Note: For the European Union (EU) and the European Free Trade Association (EFTA) member states in Europe, check with your local regulations with respect to the Non-Automated Weighing Instrument (NAWI) directive as to the process and frequency for scale calibration.
Servo Oxygen Control Performance
Control range: 21% to 65%
Display range: 16 to 70%
Rise Time: < 10 minutes from 5% below set point in Whisper Quiet Mode
Recovery from opening porthole ≥ 5 minutes fro closing porthole to 5% below set point
Alarms ±3% from set point
Accuracy 5%
Inlet Pressure Maximum 620 kPa (90 psi)
Humidifier Performance
Recovery time: 12 hours @ 65% RH control setting in a 25°C/50% RH ambient
Reservoir capacity: 1000 ml
Servo Control Accuracy: ±10% for settings up to 85%: minimum 75% for settings >85%
Ramp-up time: ≤50 minutes – Time to reach 75% RH with a 39°C control temp from cold start in 25° C, 50% RH room.
Operating Environment
Temperature: 20° to 30°C
Humidity: 5 to 85% RH (non-condensing)
Air Velocity: Up to 0.3 m/sec - Water Ingress: IPXO
Storage/Shipping Information
Temperature: -25° to 60°C
Humidity: ≤85% RH (non-condensing)
Pressure: 50–106 kPa
Service and Maintenance
Battery: 8.4V NiMH
Recommended Calibration/Preventative Maintenance Period: Annually
Limited Warranty: One year parts and service
Tour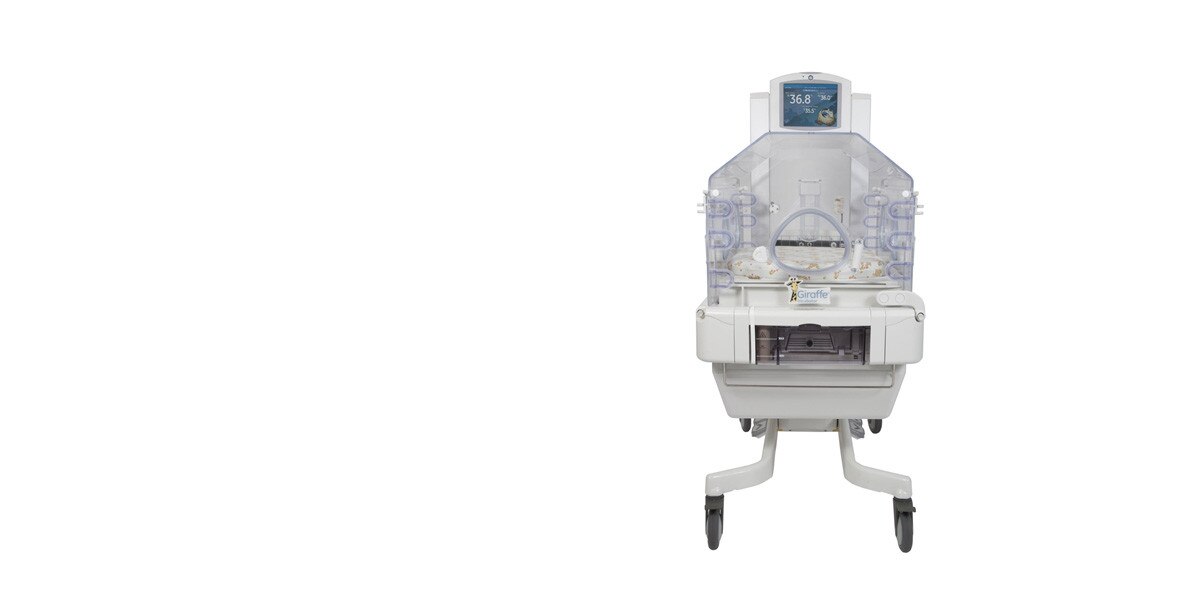 Gallery
Giraffe Incubator Carestation

Giraffe Incubator Carestation
Education & Training
The GiraffeCare* Clinical Education Program is designed to enhance the knowledge of caregivers about how the microenvironment promotes clinical outcomes and builds a stronger foundation for evidence-based "best practices."