By Catherine Estrampes, President & CEO, U.S. and Canada, GE Healthcare
For the first time in 17 years, staffing shortages are the top concern for hospital CEOs1. It's no wonder why, given these recent trends among U.S. healthcare workers:
Over 40% of physicians2 and 60% of nurses3 show signs of burnout
20-30% have left healthcare since 20204
By the end of 2022, 500,000 nurses will leave healthcare5
Projections show 194,500 new RN openings annually until 20306
This comes at a time when COVID-19 increased the urgency to evolve care delivery from hospital-centric to be more distributed throughout the community, prompting many health systems to accelerate digital transformations. These healthcare providers want to enable faster deployment of solutions that support virtual and distributed care models, improve hospital operations, and help relieve the burden of data overload.
The result of this accelerated digital adoption is an opportunity to focus first on technologies that will support the workforce, making it easier for clinicians to deliver high-quality care more efficiently. At GE Healthcare, we are helping leading healthcare providers use data to improve care and, at the same time, alleviate staff burnout.   
Helping clinicians to deliver impactful, high-quality care, without working longer
Today, many clinicians spend more time with their IT systems, like an electronic medical record (EMR), than with their patients. Why? They need to access multiple systems to sift through mountains of data to make decisions. How can we fix this? Make the data work for them, instead of them working for the data. Automation, artificial intelligence (AI), and other digital technologies can help synthesize the data to make it more meaningful for clinicians so they can spend less time in front of a computer and more time with their patients.
Within nursing, the use of AI-enabled tools that help turn complex data into actionable insights is estimated to be able to automate between 30% to 50% of nursing assistant tasks7. Consider the impact of a tool that helps nurses prioritize their workload while simultaneously creating more time for those priorities, like face-to-face patient care. That's the promise of AI.
At GE Healthcare, we're working closely with healthcare providers to unlock the potential of AI to free up caregivers' time and mental energy to focus on more meaningful tasks. During a recent keynote at Reuters Digital Health 2022, Jeff Terry, CEO of GE Healthcare Command Centers, discussed how we're helping healthcare providers achieve a digital transformation that prioritizes workforce stability, productivity, and wellbeing. He shared details about several solutions that help save valuable caregiver time, resulting in a cascade of benefits for patients, staff, the environment, and the bottom line.
One solution that can help free up clinicians' time is Command Center technology, which connects, integrates, and analyzes data across healthcare systems to improve hospital patient flow and quality. More than 300 health systems and hospitals in the U.S., Canada, U.K. and Netherlands have deployed Command Center software to integrate intelligence into existing workflows, helping them to improve outcomes through better capacity management and optimization of the patient journey.
One of those hospitals is Tampa General Hospital (TGH) in Florida. In two years, TGH realized $40 million in savings by reducing system-wide inefficiencies with a set of real-time 'Tiles' that sift through the data to help providers identify the bottlenecks, risks, and barriers related to resources, patients, and personnel. Those timely insights and alerts point to the available actions that hospital staff can take to avert delays in the patient journey. As a result, TGH has eliminated 20,000 excess patient days and reduced the average length of stay by half of a day8. The breakthrough technology ingests dozens of messages each second from disparate source systems, fuses that into a longitudinal data model, applies AI, and serves new insights to users every 30 seconds, but what's more important is the time it saves frontline clinicians during their daily routine. At TGH, they're saving 13,500 minutes each day during the huddles that determine which patients can be downgraded (such as from critical to serious) and interdisciplinary team rounds – that's 82,000 hours that clinicians have for more impactful work each year9,10.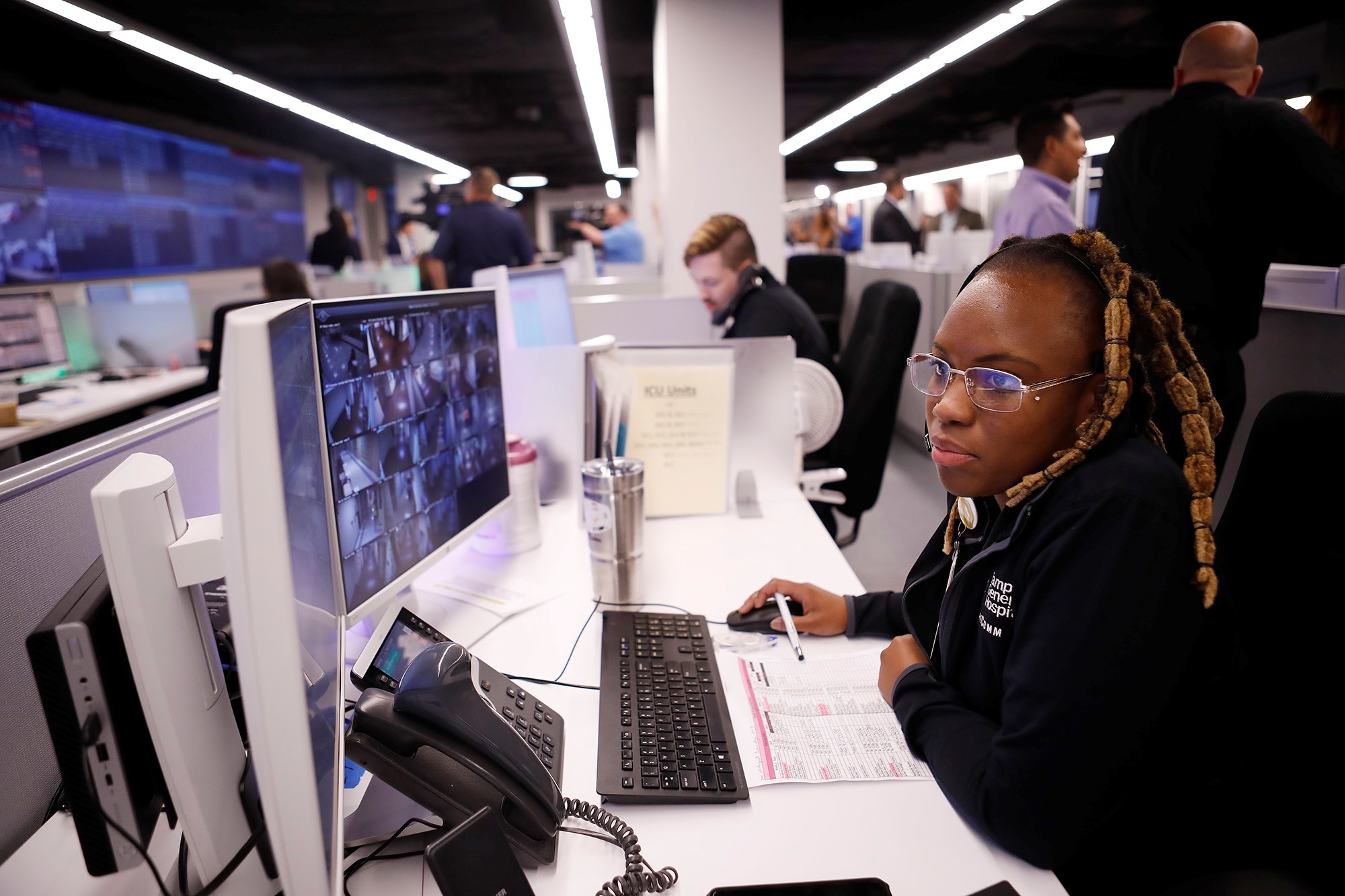 Photo: Courtesy of Tampa General Hospital CareComm
Another of those time-saving solutions that elevate care quality is Mural Solution. On a recent visit to HCA Healthcare, one of the nation's leading providers of healthcare, we discussed the power of two of its GE Healthcare digital solutions, Command Center and Mural for Labor & Delivery. Last year, HCA Healthcare affiliate Henrico Doctors' Hospital was the first hospital to deploy Mural for Labor & Delivery, a clinical decision support solution that helps nurses to assess their maternal patients and identify patients at risk based on hospital defined protocols, and tracks adherence to hospital defined best practices, including hypertension, hemorrhage, and medication management.11 By visualizing data, hospitals and clinicians are provided with actionable insights to help them prioritize patient assessments and interventions.  
Supporting caregivers in the new distributed care model
Extending care delivery beyond the walls of large, multi-specialty hospitals increased dramatically during COVID-19, and continues today. Digital transformation is also helping to bring patient treatment to the most appropriate setting, whether that's a large medical center, a local hospital, an urgent care office, or a home virtual visit.
As the lines between hospitals, clinics, and the patient's home are blurred, clinicians need to be better connected to information and the workforce needs to be deployed intelligently to balance, distribute, and prioritize workloads. Digital applications can be used to help orchestrate workflows to create a cohesive, connected patient care journey. And, technology can also help project patient care needs and determine the best allocation of the available workforce so that staff are aligned to provide care when and where it's needed.
Connected digital platforms can be used to give patients access to specialized clinicians over wider geographies from a central location. For example, remote monitoring capabilities are extending the critical care expertise at Oregon Health & Science University (OHSU) to patients in rural communities, where specialists would otherwise not be available. They use the Mural Virtual Care Solution, which is deeply integrated with their established workflows, enabling them to deploy hospital-defined protocols11 and identify changes in patient status. They can then respond in real time12, supporting local clinicians caring for critically ill patients in their own community.
While digital solutions can help health systems turn volumes of data into value for both patients and staff, they often face deployment challenges and interoperability constraints on their transformation journey. IT departments often don't have the bandwidth or expertise to implement, integrate, and maintain multiple individual applications. In short, they run into "digital friction."
For healthcare providers looking to overcome this friction, a digital health platform is seen as a cost-effective and technically efficient way to speed the pace of digital innovation13. By making it easier to deploy and scale new applications, use of a digital health platform may significantly reduce the burden on IT organizations. We recently announced that we are developing Edison Digital Health Platform14 to bring these capabilities to providers. A healthcare-specific AI toolkit for building and running applications is expected to help healthcare providers and third-party developers develop and deploy their applications, with the platform supporting integration of the apps into existing workflows.
Caregivers are More Valuable Than Data
 Today's healthcare workforce is both extremely valuable and vulnerable, threatened by burnout, turnover, and clinician vacancies. There is an urgent need to use AI to create efficiencies and deliver insights that alleviate the heavy data and workload burdens for clinicians. At GE Healthcare, we recognize the growing need to ensure each healthcare provider's digital transformation accounts for and fully leverages the true value of data – its power to improve the care delivery journey for not only patients, but for caregivers as well.
DISCLAIMER
Not all products or features are available in all geographies. Check with your local GE Healthcare representative for availability in your country.
REFERENCES
1"Hospital CEOs' No. 1 concern is staffing for 1st time in 17 years." Molly Gamble, Becker's Hospital Review, February 4, 2022.
2 American Medical Association. https://www.ama-assn.org/topics/physician-burnout
3 https://websitecdn.nursegrid.com/wp-content/uploads/2021/01/NurseGrid-Pulse-Survey-January-2021.pdf
4 "The Staffing Crisis Will Dominate 2022 Finance Trends. Here's What to Do About It." David Weldon, HealthLeaders, December 15, 2021.
5 "Too little, too late: 500K nurses are leaving the bedside by the end of 2022." Paola Peralta, Employee  Benefit News, November 18, 2021.
6 U.S. Bureau of Labor Statistics. https://www.bls.gov/ooh/healthcare/registered-nurses.htm
7 Hazarika, Indrajit. "Artificial intelligence: opportunities and implications for the health workforce." International health vol. 12,4 (2020): 241-245. doi:10.1093/inthealth/ihaa007
8 "Artificial Intelligence Delivers $40M in Real Savings to Tampa General." Mandy Roth, HealthLeaders, November 9, 2020.
9 "How GE Healthcare's AI Technology helped Tampa General Hospital achieve $40 million in savings, resulting in reduction of Length of Stay (LOS) and the need for less hospital beds" Presented at The Economist Sustainability Week USA 2021 by John Couris, CEO, Tampa General Hospital, June 9, 2021.
10 Based on observed time reduction in downgrade huddle from 15 min to 5 min, considering 20 L2 and L3 huddles and 1.25 interdisciplinary rounds per day involving 30 attendees, and observed time reduction for inter-disciplinary team round from 2 min to 30 seconds, considering 50 units, 1.25 rounds/day, 20 patients/round, 4 caregivers/round.
11 Enabled by DECISIOInsight® - a standalone medical device.
12 "Requires real time HL7 data feed from clinical devices"
13 Gartner, "Market Guide for Digital Health Platforms for Healthcare Providers" October 2021.
14 "Technology in development that represents ongoing research and development efforts. These technologies are not products and may never become products. Not for sale."