Gambia's first interventional cardiologist is training the next generation of physicians while trying to build his nation's first public heart care unit.
Becoming a cardiologist takes years of study, often at multiple institutions. For Dr. Lamin E.S. Jaiteh, his training took him across borders, from his home in Gambia to Kenya, Egypt, and Germany. Returning to Gambia in 2021 as the small African nation's only interventional cardiologist, at the first cardiology unit within a public hospital, was a triumph in and of itself. But for Dr. Jaiteh, his work is just getting started.
Dr. Jaiteh is on a mission to build Gambia's first cardiology practice, a challenge in a country that has just a handful of echocardiogram machines and where more than a third of the population lacks access to electricity, according to the World Bank. The soft-spoken father of three has enlisted friends from around the world, donors, and local colleagues to get expertise, technology, and funding. It will be a years-long campaign, Dr. Jaiteh admits, during a crucial time for Gambia.
A Country in Need
Gambian spending on healthcare is half the per capita average in Africa. While the developed world is undergoing an epidemic of diabetes and heart disease due to lack of physical exercise and poor diets, Gambians struggle with these issues as well, and they can become life-threatening without proper access to care.
Take rheumatic fever, a by-product of untreated strep throat or scarlet fever that is rare in the United States but much more common in Gambia. Rheumatic fever primarily affects children and can cause heart swelling and deterioration of heart valves. Similarly, many Gambians with diabetes (which can lead to heart disease) often go without proper treatment for years. The result is that Dr. Jaiteh's typical patients might suffer from acute heart conditions that likely could have been avoided. 
"I usually see patients with advanced symptoms because of lack of proper public health intervention," says Dr. Jaiteh, pointing to high costs in private health facilities and long queues in the public facilities. "We have fewer hospitals than we need in this country."
Gambians who do seek care will likely first see a doctor who isn't trained in cardiology and who may misdiagnose their heart failure as pneumonia or a peptic ulcer disease, as with some recent patients Dr. Jaiteh treated. In fact, Dr. Jaiteh's services are in such high demand that he sees 30 to 40 patients during each 10-hour shift at Banjul's Edward Francis Small Teaching Hospital, the nation's main training ground for doctors, as well as at private hospitals. He also often receives phone calls from doctors around the country asking for his help in diagnosing and managing heart problems.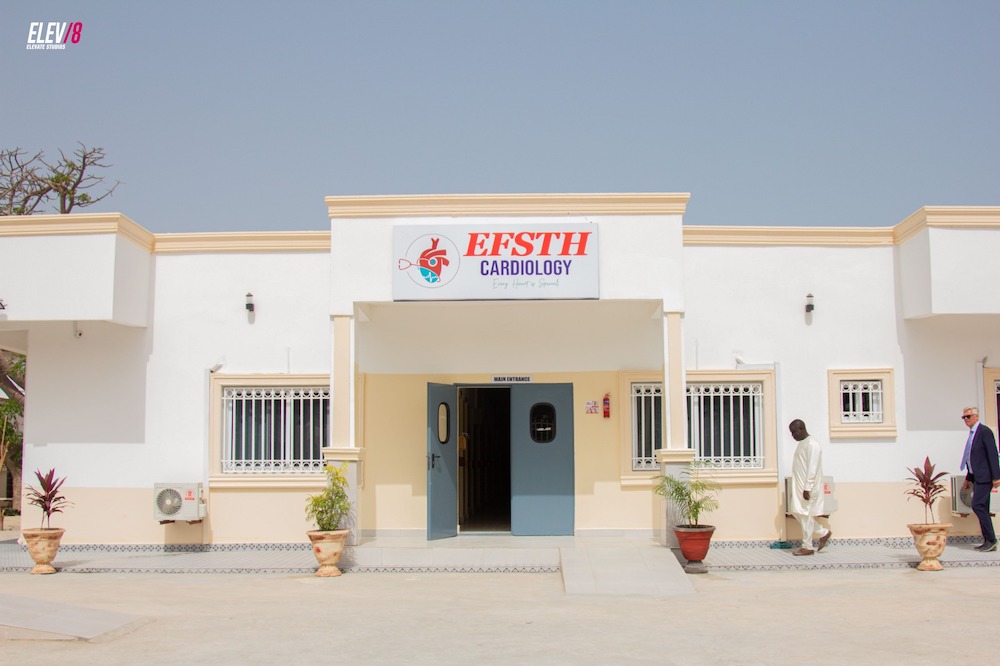 Edward Francis Small Teaching Hospital, Banjul, Gambia.
The shortage of care goes beyond medical staff. In the U.S., echocardiogram machines, also known as ECGs, are so common they're found in most ambulances and now on some smartwatches. By contrast, Dr. Jaiteh estimates that Gambia has less than 10 of these critical machines, which can diagnose many heart ailments painlessly and quickly using ultrasound. The cost for an ECG scan in a Gambian private hospital can run $20 or more, which for many patients is financially out of reach. 
In the developed world, heart disease is frequently treated with expensive medications, often for the rest of a patient's life, that are simply unavailable via the public healthcare system in Gambia. Dr. Jaiteh instead must rely on simple diuretics, aspirin, or statins, which address some symptoms but are a far cry from the medical arsenal available to doctors in the U.S. and Europe. And should a patient require surgery such as to bypass an artery blockage, they would have to leave Gambia to get care, since there are no cardiac surgeons in the country. 
Particularly heartbreaking are children and adults who have had their heart valves destroyed by preventable rheumatic fever. The only treatment is to replace or repair the valves, a complicated surgery that leaves his patients with three options: They can raise money from friends and family, find an aid agency willing to foot the cost to travel abroad, or, too often, die. 
A Doctor's Journey
Dr. Jaiteh, however, refuses to be pessimistic and points to his own unlikely journey to become one of Gambia's top doctors as a reason for hope. Born the first of six children to a stay-at-home mother and a father who had no schooling but taught himself to repair radios, Dr. Jaiteh attended a government school in the suburbs of the capital, Banjul. A World Health Organization scholarship helped him earn a medical degree from the national university as part of Gambia's first batch of locally trained doctors. 
Graduating in 2006, he interned at a teaching hospital, but the specialized training he wanted in cardiology wasn't available. Instead he trained in internal medicine in Taiwan and Ghana until a chance meeting led to his sponsorship by a British charity to train in echocardiography in southern Egypt. Upon his return to Gambia, he was the first native-born doctor to perform ECGs in the country but still hadn't gained access to formal cardiology training.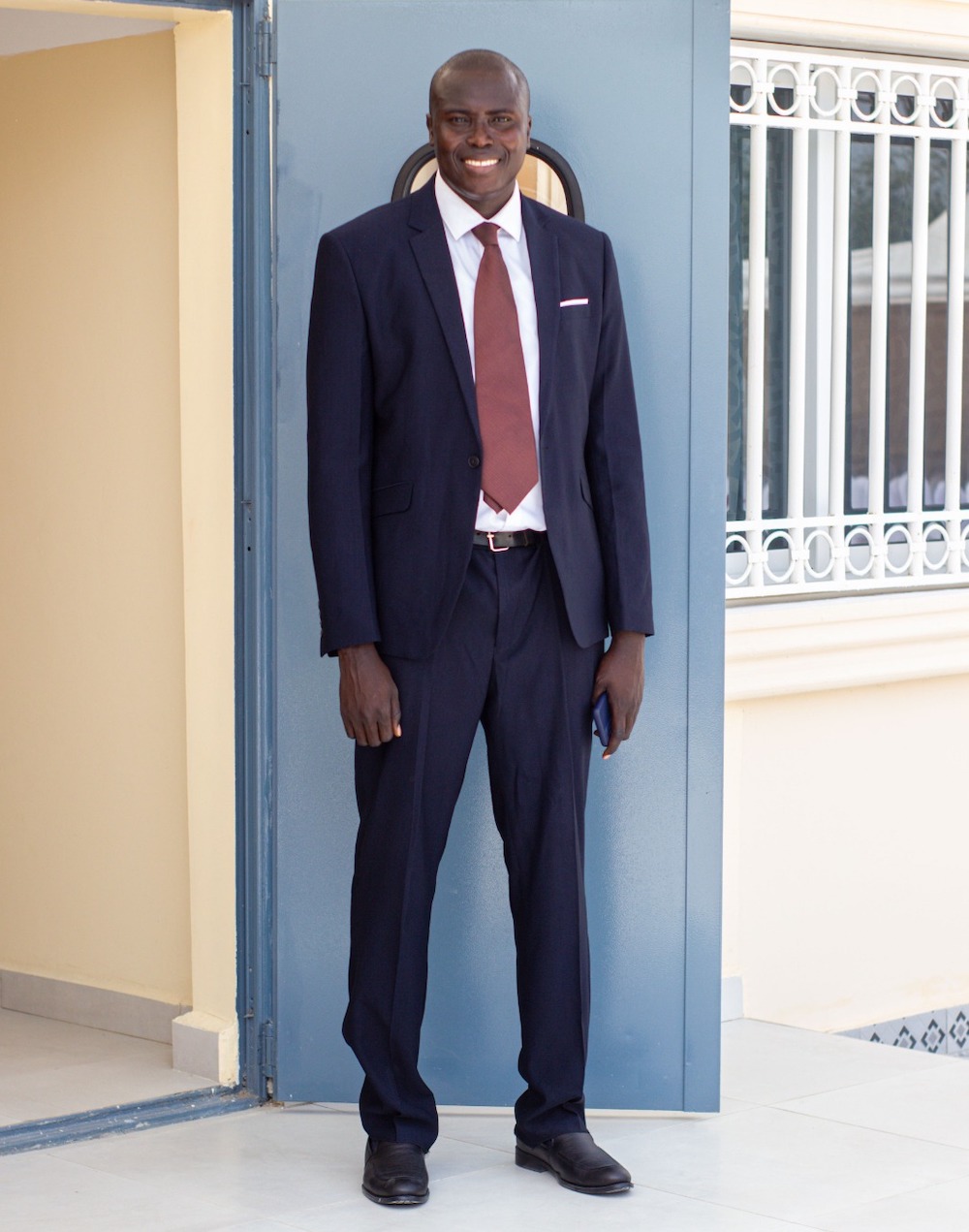 Another chance meeting, in 2015, with a German neurologist led to an invitation to study in Europe, which, eventually, led to a scholarship in cardiology in Nairobi, Kenya, in 2018. In all, Dr. Jaiteh's path to becoming an interventional cardiologist lasted from 1999 to 2021. Upon finishing his studies in Kenya, he says, he was offered lucrative positions abroad but wanted to come back to Gambia and set the country on a different path. 
A Brighter Future
While Gambia ranks 209th out of 229 nations in real GDP per capita at $2,200 per person, according to the CIA (in the U.S. that number is $60,200), the nation of 2 million is also rapidly urbanizing and modernizing. Dr. Jaiteh started raising funds and marshaling support, and in the summer of 2021 he laid the foundation for a cardiac unit at the capital's teaching hospital, Edward Francis Small, where he originally trained. In late June 2022, through ScanAid, a Norwegian volunteer organization, GE HealthCare donated echocardiography machines and one EchoPAC™ Software Only for the cardiology unit.
Using the compact and highly portable Vivid™ iq Ultra Edition, which is compatible with EchoPAC, presented several advantages, including the power to deliver exceptional 2D and 4D imaging to the medical team. Now Gambians also are being scanned with the Vivid T8 Ultra Edition system. Designed for the most demanding practices, this reliable ultrasound utilizes artificial intelligence–based tools to help reduce user fatigue and improve workflow efficiency. Both Vivid systems support the doctor from prior exam reviews through post-exam interpretation, reporting, and archiving.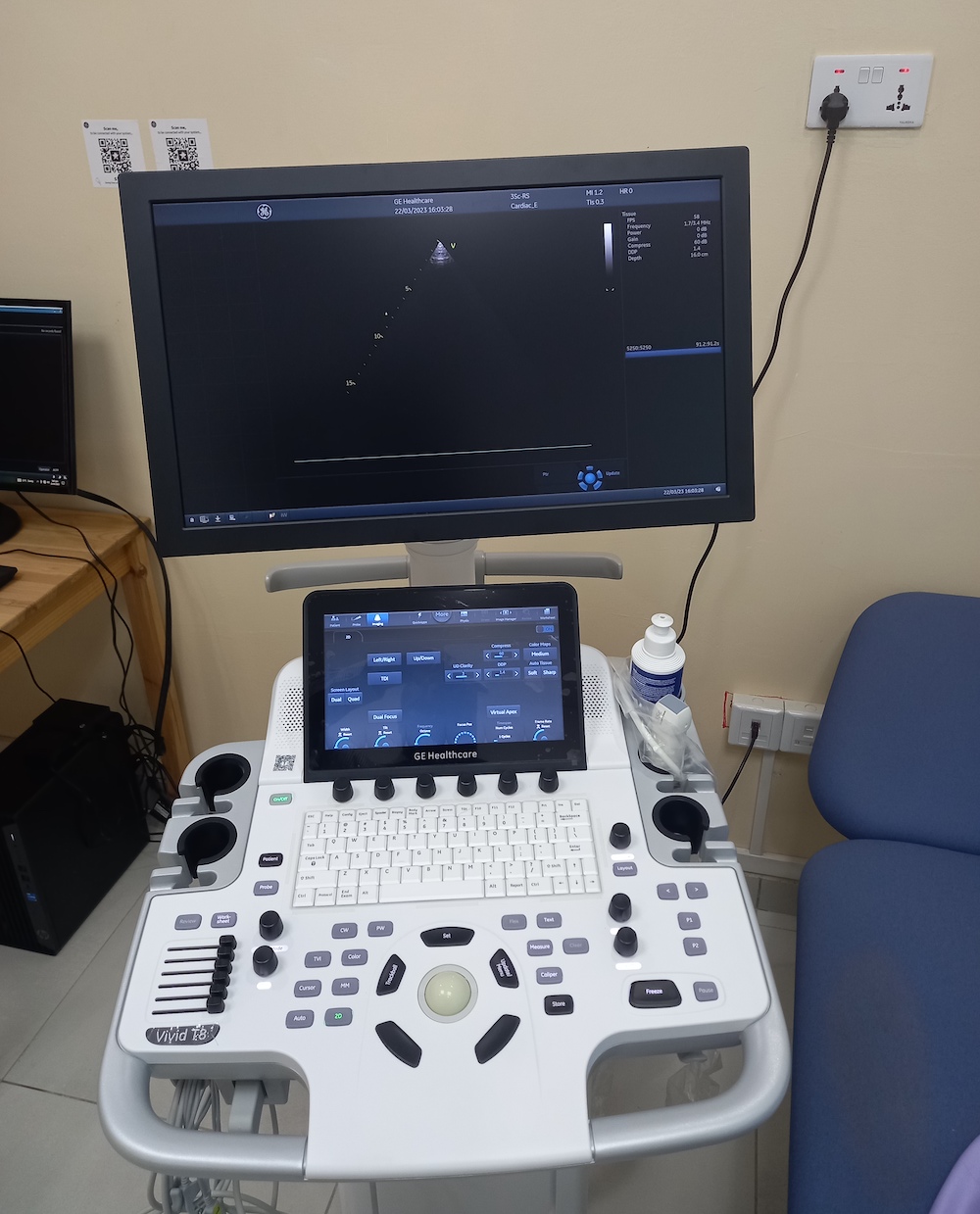 GE HealthCare's Vivid T8 Ultra Edition system.
In addition to treating patients, Dr. Jaiteh is teaching a future generation of Gambian cardiologists and nurses. "Having someone who comes from the same place as you, the same socioeconomic background, and having seen him go through all this … he's a light in the middle of the dark," says Dr. Landing B.M. Jarju, one of four local physicians Dr. Jaiteh is training.
Dr. Jaiteh's goal is to have a fully functional interventional cardiology practice in five years that will include advanced imaging, a cardiac catheterization lab, stent implantation, and the valve replacement and repair surgery that is out of reach to so many Gambians today. It won't be easy, though. The doctors he is training will still need to go abroad for specialized cardiology training, for example.
"It is a battle that is really difficult to win, but I am trying to do my best," says Dr. Jaiteh. "Maybe I'm too ambitious, but I have to keep fighting."