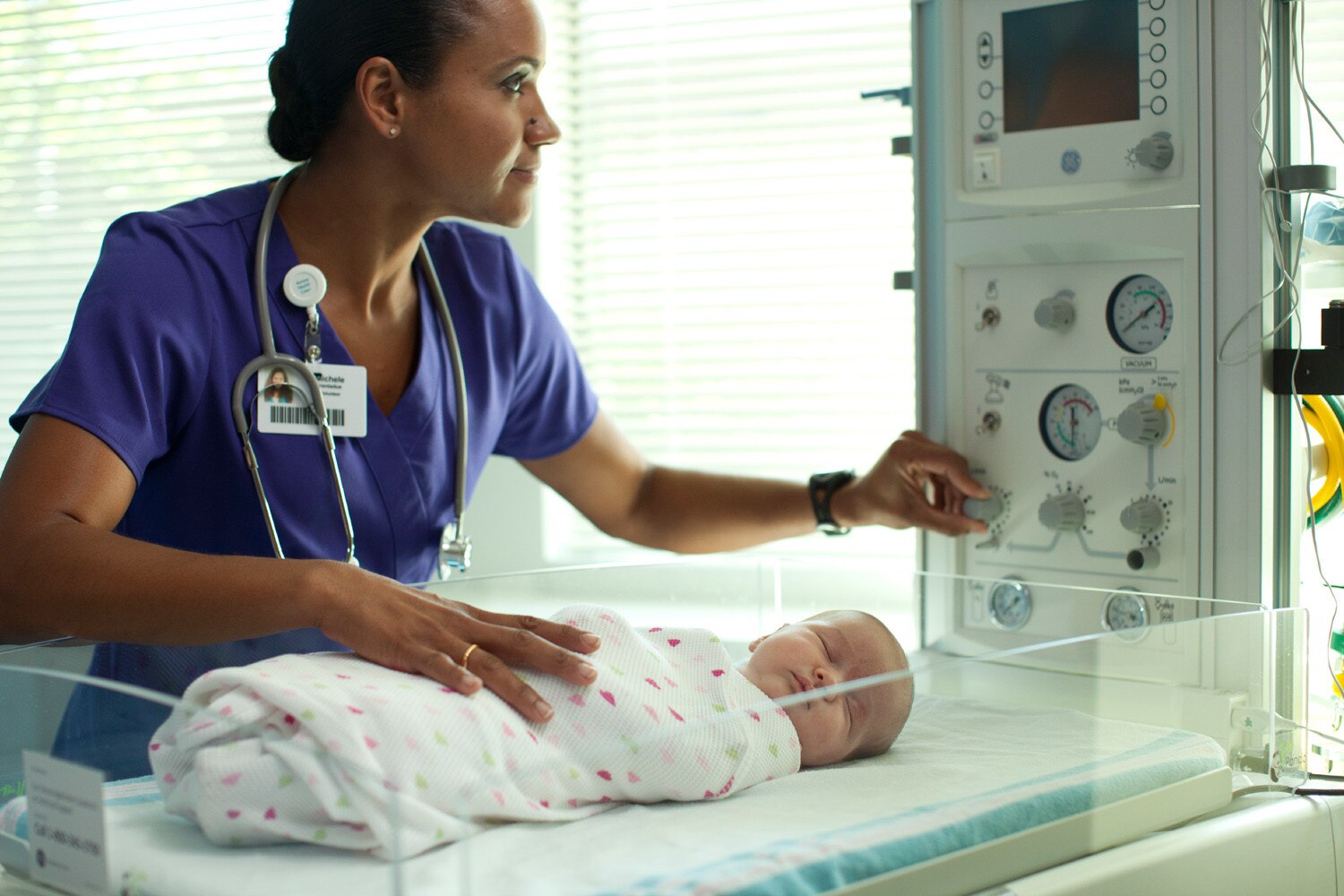 Clinical Support
Standardized clinical education helps to ensure a smooth transition between install 
Our Education program offerings are flexible and customizable, ranging from onsite and online courses to Go-Live clinical support. GE's expert educators, combined with our training offerings, provide you with a balanced application of practical theory and hands-on exercises – for maximum exposure for learning. The combination of quality training and GE personnel in the Labor and Delivery, newborn nursery and NICU units during Go-Live allows clinical professionals to quickly and safely become proficient with new equipment At GE, our Maternal-Infant Care Clinical Application Specialist are registered nurses or advanced practice nurses, with an average of 21 years of experience in the Neonatal or Labor and Delivery disciplines.
Learning Environments
Integrating Evidence into Reality 
Learn in three ways...  
In your hospital: Our Clinical Applications Specialists come to your hospital to work with you on your equipment with our Basic bedside clinical product equipment training. Designed to give the user the knowledge to become proficient in using the GE products in Labor and Delivery, Newborn Nursery and NICU. Delivered by Clinical Applications Specialists. Go-Live support is one-on-one training - live patient usage, refresher training, default parameter training or clinical troubleshooting support. This patient bedside, hands-on support is available on a per-day cost basis.  
In your region: Clinical Connections is a remote refresher series - a one day off-site course that is delivered by Clinical Application Specialists regionally. Focus is on delivering advanced clinical support on key theories to enhance and standardize care in the unit. This supports new and seasoned staff, mitigating risks driven by staff turnover.  
At your computer: Learn on your own time and at your location of choice with our Web-based, basic equipment usage program - designed to give the user primary proficiencies in system use. The program is delivered via an interactive, self-paced web application that includes machine illustrations and knowledge testing.  
Clinical Webinars: This web-based Refresher Series This web-based course delivers advanced clinical support on key theories to enhance and standardize care in the unit. Delivered by GE Clinical Application Specialists off site and accessible via download post lecture. Please refer to the Course Finder for additional details regarding time, date, location, duration and course specifics.