In most sports, how you play the game determines whether you win or lose. But how an athlete lands on their feet, can make or break not only their athletic career but critical bones in their body.
We've all seen it happen: A basketball player leaps for the ball and lands awkwardly, falling to the court or limping in pain for help from the team doctor. Those defining moves – jump, land, run – are critical to the game, and come with risk for injury.
Repetitive jumping and running contribute to bone stress injuries (BSI) in the lower legs and feet of all types of athletes, even for those who reach the professional level. BSI typically occurs when a bone is overstressed, causing microcracks in the ever-changing tissue that makes up the bone. The bone eventually heals, but not without long recovery times.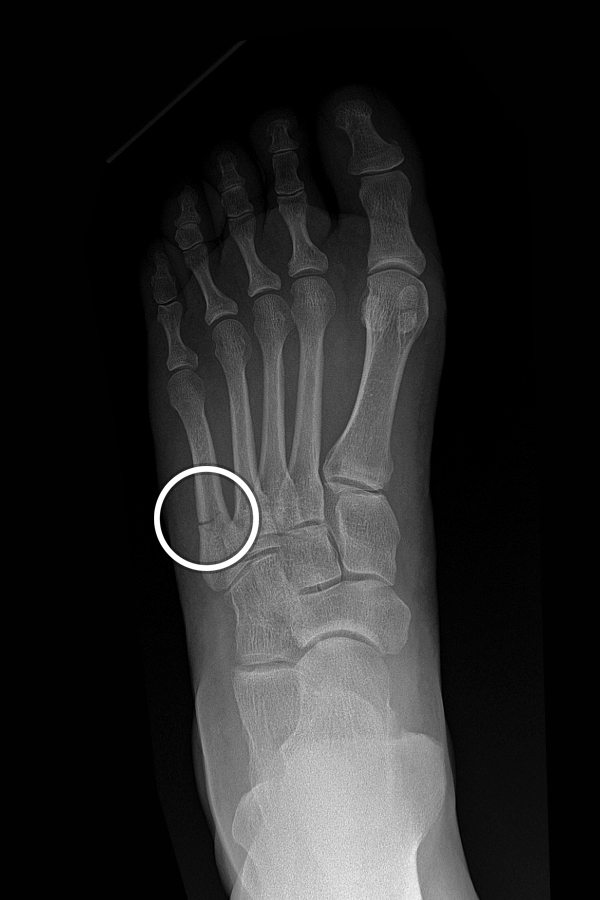 Left foot with a 5th metatarsal fracture from repetitive stress injuries. X-ray courtesy of TRIA® Orthopaedic Center"
Dr. John DiFiori, Director of Sports Medicine for the NBA, has seen a lot of BSI and says even though this type of injury can have a greater impact on players' careers than other kinds of injuries, we still don't know much about them.
"Even in a bone stress injury that will ultimately heal, we often don't know why that athlete got that injury at that time," says Dr. DiFiori. "We'd like to find early identification and prevention techniques that will help athletes perform at a high level without disrupting or limiting their careers."
As part of an ongoing initiative to develop research on BSI in NBA players, in June 2015, the NBA and GE Healthcare launched the NBA & GE Healthcare Orthopedics and Sports Medicine Collaboration, a strategic collaboration led by Dr. DiFiori to address clinical questions regarding the prevention, diagnosis, treatment and recovery of acute and overuse injuries among NBA athletes.
The Collaboration* released its most recent call for proposals to fund studies that advance understanding of BSI in basketball players. Dr. Lisa Callahan, the New York Knicks Team Physician, is on the collaboration committee looking to apply these new findings to basketball players and the general population.
"There aren't a lot of good studies that compare ways to prevent and treat bone stress injuries," says Dr. Callahan. "We're looking for novel ideas about new ways to look at the bone, how it heals and what factors improve healing."
BSI can be difficult to diagnose. Dr. Callahan estimates only 15% to 20% of bone stress injuries are caught on an initial X-ray. Most are diagnosed with a follow-up MRI or CT scan.
"Unlike an ACL tear or an ankle sprain, which is easy to see when it happens, bone stress injuries sneak up on you," says Dr. Callahan. "You have to look back and try to figure out what happened. You have to be a little bit of a detective with bone stress injuries."
The Collaboration will distribute up to $1.5 million over a three-year period to support preclinical and clinical research addressing important unanswered questions regarding BSI prevention, diagnosis, treatment and recovery relevant to elite basketball athletes. Two rounds of research projects have already been chosen to participate in this collaboration to address tendinopathy and acute myotendinous injuries from a diverse group of researchers from top-tier institutions across the globe.
Both Dr. Callahan and Dr. DiFiori hope to see proposals for research that leads to advancements in technologies for prevention, diagnosis, and treatment, as well as strategies and interventions to avoid or manage these injuries. They expect to get a fresh perspective that can help physicians for NBA players, as well as the general athletes.
"This is a really unique initiative," says Dr. DiFiori. "There's been nothing like it before, and these studies could be potentially far-reaching."
Complete CFP instructions and application forms are available at the NBA & GE Healthcare collaboration site.