GE and Houston Methodist Team Up to Help Youth Athletes Play Safer.
Football is a high-impact game known for lots of action on the field and big hits. Concussion is football injury that the sports, tech, and healthcare industries have been focusing on lately to try to better prevent. Yet our understanding of concussions and how the brain works is still limited, and doctors' ability to quickly diagnose and treat concussions is imperfect.
That's why GE Healthcare and the NFL teamed up in 2013 to create the Head Health Initiative, which promotes innovative thinking on how to protect against and diagnose concussions, also known as traumatic brain injury (TBI).
Houston Methodist – a leading academic medical center in the Texas Medical Center and the official health care provider for the Houston Texans – has also collaborated with GE to develop two programs to provide concussion education.
"We want to be known as leaders in education, specifically on how to play your sport and enjoy being active, but do it in a safe manner and minimize the risk of injury as much as possible," says Brett Brosseau, System Director of Corporate Development at Houston Methodist.
Play Safe Program was launched in 2015 as a collaboration between Houston Methodist, GE, and the Houston Texans to provide educational sessions to help improve sports medicine education in the greater Houston region for athletes, parents, and health care professionals.
Clinics have been held throughout Texas, featuring Houston Methodist experts in sports medicine and concussions and demonstrations by Houston Texans ambassadors on proper tackling techniques. A Play Safe Mom's Clinic prepared moms for the upcoming football season with information on proper equipment fitting and concussion and hydration education.
"Parents are often the first to recognize when their child is in pain or needs medical attention, even when the youth athlete doesn't report any symptoms," says Dr. Kevin Varner, orthopedic surgeon and chair of Houston Methodist Orthopedics & Sports Medicine. "The Play Safe clinics are incredibly important because our experts are teaching the athletes about concussions and other injuries and the importance of talking to a parent or coach about their symptoms or pain. The clinics are also educating moms and dads on how to properly prepare their youth athlete for participating in sports and what to watch for during and after the game to help prevent small issues from becoming serious injuries."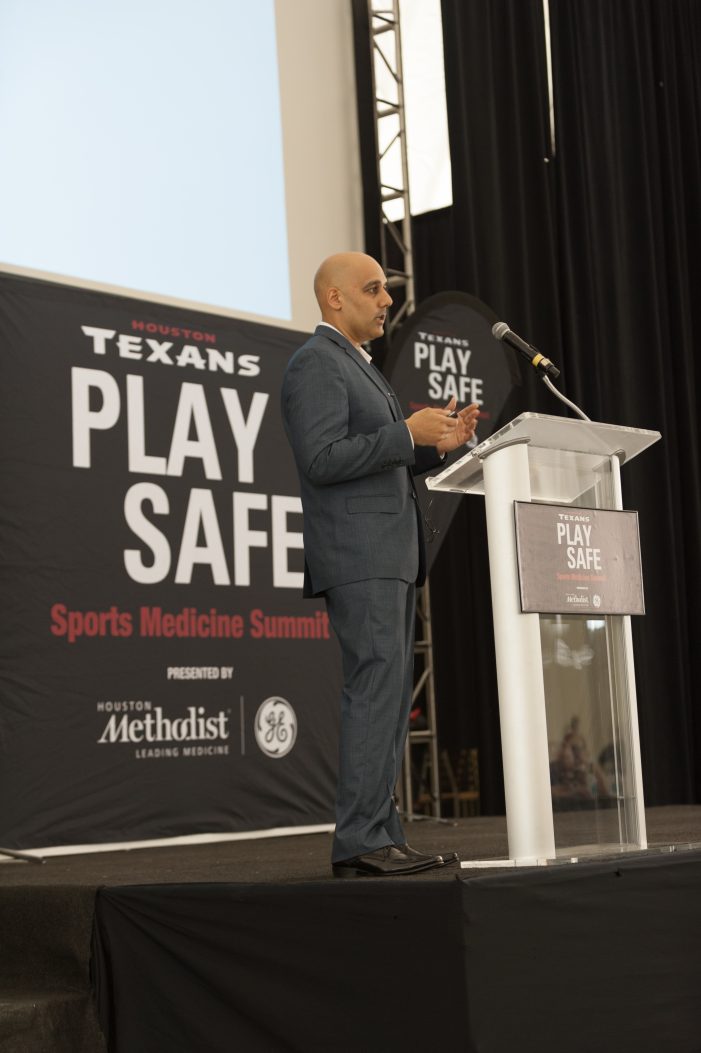 Vijay Jotwani, M.D., a Houston Methodist primary care sports medicine physician, presents at the second annual Play Safe Sports Medicine Summit, an interactive continuing education event for athletic trainers, physical therapists, and strength and conditioning coaches. The 2016 event, hosted by the Houston Texans, was presented by GE and Houston Methodist and drew more than 150 healthcare professionals.
The Texans also hosted the Play Safe Sports Medicine Summit, an interactive continuing education event for athletic trainers, physical therapists, and strength and conditioning coaches at the Houston Methodist Training Center. Attendees learned about the latest trends in sports medicine, proper nutrition and proper hydration for young athletes.
"It's really a fantastic collaboration between GE, the Texans and Houston Methodist," says Dr. Varner. "The goal is to reach out to the community – parents, coaches, athletic trainers at schools – to educate them on keeping their kids safe in an environment where it's a contact sport."
"The coolest thing is the interest that parents and athletic trainers have in keeping the kids safe," he says. "The turnout has been tremendous."
In November 2016, Houston Methodist further expanded its reach with a one-year pilot project that brings specialized concussion care via telemedicine to athletes in rural Texas.
While diagnosis and treatment of sports-related concussions in Texas has improved since the 2011 passage of Natasha's Law (which requires coaches and athletic trainers to receive training on how to respond to concussions, including proper assessment and care before returning to play), that still isn't enough knowledge about concussions in rural Texas where "football is king," says Dr. Kenneth Podell, neuropsychologist and director of the Houston Methodist Concussion Center. Dr. Podell runs the telemedicine program with Dr. Vijay Jotwani, a primary care sports medicine physician, and three athletic trainers.
"One of the biggest challenges is access to good quality care," says Dr. Podell. "We need to make sure that good quality care can be given to a lot of different individuals. In the cities it's easier to find those types of experts, but in more rural areas it's very difficult to find the proper expertise, or you need to travel long distances to get it."
This pilot project makes telemedicine concussion care available to student athletes at 19 rural school districts. When a student athlete is pulled from a game or practice with a suspected concussion, a Houston Methodist athletic trainer goes to the school or training facility to facilitate a comprehensive concussion examination performed by Drs. Podell or Jotwani via a HIPAA-compliant secured video feed.
Players also use the ImPACT neurocognitive assessment tool to complete symptom evaluations and memory and concentration tests after the initial assessment so the medical team can design customized treatment and educational plans as needed.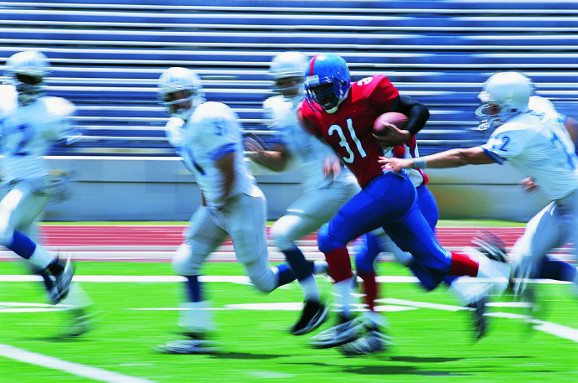 Concussions have a serious impact on students' lives – not just their ability to play sports. "If they continue to practice or play with a concussion, we know for a fact it almost doubles the recovery time. And if it affects recovery time, it affects school time," Podell says. "I've learned how underappreciated concussions are in some of these areas, and I think concussions are being underreported. That's why education is so important."
One of the most critical aspects is including parents in the evaluation meetings. "You hear a lot of scary stories about concussions, and a lot of parents come frightened,"Podell says. "One of the best things I can do is to make sure that both the student-athlete and the parent understand what's going on."
As of March 2017, Drs. Podell and Jotwani have seen 18 patients for a total of 40 visits, and he's sent four of those cases for diagnostic imaging such as neck scans and brain MRI. Dr. Podell is in the process of choosing additional schools, as he plans to expand the program with videos and other educational materials that can reach even more kids and families.
As far as Brosseau is concerned, the program is already a success. "What an opportunity for us to be able to provide that kind of care, that quality of care, to those that otherwise wouldn't be able to receive it," he says. "It is everything we dream about being able to do."