In November 2019, two days before his wedding, David Ilécio flew nine hours from Milwaukee to his mother's home in Brazil. After a lifetime of secrecy, he mustered up the courage to tell her that he was gay and marrying his partner of 14 years, Aldoney da Silva Dias. He invited her to the wedding in São Paulo and nervously awaited her response. "I have one problem," she said to him. "You only gave me two days to find a gown!"
Forty-eight hours later his mother was with him — looking, in his words, "flawless" — to witness a marriage celebration that was nothing short of triumphant. Standing in a candlelit room brimming with flowers, the couple poured their hearts out before 150 guests, who flew in from all over Brazil, the U.S. and India. "Today, I want to thank you … for giving me the opportunity to tell everyone that I am the man in front of you that no longer has any other version," he told his husband. "And for a guy who was always very afraid in life, only love saved me. Your love."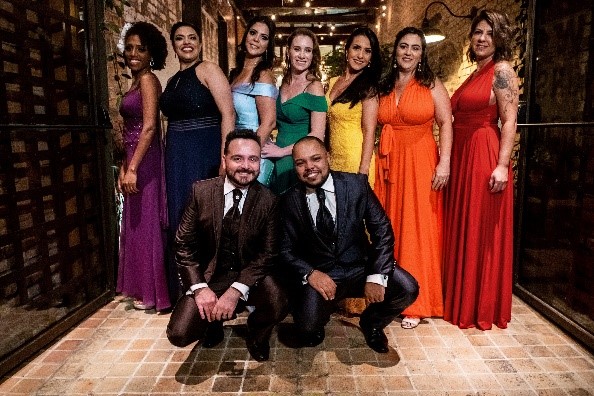 Yet after that day, Ilécio returned to leading a double life at his job at GE Healthcare. He had not shared his sexual identity with anyone there, much less that he was marrying his former colleague Dias, who worked as a finance project leader at the company until 2019. Instead, he led colleagues to believe his new spouse was female.
This was a charade he carried on even when they were dating — one that his partner patiently indulged. When the couple would entertain work friends, Dias would pretend to go "home," only to sneak back into their apartment later. At the wedding, Ilécio prohibited guests from bringing cell phones. "I felt like a celebrity," he jokes. "I did not want anything to go to social media."
Part of his trepidation had to do with his career at GE Healthcare. In 2005, Ilécio started as a telemarketer in São Paulo and worked his way up to a senior staff technical global product manager. "From what I had seen in other parts of my life, when people come out, there are problems," he says. "I didn't want that translating to my career."
That mentality stemmed from his own fears — not just about being gay but his racial identity too. Ilécio's mother was Black and, unlike his white father, she was conscious of the dangers attached to racism. "My mom was so cautious about everything. I realize now, she had all the fears about raising a Black kid," he remembers. "She would see me go out and wonder if I would come back alive." He learned to stay safe by lying to protect himself from homophobia. While he couldn't hide his Blackness, he could hide being gay.
Then, in early March 2020, Ilécio's mother died suddenly of a heart attack. He returned to Brazil once more for the funeral (which took place before the country's pandemic lockdown). As family friends gathered to give their condolences, he was surprised to hear them also congratulating him. After the wedding, his mom had shared the news with everyone she knew. "She gave me that gift after death," says Ilécio. "Her openness came from a from a place of acceptance but, more than that, she was saying this is who my son is."
The racial disparity exposed by COVID and social unrest in 2020 also gave Ilécio pause. A few years earlier when he was still in São Paulo, Luiz Verzegnassi, who was president and CEO of GE Healthcare in Brazil at the time, asked Ilécio to start a local chapter of the company's African American Forum (AAF). "I did not want to be a part of that," says Ilécio. "I never wanted my race to be in the spotlight for anything that was work-related." Three emails and a personal phone call from Verzegnassi later, Ilécio finally consented, and found the experience empowering — even increasing the Brazil chapter of AAF from five members to 139. Considering what he had done for AAF, he began to wonder if he owed his LGBTQ+ colleagues the same commitment and courage.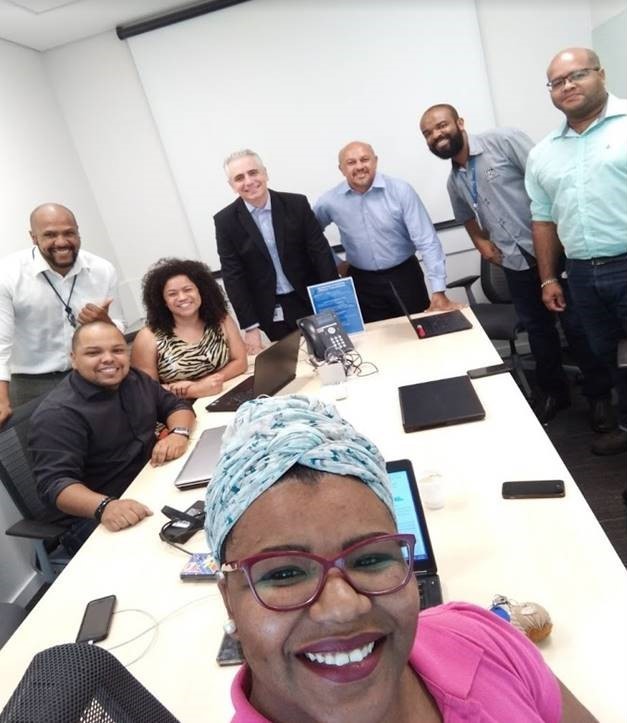 Last April, Ilécio took the brave step of coming out at work. "Nothing bad happened," he reports. In fact, Verzegnassi, now president and CEO of GE Healthcare Services and GE Healthcare's chief diversity officer, and his other workmates celebrated the news. "I'm connecting to more and more people and getting more creative," says the 38-year-old. "Now I can do everything that I want to do. I can speak the way I want to speak, and I don't have to pretend I'm somebody that I am not." That critical shift has given Ilécio the confidence to become a spokesperson for GE Healthcare as a queer Black man, including dedicating his LinkedIn profile to raising awareness about diversity and inclusion.
And his most powerful contribution: sharing the video of his wedding on LinkedIn and Instagram, broadcasting his and Dias' raw love and passion for all the world to see. His hope is that those words will inspire others to find that same joy.

Videographer: Elton Sabatino