The tech that enables moms-to-be to move more freely in the hospital, while accurately monitoring their vitals.
In January 2017, Seema Patel was pregnant with her second child and was admitted to Henrico Doctors' Hospital in Richmond, Virginia. She was put on wired monitoring for the first day and then transitioned to a wireless patch called the Novii™.
The Novii is a small, reliable and accurate fetal heart rate monitor that does not require a transducer or belt. It allows patients to move more freely without being constrained to a specific area. Patients can even take showers, baths, or use a birthing ball – all while being closely monitored with a high level of accuracy.
"With the wired monitoring, I had to stay near the bed and was confined to a small area," Seema said. "I had such a wonderful experience with the Novii because I could move around and even sit in the bathtub during labor."
The simple ability to take a bath or shower without affecting the monitoring ability makes a huge difference for the patient's experience. "I was able to shower a couple of times and move to different laboring positions all with the confidence that the Novii was accurately monitoring me and my child," Seema added.
Dr. Meghann Batten, Director of Nurse-Midwife Hospitalists at Henrico Doctors', has been using the Novii monitor on a variety of patient populations for over six months, "The Novii has improved our ability to offer true freedom of movement to our patients laboring without anesthesia. Even something as simple as getting up to the bathroom without having to request someone to remove the monitor cables provides women with a sense of autonomy and privacy."
"Labor positions including squatting, sitting on a labor ball, leaning over, or hands and knees, often result in a loss of tracing with traditional monitoring," Meghann shares. "Once the Novii captures the heart rate, women are able to move as they need to without being asked to adjust their position so that we can improve the tracing."
The monitor is also frequently used with women who have a high body mass index (BMI). In these cases, it can be extremely difficult to achieve an adequate fetal heart rate tracing with traditional wired monitoring; however, the Novii improves the ability to obtain a tracing while avoiding internal monitors.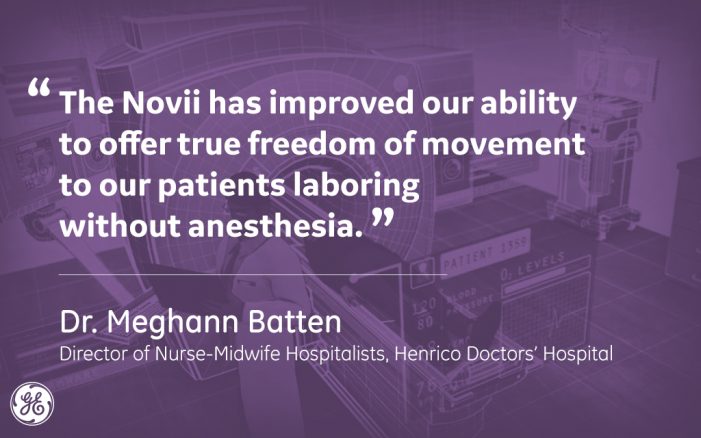 "Expectant moms like the Novii because it is comfortable and unobtrusive. The belts used with the wired monitor are often tight and the monitoring equipment tend to create pressure on the abdomen leading to additional pain during contractions," Meghann shared. "Once the Novii is in place, women rarely complain of discomfort and appreciate the freedom of movement offered by a lightweight monitor."
This all connects back to a larger challenge in hospitals today. When picturing a hospital room, what may come to mind is a messy web of wires, monitors and cables snaking from the patient to all manner of machines. Monitoring a patient's vitals is essential - and when it comes to pregnant women, two patients are being monitored: the mother and baby.
The good news for caregivers and expectant mothers like Seema: there's now an option for 'wireless' monitoring with the Novii. And for mothers who feel the desire to dance their way through labor, the Novii will accompany you on the ride! Birthing in Love recently shared this video on Facebook of a patient dancing her baby down through contractions at six centimeters dilated.
On 13 March 2017, GE Healthcare announced the acquisition of Monica Healthcare, the maternal/fetal monitoring technology company based in the United Kingdom, that makes the Novii monitor. This will expand GE's offerings in the Maternal Infant Care space, which include infant warmers, incubators, infant resuscitation systems, and more.