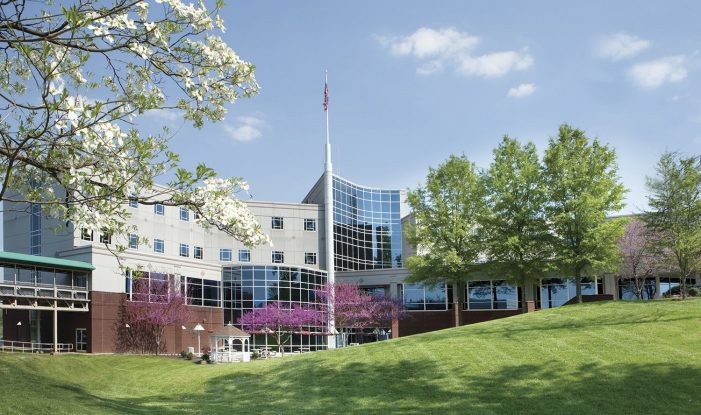 NorthCrest Medical Center is a not-for-profit community hospital serving Northern Middle Tennessee and Southern Kentucky. A Joint Commission Top Performer on Key Quality Measures, it has 109 hospital beds and employs 730 staff members.
When sequester-driven budget cuts significantly reduced the organization's Medicare and Medicaid funding in 2011, a tough decision was made to reduce staff by 2%, as well as cut vacation time and mandate unpaid time off.
"We really had to batten down the hatches," NorthCrest CEO Randy Davis says. "Those changes hurt morale. But we adamantly and steadfastly refused to cut jobs at the patients' bedside. That was non-negotiable. We weren't going to compromise the quality of care we provide."
Yet NorthCrest began to notice a drop in HCAHPS scores, an indicator of patient satisfaction, shortly after the cuts. When leadership took a closer look to identify inefficiencies, they discovered the organization was not optimizing their workforce, which was posing a threat to its patient satisfaction quality-care goals.
"The impact of sequestration on our finances put us in a nosedive," Davis says. "Our job was to pull that plane up, but it was not worth it if we ripped the wings off in the process. If we hurt a patient trying to save the hospital financially, then we've accomplished nothing. Our goal was to get the hospital righted financially – but do not sacrifice quality a single bit."
The LEAN solution
A common practice among business leaders looking to maximize customer value while reducing waste, regardless of industry, is the LEAN methodology. For NorthCrest, this meant applying LEAN methodology to staffing and scheduling processes to create more engaging and efficient processes. By adjusting their overall workforce strategy, they could focus on their quality care goals while still supporting their employees.
This singular focus on patient care has paid off, as staff satisfaction has gone up and patient satisfaction scores consistently remain above national averages while continuing to rise.
"It's a great job as a CEO because I just get to remove roadblocks and hurdles that are keeping people from attaining the best outcome possible," Davis says. "And by doing that, we provide the highest level of care."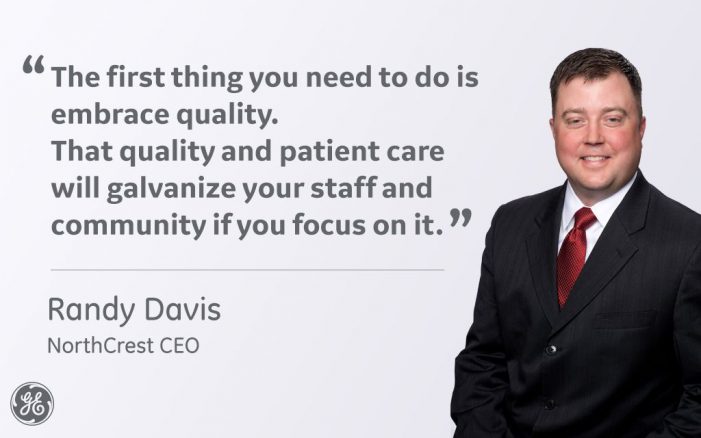 A key part to removing those hurdles was creating an employee council, an interdisciplinary, multi-level group of employees that comes together to make executive-level decisions. "By empowering employees and listening to what they're saying, you'll actually see that you can lower costs," he says. "I think the outcomes speak for themselves."
He points to eight consecutive scoring cycles as a Leapfrog A facility, outperforming Blue Cross Blue Shield ratings, and being named one of the best hospitals in Tennessee by U.S. News & World Report in 2016.
Internally, they saw significant improvements in medication error rates, inpatient volume (the number of hospital admissions), and medication overrides (when staff override automatically dispensed medication in emergencies and administer life-saving medication prior to pharmacy review). Medication error rates dropped 77%, medication overrides were reduced by nearly 85%, and inpatient volume fell 13%.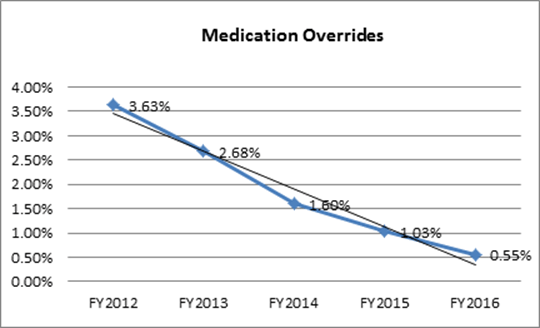 Medication error rates dropped 77%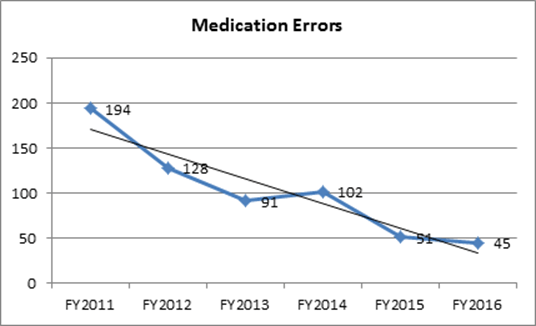 Medication overrides dropped 85%.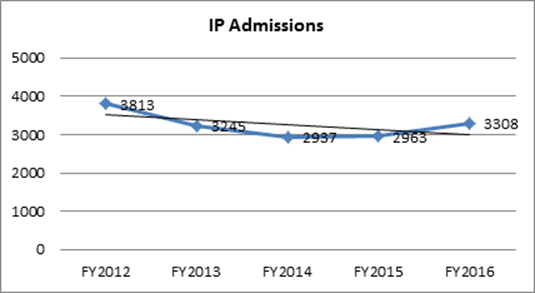 All rates based on fiscal year (Jul – Jun).
According to Davis, it's important to understand how to judge success in a new healthcare climate that values quality over volume. "If you provide the appropriate level of care and you're not expanding your market size, you will see a drop in inpatient volume," he says. "A sign of a successful hospital is a reduction of inpatient volume."
What's more, these changes helped NorthCrest adapt to the Affordable Care Act and its attendant changes. "Healthcare reform simply blew wind in our sails because we were already committed to doing the right thing," he says.
This further pushed NorthCrest to be a true community hospital and expand its preventative care and wellness model. For example, Davis is working with the local YMCA on diabetes prevention in the community, and the hospital partners with local pharmacists to help manage care after patients are discharged from the hospital.
"We know that the cost of healthcare in this country is too high. My goal as a provider in a community is to partner with my businesses within my community and show them that I am going to be a fiscally responsible partner for them," Davis says. "I'm going to drive my costs down to true cost. We are going to provide the highest quality of care and so the employers in my community know that we're doing the right thing for patients, but we're doing the right thing from a business standpoint."
Advice for a changing industry
Doing the right thing has paid off across the board. "We've been hitting on all cylinders for the last two years with the engagement of the staff, our patient care, our reputation in the community, and now the awards and the accolades start to pile up."
Financial rewards have also followed. "The banks that set our bonds have recognized our performance, and they say we're at the top of their portfolio," he says.
While NorthCrest was forward-thinking enough to implement LEAN long before the ACA, many facilities are pivoting to accommodate the ever-changing law. NorthCrest is working with two smaller hospitals in rural counties outside the NorthCrest service area to help keep their doors open.
"The first thing you need to do is embrace quality," he said to them. "That quality and patient care will galvanize your staff and community if you focus on it."
And there's no better time to make changes than today. "Start now," he tells other facilities. "There's no perfect time, but the worst time is later and the best time is now."
But ultimately, his role as CEO to his 730 staff members is what keeps him focused every day. "I've got to energize, invigorate and inspire my team," he says. "And what better way than to say we're going to do everything, every day, to provide the highest level of care. And that's the only focus I want everyone to have."