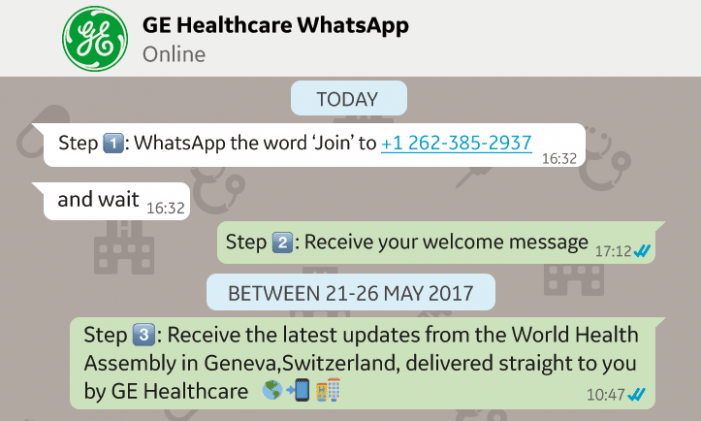 Every year the WHO's World Health Assembly convenes some of the best minds working to make a difference in the health of this world.
From giving a platform to NGOs and ministries of health that are bettering the health of people in their countries to bringing together women across continents committed to bridging the gender equality gap, GE Healthcare will be live on the ground with these change makers as part of its mission to help the 5.8 billion people without access to quality healthcare around the world.
Ask GE Healthcare CEO and OPIC on WhatsApp! GE Healthcare CEO, John Flannery, and Danielle Montgomery, Managing Director of OPIC, will respond to your questions about any of 4 topics: healthcare financing, business model innovation, global health and Public Private Partnerships on WhatsApp. How? Submit your question to +1-262-385-2937 in the instructions below and say "For John and Danielle" between 22th May - 24th May. They will answer your question directly to you by 26th May. Some answers may be shared more broadly. The top 30 questions on these topics will be answered!
For the latest updates and inside look from #WHA70 (22–31 May 2017) delivered right to your mobile, message 'Join' to +1 262 385 2937 on Whatsapp