GE Healthcare announces collaboration with Boston Scientific in Southeast Asia to offer end-to-end interventional cardiac care portfolio
Full spectrum of innovative solutions empowers better heart care and builds efficiency across the care pathway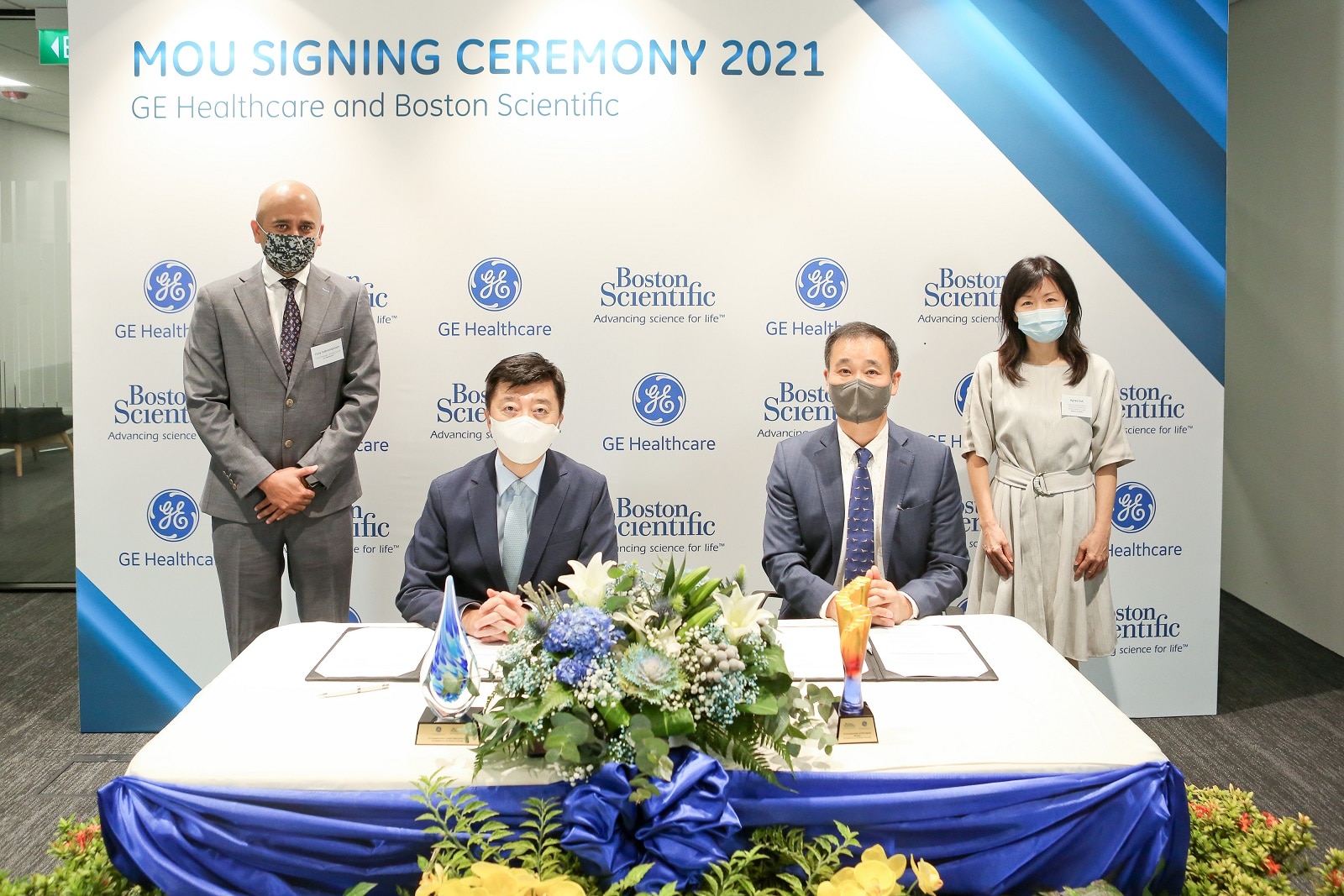 (L-R) Vijay Subramaniam, General Manager, Imaging, GE Healthcare ASEAN, Chris Khang, President and Chief Executive Officer, GE Healthcare ASEAN, with Heo Min Hang, Vice President and Managing Director, Boston Scientific Korea and ASEAN, and Agnes Goh, Country Director, Singapore, Philippines & Brunei and ASEAN Marketing Leader, Boston Scientific at the Memorandum of Understanding signing ceremony between GE Healthcare and Boston Scientific.
SINGAPORE — 5 Jan 2022: GE Healthcare announced a collaboration with Boston Scientific to provide a comprehensive solution offering, from diagnostic to percutaneous coronary intervention (PCI) to cardiac care centers in Southeast Asia, which also means easier access to treatments for their patients.
This is a first-of-its-kind collaboration between the two medtech companies in Southeast Asia, both with strong interventional cardiology portfolios. Boston Scientific's advanced medical devices and capabilities, coupled with GE Healthcare's strong medical imaging systems like cardiac catherization lab and related software, support diagnosis to treatment and monitoring of the cardiac patient-care pathway.
Cardiovascular disease (CVD) remains the leading cause of deaths, despite progress in the availability of effective and safe prevention strategies worldwide. Among the 18.6 million deaths globally in 2019, 58% occurred in Asia. As the continent with the greatest diversity of healthcare systems, cultures, and socioeconomic status, the region continues to face many challenges in terms of prevention and treatment.
"Bridging the industry gap in providing an end-to-end cardiac care center for healthcare providers, this partnership will see the integration of cardiac care solutions, from Cath labs to Intravascular Ultrasound (IVUS), serving as a comprehensive portfolio for heart surgeons. These solutions will be crucial in unlocking the potential of interventional cardiology and is a step forward in delivering precision health to the region," said Chris Khang, President and CEO, GE Healthcare ASEAN.
"Our mission to transform lives through innovative medical solutions has played a key role in driving this collaboration with GE Healthcare, where we look forward to offering the broadest suite of solutions for today's interventional cardiologist in Southeast Asia. By integrating access to the latest medical innovations and cutting-edge technology for our joint customers and the patients they care for, we can ensure treatment of patients of all degrees of complexity is readily available," said Min Hang Heo, Vice President and Managing Director, Boston Scientific Korea and ASEAN.


About GE Healthcare:
GE Healthcare is the $17 billion* healthcare business of GE (NYSE: GE). As a leading global medical technology, pharmaceutical diagnostics and digital solutions innovator, GE Healthcare enables clinicians to make faster, more informed decisions through intelligent devices, data analytics, applications and services, supported by its Edison intelligence platform. With over 100 years of healthcare industry experience and around 47,000 employees globally, the company operates at the center of an ecosystem working toward precision health, digitizing healthcare, helping drive productivity and improve outcomes for patients, providers, health systems and researchers around the world.
*Excluding BioPharma
Media Contact:
Allison+Partners for GE Healthcare
apac-gehealthcare@allisonpr.com