TEEClean advantages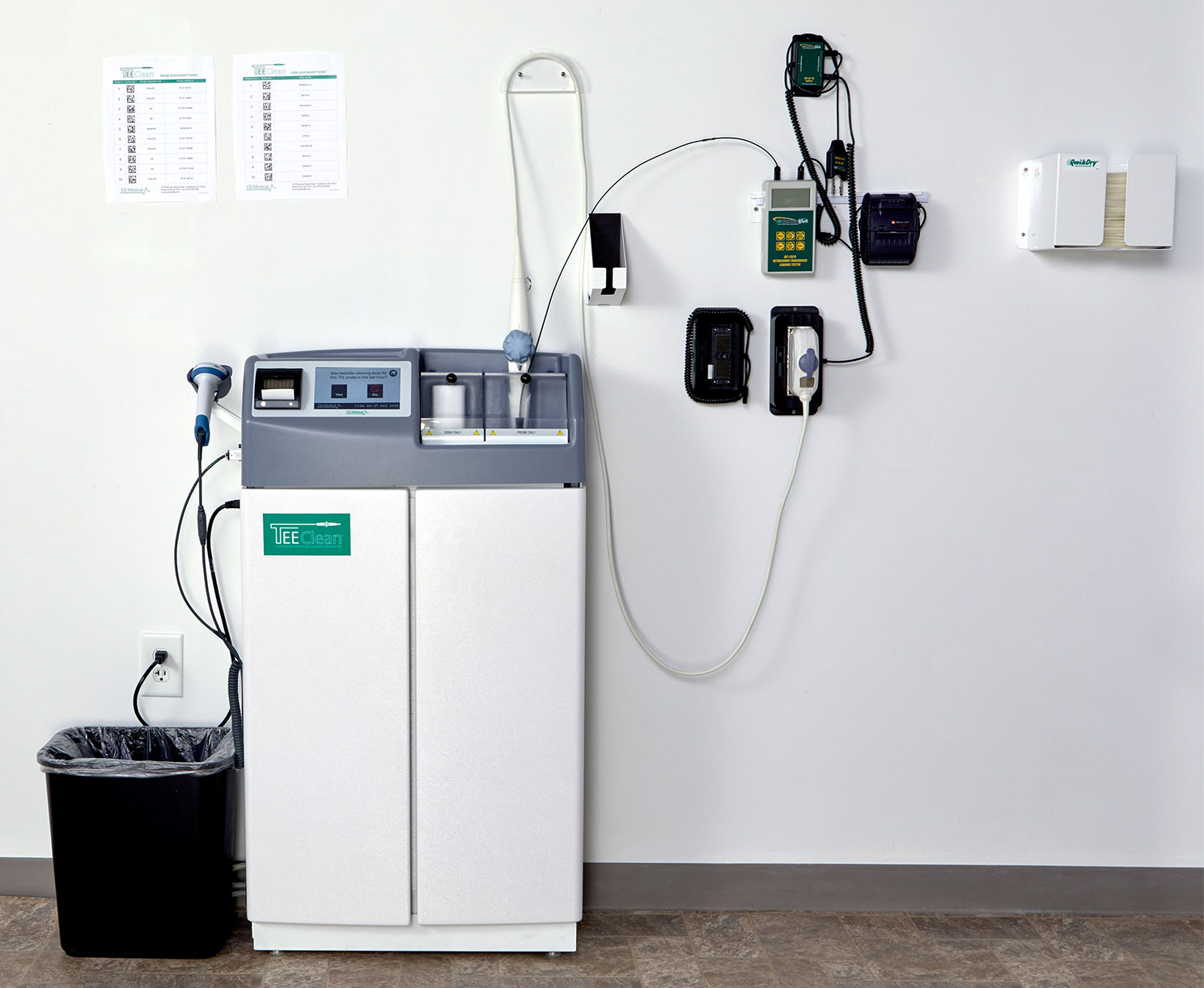 We've got you covered at every step.
Probe protection

TPorter® transportation cases helps prevent damage while staff members transport TEE transducers. CleanShield® storage cabinets allow TEE probes to be suspended vertically to minimize stress, while HEFW-filtered air is circulated to ensure a contamination-free environment.

Support staff and patient safety

The advanced vapor management system captures and neutralizes fumes and vapors. The disinfectant is seamlessly captured and purged and the empty bottle is rinsed.

Automated reporting

To support compliance needs, TEEClean provides electronic record retention of the clean and disinfection cycle while also recording device maintenance events. The system can manage over 15,000 disinfection logs in the system memory.

Enhanced workflow

Once the user has entered necessary pre-set information, they can walk away and allow the system to complete the process of cleaning, disinfecting, and rinsing without additional interaction.
Before high-level disinfection

Quickly and easily clear the way for cleaning and high-level disinfectants to do their job with the TEEZyme™ Enzymatic Sponge. Individually wrapped for single use to help decrease cross contamination, it helps break down blood, carbohydrates, protein, polysaccharides, fats, oils, uric acid, and other nitrogenous compounds.

During high-level disinfection

Cleaning, disinfection, and required leak test are all incorporated into TEEClean. The quick, 2-minute clean cycle, combined with a 5-minute disinfection cycle, means the process can be completed quickly all in one system. Because TEEClean is automated, cleaning and disinfection is easy, quick, and repeatable. Upon completion, TEEClean provides a detailed printed report to facilitate reporting compliance, and data is stored on-system.

After high-level disinfection

QwikDry™ cloths are ideal for thoroughly drying the probe to minimize the risk of bacterial growth before storage or transport.

Providing streamlined transport, the TPorter™ TEE Ultrasound Probe Transportation Case supports secure movement of probes to the procedure area and then the return for reprocessing.

CleanShield® Storage Cabinets provide a dedicated and secure place to store your disinfected transducers between exams. Probes are suspended vertically to minimize stress and strain, and HEPA-filtered air is continuously circulated to ensure a contamination-free environment.
CleanShield, TEEClean, TEEZyme, and TPorter are trademarks of CS Medical, LLC. GE Healthcare is a distributor of TEEClean.