Getting an OBVC Started
---
A Future for Vascular Surgery - It's in the Office1
Any surgeon that performs vascular interventions may consider bringing vascular procedures into an office-based vascular center.
While this may be an intimidating project to take on, resources are available to help you plan and implement your Office Based Vascular Center. A vascular surgery or cardiology practice can benefit in many different ways by having an office-based angio lab. In-office you can perform multiple vascular procedures such as percutaneous angioplasty and atherectomy procedures. Running an office-based lab means you maintain control over your surgery schedule, allowing you to schedule more patients.
Office based vascular procedures can provide an increase in revenue to the surgical practice while lowering the overall cost of care to the Health Care System because fees are paid directly to the surgeon, eliminating overhead costs billed for the same procedure in a hospital setting. As the surgeon gains more control over his/her schedule, a better work-life balance can be achieved.
There are many avenues available to help a medical practice integrate vascular surgical procedures into an office-based environment.
Steps in opening an office-based vascular center include:
Understanding and complying with State Regulations
Developing office policies and procedures
Meeting accreditation standards
Gathering reimbursement information for billing purposes
Building, selecting or renovating space for a procedure room
Selecting your equipment including: fluoroscopic mobile C-arms, vascular procedure tables, video and equipment integration systems, ultrasound equipment, patient monitoring, office based PACS (Picture Archiving and Communication System), EMR (Electronic Medical Records) integration, procedure trays designed for specific case needs, radiation protection, radiation physics testing, powered contrast injectors, contrast agents, crash carts, stools, cabinetry and other miscellaneous items. Other devices such as catheters and atherectomy devices are generally physician preference and provided directly from various device companies. Companies that sell the equipment listed above have consultants or sales people available to help choose the equipment that will best meet your needs.
Selecting high-quality imaging and patient care equipment that is proven, trusted and backed by an experienced, dedicated support team, can be critical to the long-term success of an office-based vascular center. Mobile C-arms with motorization capabilities and a table-side remote control - when combined with a 4-way float top imaging table and video distribution system - means the feel and workflow of a conventional fixed Cath lab/Interventional Lab can be achieved at a fraction of the cost.
Finding consultants that have expertise in all of the critical planning areas of office based vascular center is difficult to do. Often a consultant will have expertise in several areas, and may be able to refer you to others with different expertise.
A surgeon developing an office-based vascular center should be ready to dig into the details and seek out expertise in each specialty area involved with opening a vascular procedure lab. Look for experts who can offer solutions that take into account your cost, quality and access objectives.
1. The information is based on observation and is intended as a general guide. Facts and situations may vary.
Get Started
What Will You Need to Get Started?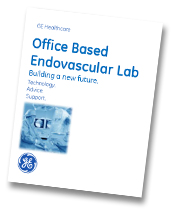 The benefits of owning your own OBVC are numerous. You can control your schedule and your time; get to know your patients personally; and grow your practice. GE Healthcare can help get you started.
PRESENTATION: The Office Based Endovascular Lab. Building a New Future.

Technology, Advice, Support.
Critical to the success of your Lab…Having VERSATILE and RELIABLE equipment! ...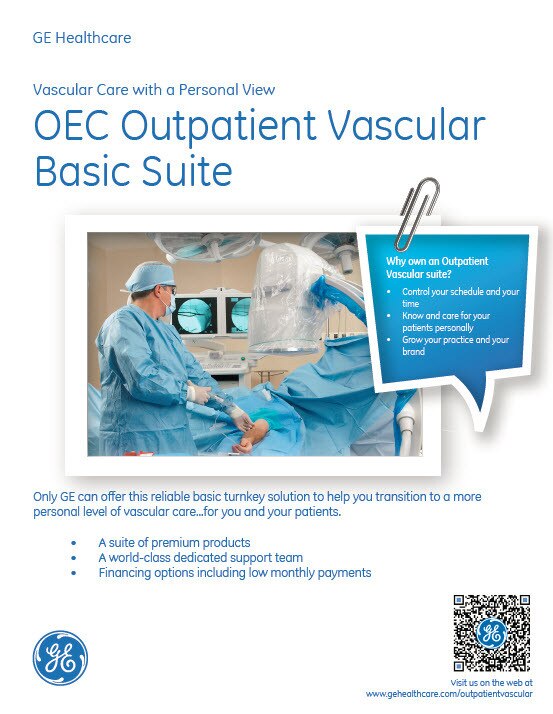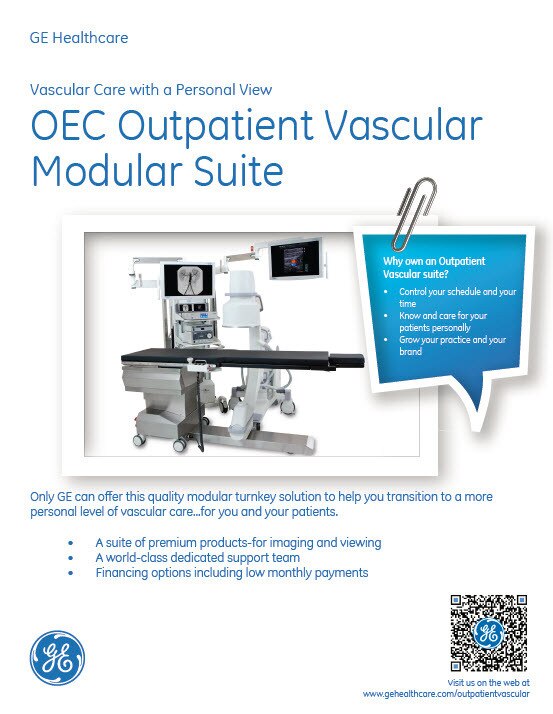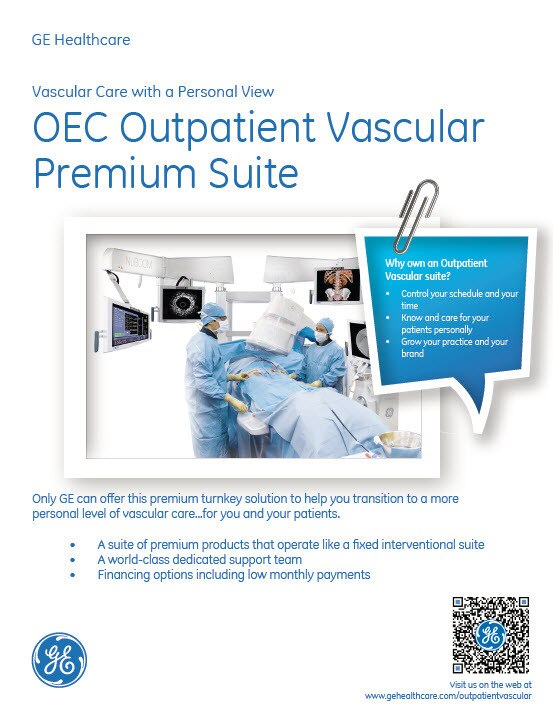 Contact Us Today. If you are considering opening an Office Based Vascular Center, GE Healthcare can help.
Call Rick Long at 1-801-949-50891-801-949-5089 or email us today.