SeHCAT™
Tauroselcholic [⁷⁵Se] Acid
---
Insights into how patients perceive their symptoms and outcomes in BAD
How patients experience BAD symptoms had not previously been studied. In 2016 a survey was conducted by patient groups and published to BMJ Open Gastroenterology.1 More specifically:
Patients reported that their quality of life and productivity were negatively affected and they experienced lack of support at their work place.
Symptoms had been experienced for more than 5 years before diagnosis in 44% of respondents.
The symptoms included mostly diarrhoea, more specifically:
- in 80%, urgency
- in 85%, abdominal swelling/bloating,
- in 54%, pain,
- in 59%, at least occasional incontinence and
- in 88% also wind and tiredness.
Patients reported also their experiences with healthcare professionals. Just over half of the cohort felt as though their symptoms had been dismissed during clinical consultations and 28% felt their GPs were unaware of BAD.
Treatment improved physical and mental symptoms in the majority of participants.
The value of early diagnosis with SeHCAT
As BAD is likely under-diagnosed, it has significant impact not only on their physical and mental health but also on well-being.1
Early diagnosis of BAD is predicted to lead to decreased morbidity, increased quality of life and fewer referrals to the gastroenterologists.2,3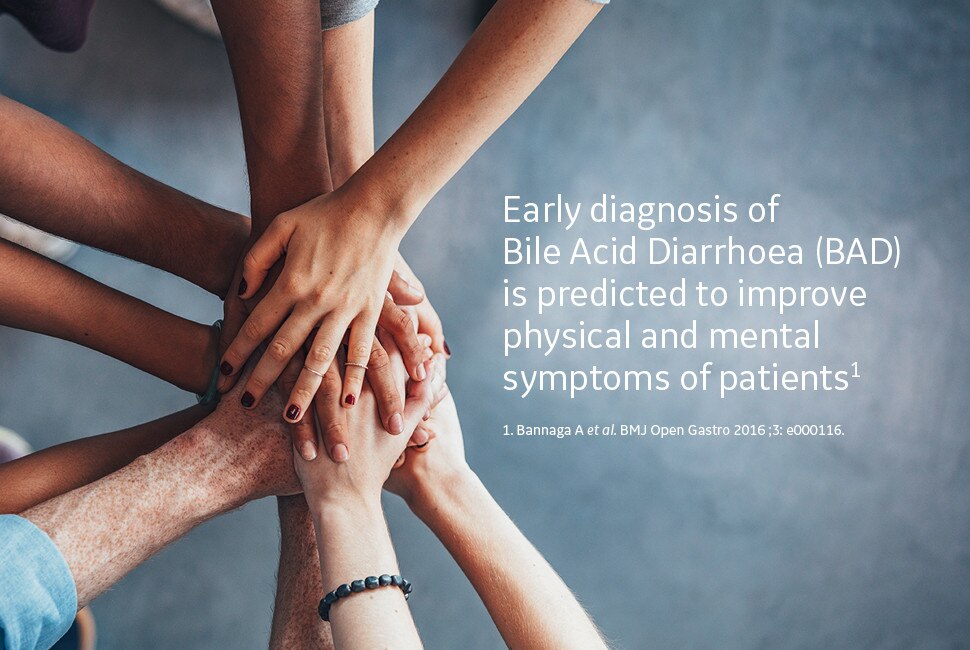 References:
1. Bannaga A, et al. BMJ Open Gastroenterol 2016;3:e000116
2. Pattni S et al. Gut 2014;63:A258-9
3. Summers A, BMJ Open Gastro 2016;
JB7345D 10-2017