Patient outcomes
Patient benefits
Closer care

Newborns need a loving touch. Early bonding is a vital process critical to both the parent and child's healthy growth and development.1 The HALO Bassinest offers a new way to enable a baby-friendly, family-centered care model while supporting bonding.

Clear bedside walls provide visibility to her baby, so mom can rest while making eye contact that is key to bonding
360° rotation allows mothers to bring baby close while still being on a separate sleep surface, making it easier for tired moms who need a break from skin-to-skin contact but want to keep baby close

Breastfeeding rates

Only 32% of mothers achieved their intended exclusive breastfeeding duration.2 Current breastfeeding recommendations suggest the practice of rooming-in to allow mothers and infants to remain together. The bassinest can be brought directly above the moms' laps to enable safe transfer after breastfeeding to support your care model of rooming-in with the goal of improved breastfeeding rates.

Gentle recovery

Recovery from surgery can make any movement painful and difficult, and nearly one-third of moms in the U.S. have a cesarean section birth. The HALO Bassinest provides the flexibility needed to help recovering moms care for their babies while healing.

Convenient storage options, so mom can tend to her baby while in bed
Adjustable height makes it easier to avoid having to bend over or lift, which causes strain on mom's incisions
360° rotation and the 180° pivot allows easy positioning without the need to twist or stretch while mom is reaching for her baby
HALO Bassinest Overview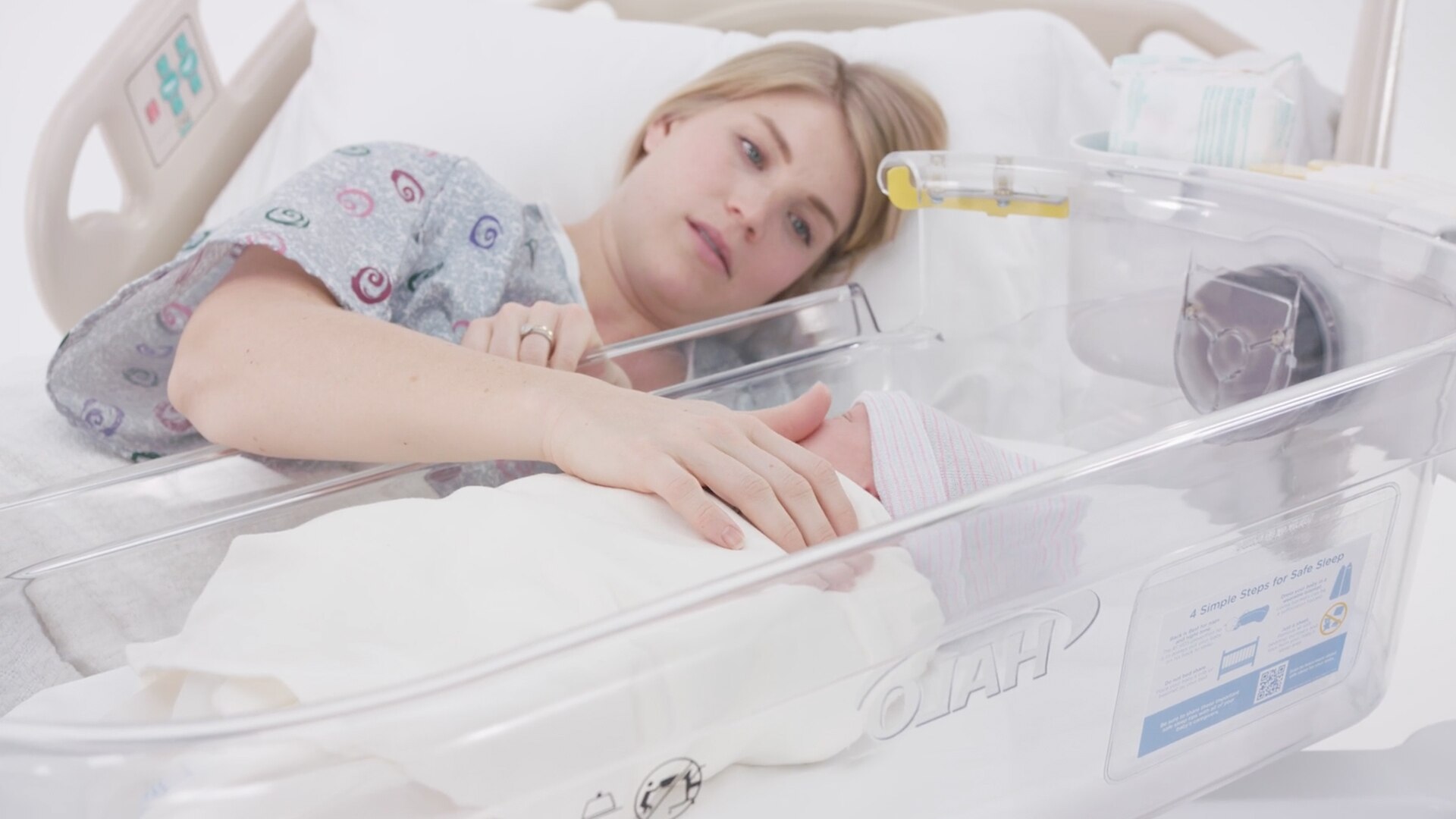 Operational outcomes
Clinical benefits
Safe sleep

While rooming-in practices have a number of benefits for mom and baby, it can also present a number of safety concerns. The HALO Bassinest's all-in-one thoughtful design was made with safety in mind — for families and care professionals alike. It's flexible, 360° design offers mom the ability to position her baby in a way that feels most natural to her while keeping physical and eye contact for close, but separate sleep spaces.

Robust non-tipping design for up to 75 lbs.
Retractable wall with locks designed to help reduce accidents associated with rooming-in.
Firm mattress with a fitted sheet as recommended by APP helps reduce the risk of SIDS.3

Confident care

Rooming-in practices can be daunting when you consider the risks involved, but the HALO Bassinest helps minimize those risks, allowing you the flexibility to give more confident patient care.

Fatigued mother: Bassinet comes directly over mom to allow for safe placement
Co-bedding: Close but separate sleep spaces

Adjustable height (even down to couch level): All visitors can safely welcome baby to avoid drop hazards.

1 Barker et al., Int J Nurs Clin Pract 2017, 4: 229 https://doi.org/10.15344/2394-4978/2017/229
2 Baby-Friendly Hospital Practices and Meeting Exclusive Breastfeeding Intention Cria G. Perrine, Kelley S. Scanlon, Ruowei Li, Erika Odom and Laurence M. Grummer-Strawn Pediatrics 2012;130;54 DOI: 10.1542/peds.2011-3633 originally published online June 4, 2012
3 SIDS and Other Sleep-related Infant Deaths: Updated 2016 Recommendations for a Safe Infant Sleeping Environment TASK FORCE ON SUDDEN INFANT DEATH SYNDROME Pediatrics 2016;138; DOI:10.1542/peds.2016-2938 originally published online October 24, 2016