Benefits
The Giraffe Blue Spot PT Lite makes advantages such as these routine for any neonatal care unit:
Outstanding performance 
Emits Blue LED light in a narrow spectral band, focusing on Bilirubin's peak absorption wavelength to speed its breakdown. 
Provides high-intensity light output in a compact, lightweight and user-friendly package.   
For aggressive treatment of hyperbilirubinemia, you can use the Blue Spot PT in conjunction with our BiliSoft LED system to maximize surface-area coverage.  
Easy to use 
Compact and lightweight, the Blue Spot PT is quickly positioned for precise delivery of therapeutic light. Yet it's easily rotated out of the way for patient assessment and care.   
Comfortable for everyone 
With the innovative gooseneck design and optics, the Blue light is aimed at the patient, away from caregivers and neighboring beds. 
The light source is tucked away safely in a box well removed from the patient, to protect shield both ambient heat and noise, as well as the risks associated with positioning bulky equipment overhead.       
Technology
Advanced technologies make the Giraffe Blue Spot PT Lite a great solution for treating hyperbilirubinemia in virtually any setting.
Its light focuses on a narrow spectral band of 430-490 nm to speed bilirubin breakdown.
It offers excellent light uniformity across a large spot, enabling full body-surface coverage and effective dosage.
Its blue LED bulb's nominal life is 10,000 hours - almost four times longer than a conventional halogen bulb's.
All this capability is offered in a unit weighing only 4 kilograms, with a light box measuring just 17.8x30.5x11.4 cm.
Specifications
Among the Giraffe Blue Spot PT's most important specs are these:
Unit size: 17.8 cm W x 30.5 cm H x 11.4 cm D (light box)
Unit weight: 4 kg
Spectral irradiance: 45 μW•cm-2•nm-1 +25%/-20%, measured after a five-minute warm-up on a new unit with a new bulb, 38 cm from lens to spot center, by a BiliBlanket Light Meter II with 400-520 nm range
Bulb type: Blue LED
Nominal bulb life: 10,000 hours 1
Noise level: <50 dBa measured 1 meter from the unit
Mode of operation: Continuous
Standards: Product ETL is certified to the following standards: UL 60601-1, IEC 60601-1, CAN/CSA C22.2 #601.1, IEC 60601-1-2, and IEC 60601-2-50
1. IEC standards recommend bulb replacement at 25% output reduction, which corresponds to 27 uW.cm-2.nm-1 and occurs at approximately 10,000 hours. However, sufficient irradiance for effective phototherapy continues well after 25% reduction.
Tour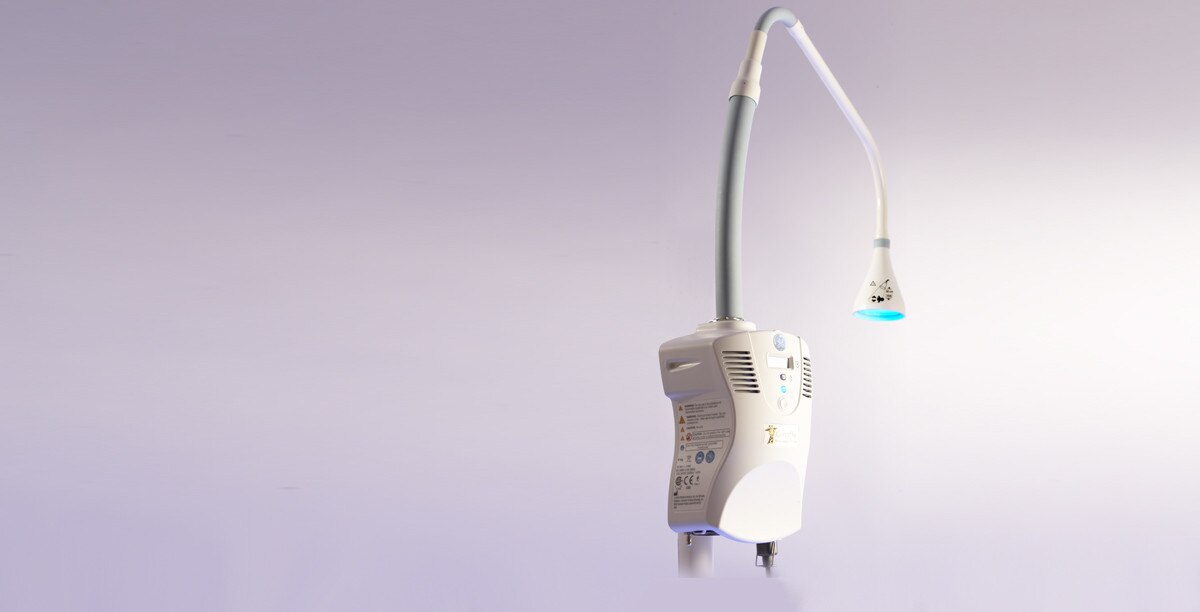 Education & Training
The GiraffeCare ™ Clinical Education Program is designed to enhance the knowledge of caregivers about how the microenvironment promotes clinical outcomes and builds a stronger foundation for evidence-based "best practices."
Gallery
Phototherapy incubator with infant