Image gallery
image1

image 2

image 9

image 8

image 5

image 4

image 3

image 10

image 7

image 6
Fast facts
1st commercialized solution2 that compensates for involuntary respiratory motion artifacts on lnterventional Cone Beam CT.

39% (1.9 Billion) of the world adult population is overweight (BMI>25) or obese.4 These patients may have more difficulties holding their breath during the intervention. Motion Freeze provides a new option for physicians to use Cone Beam CT that would be affected by involuntary respiratory motion artifacts.

In up to 25%3 of unusable Cone Beam CT images affected by involuntary respiratory motion, Motion Freeze, by potentially reducing the need to repeat Cone Beam CT acquisitions, may help minimize radiation dose and contrast media injection.

Facilitate access to advanced solutions such as Liver ASSIST, delivering results up to:
97% improved sensitivity in identifying tumor feeding vessels;
30% less mean number of DSA;
11 % reduction in procedure time for a single TACE session;5
~68% complete tumor response versus DSA alone (36%).6

Physicians estimate that up to 40%3 of acquisitions are unusable due to involuntary respiratory motion artifacts.
Supporting Materials Listing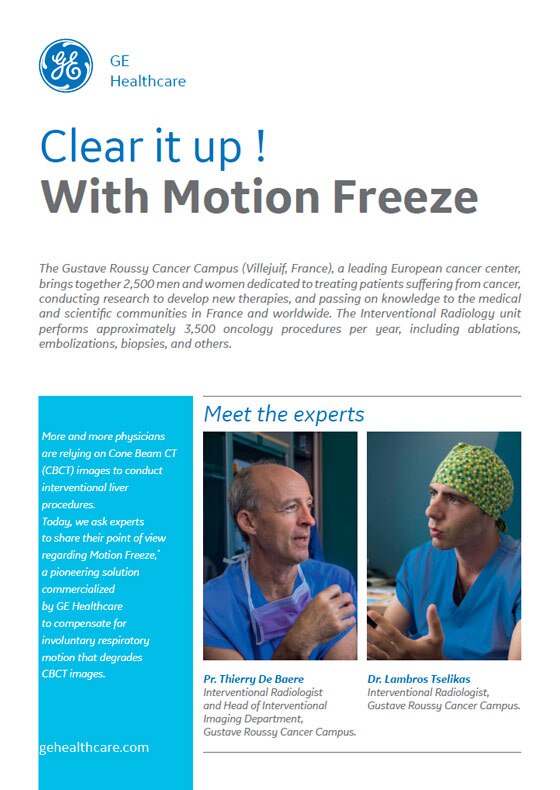 GRCC testimonial on Motion Freeze