Integrated Care Solutions
---
Success requires clinical depth and the ability to connect information, assets, patients and providers across a care continuum.
Our solutions in care delivery management, enterprise imaging, population health management and financial management focus on one or more outcomes to help health systems enhance financial performance, clinical quality and operational efficiency.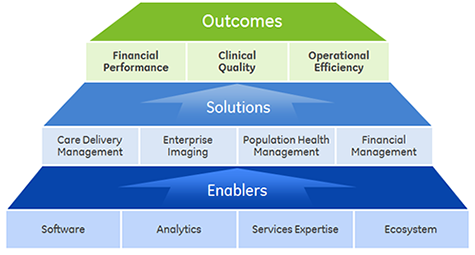 Enterprise Imaging
Enterprise Imaging solutions connect advanced diagnostic tools and system wide image management platforms across the care continuum, to help enable fluid information sharing and diagnosis, while helping optimize costs and enhance productivity.
Care Delivery Management
Solutions to streamline primary and specialty care workflows, including clinical documentation, quality reporting, analytics and surveillance.
Go to Care Delivery Management
Population Health Management
Solutions for proactively managing defined patient groups through data aggregation, risk stratification, care coordination and patient outreach.
Go to Population Health Management
Financial Management
Solutions to help providers with comprehensive financial needs including revenue cycle management, EDI and tools for value-based payment models.