Centricity Case Exchange
Share images, cases and reports; then quickly confer on patient care.
Easily view, reply to, forward or download patient cases from your browser or mobile device. Case Exchange has an easy-to-use case inbox and automation features for handling image requests, sending and receiving responses, notifications and receipt confirmations. It supports both DICOM and non-DICOM (movie files, PDF, etc.) file formats.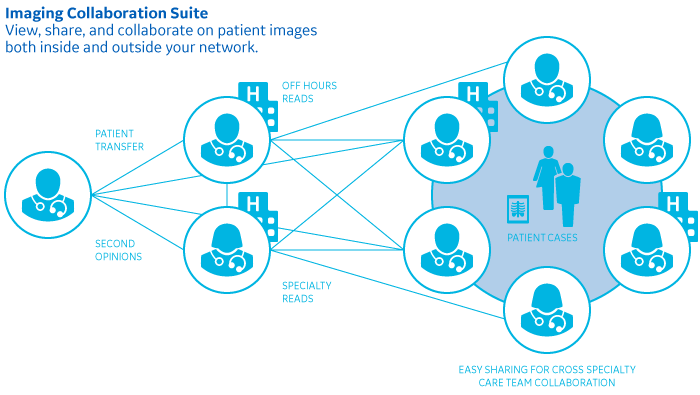 See it in Action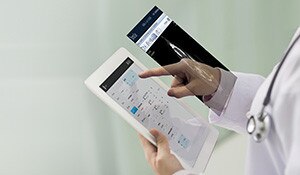 Easily share images for patient transfers
Easily view, reply to, forward or download patient cases from your browser or mobile device.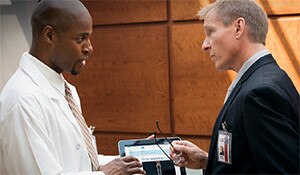 Share patient images with specialists and others
Enable a collaborative community environment where enrolled users can initiate collaboration on patient cases and share images and data with each other.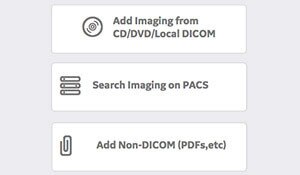 Ingest images from PACs, CD or other media directly
Images and data can be uploaded from any DICOM IT solution, imaging device, or local storage. Users can also upload patient images previously saved to CD/DVD (disk) or USB media directly to Imaging Collaboration Suite.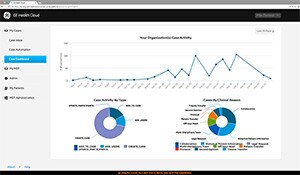 Gather insights about collaboration patterns & trends.
An integrated dashboard aggregates usage data to provide business intelligence analytics across your organization's collaboration and image sharing activities.
Centricity Multi-Disciplinary Team Meeting
Save time preparing for tumor boards and other multidisciplinary team meetings
As we all know, meetings can be very time-consuming. But for MDT coordinators, there's more than running the meeting. Our customers tell us that it takes an average of 3-4 additional hours to prepare, schedule, and follow up. Centricity Multi-Disciplinary Team Meeting helps both clinicians and meeting administrators realize time savings, improve communications, and reduce costs associated with meeting preparation. Run efficient clinical team meetings Easily confer in tumor boards, educational sessions, or other multi-disciplinary meetings, saving meeting costs per patient.
It's as easy as 1-2-3.

See it in Action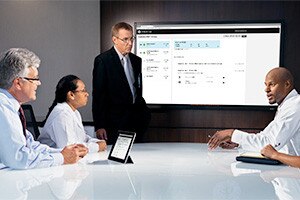 Easily run tumor board meetings
All the images and reports you need in one place. Easy-to-navigate case lists, and connectivity to your organization's PACS. All notes are captured, making post-meeting follow up a breeze.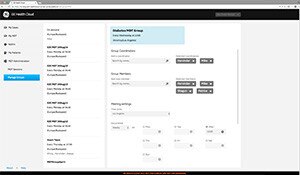 Collaborate and coordinate research efforts across teams
Not just for MDT sessions, this app can be used by any care team that needs to collaborate and share images and notes with colleagues.
Centricity Image Access
Easy remote clinician access to patient images
Provide affiliated and non-affiliated clinicians with a longitudinal record of their patients' imaging data. With role based access, remote clinicians can immediately see studies and reports as the radiologist completes them, helping to improve turn around times and strengthen referral relationships.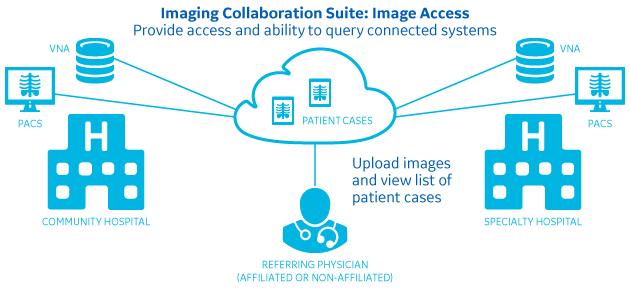 See it in Action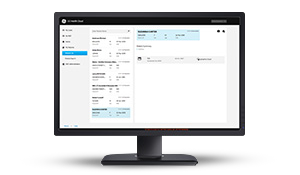 Access and see studies and reports
Provide patient image access to non-affiliated physicians, with ability to query the system to find specific patient imaging data.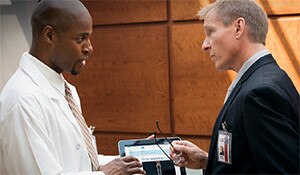 Improve communication and turn around times
Strengthen relationships with referral physicians by providing them access to their referred patients images.
Centricity Cloud Visualization
Fast, easy clinical image viewing and manipulation
Leverage the power of the cloud for image post-processing to provide anytime, anywhere1 viewing and advanced 3-D reading. Clinicians will have access to post-processed images via most browsers, allowing them to navigate findings and measurements, and collaborate on 3-D images. As a result, clinical coordination will be fast, easy, and cost-effective.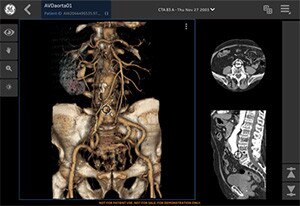 Integrated 2D and 3D viewing
The integrated Centricity Universal Viewer Zero Footprint (ZFP) enables access to non-diagnostic 2-D viewing and 3-D advanced imaging tools from most internet browsers for faster treatment planning, simultaneously enhancing patient experience.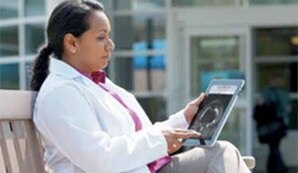 Anytime, anywhere1 access to images
Interactive 3-D, full fidelity results with the ability to navigate through findings, page through and rotate 3D segmentations.
CWAVE Users Group

Centricity CWAVE user group members play an active role in developing our Enterprise Imaging solutions.
Monthly peer-to-peer calls help enterprise teams share and learn best practices for operational effectiveness.
Educational webinars and tradeshow events provide access and engagement with industry thought leaders and product teams.
No cost to join at www.cwaveusers.com

1. Where there is an internet connection