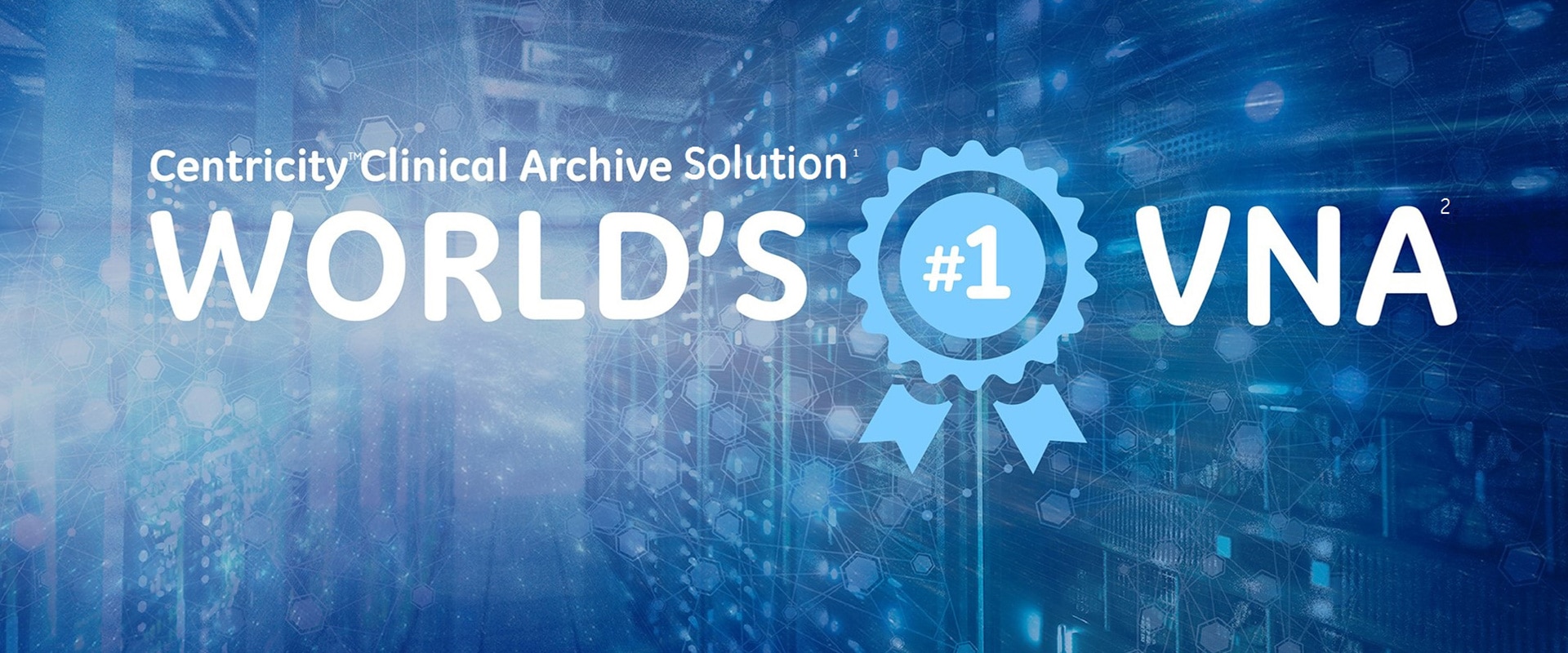 HEALTHCARE DIGITAL: Centricity Clinical Archive
A patient-centric vendor neutral archive (VNA) solution for clinical content...
Technology
Centricity Clinical Archive transforms departmental silos into information sharing engines creating a unified view of patient data
Unify and manage patient images and clinical content from multiple imaging specialties in multiple facilities, including RIS, PACS, CVIT and acquisition devices including iPhones.
Build a single longitudinal patient record across multiple departments and multiple facilities.
Provide clinician access to the patient's longitudinal history from anywhere, whenever it is needed.
Fast Facts
GE Healthcare's Centricity Clinical Archive is the World's #1 Vendor Neutral Archive (VNA) as defined by IHS Markit in their 2017 report.

GE Healthcare has demonstrated higher interoperability readiness than any other vendor as shown at the 2015 IHE Connect-a-thon.

Over 17 billion images under GE Healthcare Enterprise Archive management, worldwide!

Centricity Clinical Archive enables the connection of disparate systems from multiple vendors across multiple specialty departments and multiple facilities to create a longitudinal patient record.
Supporting Materials
Centricity Clinical Archive Data Sheet

Download
1 Centricity Clinical Archive includes the following product components: Centricity Enterprise Archive, Centricity Universal Viewer ZFP client, GE XDS Registry, Centricity Clinical Gateway, Audit Trail Repository, Media Manager, ICW Master Patient Index (MPI), and Lexmark PACS Scan. See the Centricity Clinical Archive Compatibility Matrix and product-specific documentation for requirements.

2 Market share ranking published by IHS, Medical Enterprise Data Storage Market

3 Centricity Universal Viewer ZFP client has been validated and cleared for diagnostic use by the US FDA on Microsoft® Windows® and Apple® Mac® products. ZFP has also received CE Mark for diagnostic use. As regulatory clearance requirements differ by country and region, GE Healthcare must obtain clearance in countries where local specific regulatory approvals are required. Your sales representative can provide information on the status of availability in your area. ZFP can also be used on the Apple® iPad,® Samsung Galaxy Note,® 10.1 and Galaxy Tab® 4 in a review only mode and is not meant for primary diagnosis on these devices. Please refer to the product datasheet for a list of operating systems and browsers supported on these devices.