LOGIQ F8 for Urology
Move Forward, Confidently.
---
You can diagnose with confidence with the LOGIQ F8™.
An ultrasound machine is an important piece of equipment for a urologist. And even more important for your patients. We've designed the high-quality LOGIQ F8 to help you deliver quality patient care.
The LOGIQ F8 has many features and advancements that urologists are looking for in a new ultrasound system, including:
Image quality - Visualize superficial and deep anatomy with excellent penetration. Advanced features like Speckle Reduction Imaging (SRI) help enhance resolution for image clarity
Productivity - Auto-Optimization to quickly adjust image quality with the touch of a button
Patient comfort - Smaller endocavitary E8Cs-RS probe offers wider field of view
Simplified connectivity - Wired and wireless options streamline archiving and communication
Onboard reporting - Store reports with exam details and images as a PDF for the EMR
Urology-specific applications - new BE9CS-RS bi-plane probe is designed for prostate imaging; B-flow™ hemodynamic imaging helps detect small and difficult to visualize vessels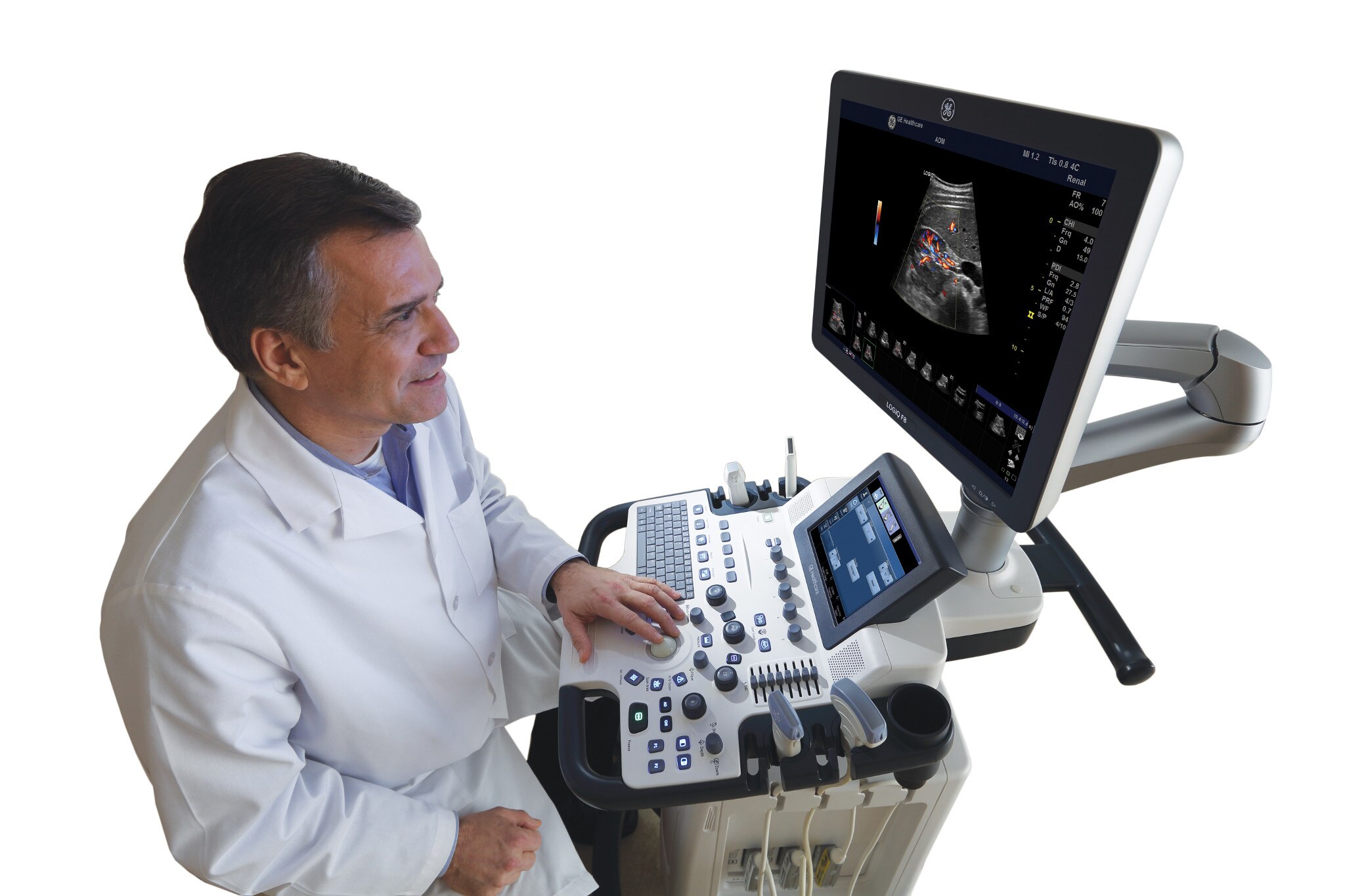 Did you know GE has a dedicated Urology team? Reach out to the team today to find out how you can enhance productivity and improve patient care and comfort.
Image Quality
High quality images using advanced probes for Urology.
This system offers both excellent image quality and affordability - plus 2 new probes to help provide great urology images. The BE9CS-RS biplane probe provides an additional field of view, while the smaller E8Cs-RS endocavitary probe provides a wider field of view than previous offerings.

We'll let the images speak for themselves - take a look at the LOGIQ F8 images and tell us what you think about the image quality.
Support

Whether you need help enhancing image quality or have a question regarding a specific technology - we're here for you. When you need us.

Clinical applications team members are available from 8am-7pm EST to help answer your questions:

Setting up protocols
Assistance with using a specific feature
Optimizing an image for your preference

No question is too big or small for our Valued Connections team. And it's not just phone support - we can use a number of technologies to help answer your questions:

InSite™ - to remotely access your system if connected to Ethernet, where we can see exactly what you see on the screen.
Virtual meetings - to provide training and support in an interactive setting. Use the camera on your laptop or mobile device to interact live with our specialists.

Your system also has an on-board help program that provides interactive access to information on settings, operation, connectivity, and maintenance. Or log on to the LOGIQ Club, with online access to tools and resources to help you experience the full power of your LOGIQ system.
Contact us
We want to hear from you.
Tell us what you think of the image quality of our new systems
Ask us about options that might fit your practice
Request a brochure or other material to share with your colleague
Let us know how we can help serve you and your patients
Whatever the reason, we want to hear from you. Click here.