ViewPoint 6 and EchoPAC Suite for Cardiology
---
Keeping your cardiology and vascular exams well organized and easily accessible is essential in today's busy echo departments. With complete documenting and archiving capabilities, ViewPoint 6 with EchoPAC™ Suite may help you streamline and simplify your workflow.
Speed up routine work and may help enhance efficiency with:
Easy-to-use documentation screen
Customized quick report templates for common findings
Digital measurement transfer from ultrasound system
Extended measurement transfer from GE Vivid systems
In addition, ViewPoint 6 with EchoPAC Suite includes advanced features that can be built to suite your exact needs, including:
Analytics module
Report configurator
Cardiology PACS or EMR integration
The integrated EchoPAC Suite, allows you to review and post process your cases offline, freeing up your ultrasound system for scanning instead of reviewing.
High quality reports for referring physicians and access to data for post-processing all in one comprehensive, dedicated solution.
*EchoPAC Suite is a marketing name for EchoPAC Plug-in.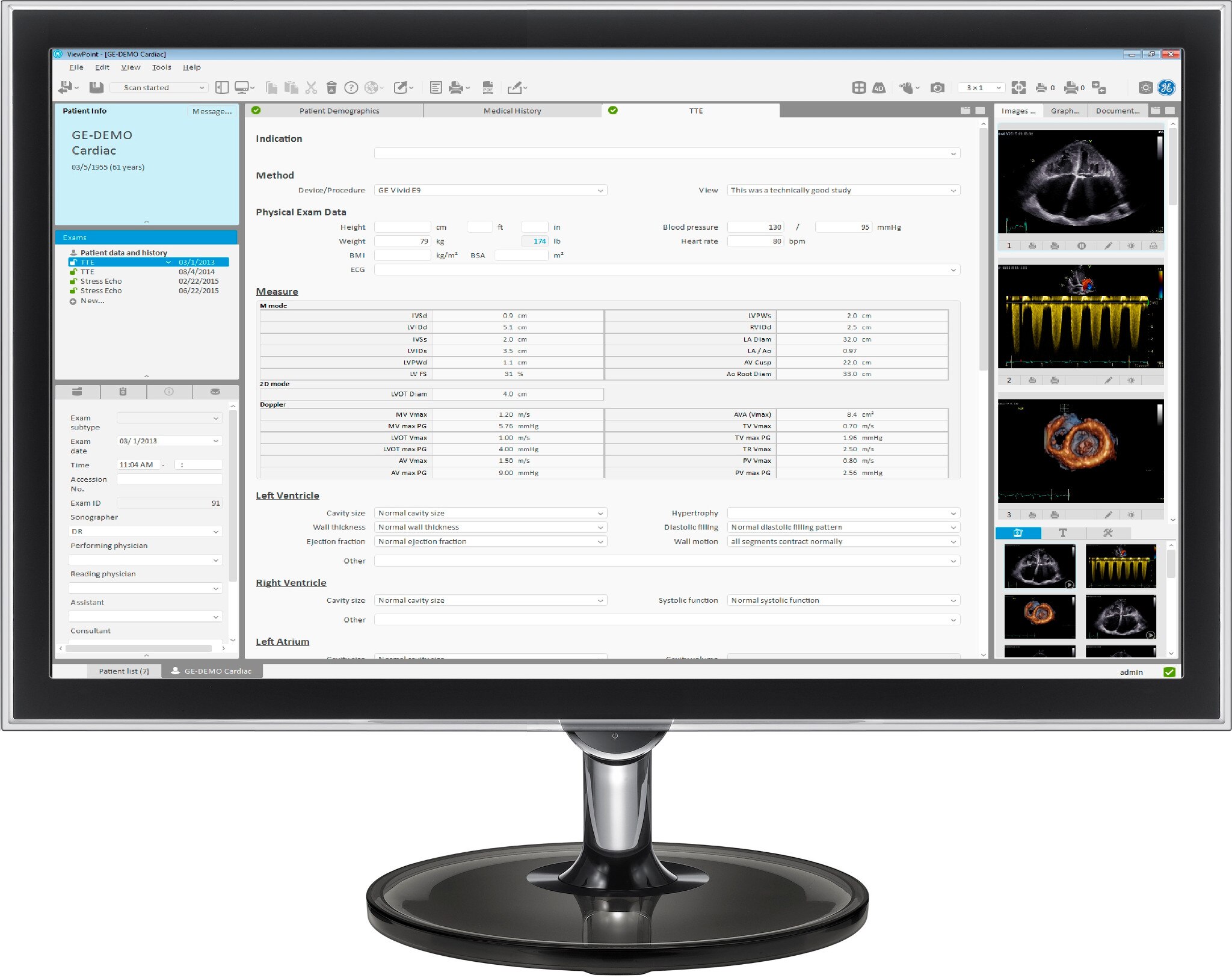 Image Processing and Review

Get a better view when post processing Cardiology data sets. EchoPAC Suite features integrated post-processing tools to allow you to review, analyze and perform measurements at an offline workstation, freeing up your ultrasound system to help improve workflow.

With EchoPAC Suite you can access the power of GE Vivid image processing across cine loops and static images. Analysis or measurements made using EchoPAC Suite are directly saved back into the patient record, so your patient information is in one location.

Your Vivid system's functionality is available in EchoPAC Suite, including:

Stress Echo
Tissue Synchronization Imaging (TSI)
4D and Multi-dimensional Imaging
Measurements and Analysis
2D Strain
4D Strain
Automated Function Imaging (AFI)
4D LV Volume and 4D RV Volume
Mitral Valve Assessment
4D Auto AVQ for aortic valve quantification
Intima Media Thickness (IMT)
Tissue Velocity Imaging (TVI)
Tissue Tracking (TT)

Reporting

ViewPoint 6 can help you create comprehensive and easy to read reports quickly. Your ultrasound reports can include everything from images and measurements to images and diagrams to results and recommendations. The reporting capabilities in ViewPoint 6 can help reduce manual data entry and potentially reduce errors from manual work. 

Reports for Echo Cardiology

Transesophageal Echocardiography
Transthoracic Echocardiography
Stress Echo

Reports for Vascular

Bypass Graft
Extremity Arterial
Extremity Venous
Abdominal Venous
Aortic-Illiac-Duplex
Visceral Arterial
Transcranial
Extracranial

Workflow and Integration

From the start of the exam to final storage, ViewPoint 6 fits into your workflow as a scalable solution designed to help simplify your daily routine. A single click allows you to:

Archive exam information
Send report to an EMR
Fax or print report for a colleague
Send images to an existing CV PACS

ViewPoint 6 connects seamlessly to your existing multi-vendor ultrasound devices and IT systems to help with efficiency and data quality while enhancing your current investment.

Analytics

See BEYOND the obvious

The analytics module  in ViewPoint 6 can help put all that data at your fingertips to look for trends and details easily and accurately. It gives you the power to create a query for any information in the database you want to learn more about, and, with one click, export to other applications, like Microsoft™ Excel.™ 

The ViewPoint 6 analytics tools can help you for example with:

Quality control
Workflow enhancements
Accreditation
Trending
Research
Budget planning

Quickly and easily search for the information you're looking for giving you comprehensive data control.

Service

Reliable support when you need it

From the beginning, our extensive team of IT and ultrasound professionals are here to make sure your needs are covered. Our experienced clinical and application experts, interface and technical engineers, project managers and support teams are available to help address your specific requirements.

The professional service team is available for individualized solutions such as new interface installations, software migrations and more.

A software maintenance agreement (SMA) offers comprehensive service allowing you to:

Get help with a technical or clinical question from our helpdesk
Utilize remote support
Stay current with product updates
Benefit from the latest performance and stability enhancements
Download the latest release from our new e-distribution portal
Attend webinars and meet the expert sessions online