LOGIQ E9 XDclear 2.0
---
Make every day extraordinary.
The LOGIQ E9 with XDclear is a powerful and versatile general imaging system that helps meet a wide variety of general imaging needs. With its intuitive, advanced capabilities, the LOGIQ E9 with XDclear allows you to make every day extraordinary
LOGIQ E9 with XDclear can help you:
Deliver extraordinary image quality on a broad spectrum of patient body types.
Visualize blood flow without the limitations of Doppler
Enhance your workflow.
Integrate real-time ultrasound with previously acquired CT, MR, PET, or ultrasound images.
Visually track your position during a scan.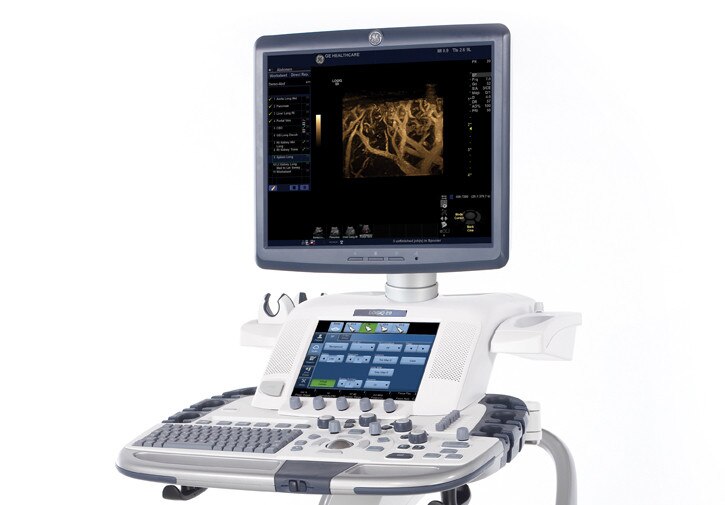 The LOGIQ E9 with XDclear premium ultrasound.
Extraordinary Images

Extraordinary images.

The LOGIQ E9 features advanced technology that gives you the ability to capture extraordinary images. Its innovative architecture provides the foundation for its extraordinary capabilities.

Agile Acoustic Architecture

Agile Acoustic Architecture uses proprietary dynamic models of the human body to help you acquire images on virtually any patient with minimal system adjustments. LOGIQ E9 helps you:

Acquire images quickly and with less operator interaction.
Obtain image uniformity from the near to far field.
Achieve deep penetration even on large patients.
Increase exam consistency.

E-Series transducers

Our ergonomically designed transducers work with Agile Acoustic Architecture to facilitate excellent image quality. Now, you don't have to trade increased penetration for outstanding resolution—our transducers can give you both.

Acoustic Amplifier Technology recycles previously wasted acoustic energy into the transducer's crystal, boosting sensitivity.
Single Crystal Technology increases bandwidth, offering better signal-to-noise ratio and improved axial resolution.
Matrix Array Technology uses multiple rows of crystals to achieve uniform resolution throughout the field of view.

Note: All comparisons based upon GE conventional ultrasound versus GE ultrasound featuring the above referenced features

Expert Tools
Expert Tools.
The advanced technology of the LOGIQ E9 with XDclear was designed to offer extensive functionality beyond conventional ultrasound.1 The system provides an array of expert tools and technologies, including:
Shear Wave elastography provides a non–invasive, quantitative assessment of tissue stiffness in chronic liver disease and lesions in the liver, breast and small parts applications.
Color-coded elastogram and quantitative measurements
Dual or Single display option
Measurements in kPa or m/s
User selectable color maps
Adjustable color box and ROI depth and size
Volume Navigation technology combines multi-modality imaging with real-time ultrasound or previously acquired ultrasound exams. Volume Navigation is even easier with OmniTRAXTM active tracker which helps reduce registration time for CT/Ultrasound exams through auto-registration. Volume Navigation is even easier to use with new tools and accessories including new hardware, needle sizes, an active tracker and transducers with embedded V Nav sensors.2
Volume Navigation technology combines multi-modality imaging with real-time ultrasound or previously acquired ultrasound exams.
Fusion merges real-time ultrasound with CT, MR, PET or ultrasound images, enabling you to benefit from the strengths of each exam.
GPS helps enable you to visually track your position during a scan from different views, help guide biopsies efficiently and effectively, and simplify the counting of masses, lesions and nodules.
Needle Tracking helps you achieve a high level of accuracy for guided procedures by enhancing precision with a re-usable sensor that displays the exact position of the needle tip.
Additional Expert Tools
Auto-IMT (Intima Media Thickness) helps provide automatic edge detection for intima-media thickness measurements to help reduce the exam time while evaluating the carotid artery's intima-media thickness.
Elastography helps evaluate tissue stiffness to obtain additional diagnostic information that can aid you in making patient management decisions. Learn more about elastography.
Volume Ultrasound lets clinicians construct volumetric images in real-time and observe anatomy in any plane.
Multiplanar imaging allows you to view any plane individually or simultaneously with other orthogonal planes.
The C-plane allows you to display areas in an imaging plane parallel to the skin—ordinarily impossible using conventional 2D ultrasound.
Tomographic Ultrasound Imaging (TUI) enables volume data to be viewed in multiple slices, much like CT and MR.
Volume Calculation (VOCAL) helps you evaluate irregular structures by automatically calculating volumes based on automated or manual tracing of the structure.
Cardiac Tools
Tissue Velocity Imaging (TVI), a cardiac tool that measures the myocardial velocities longitudinally, evaluating systolic and diastolic function.
Tissue Velocity Doppler (TVD) measures segmental velocity of the myocardium longitudinally.
Q-Analysis plots the velocity information of discrete points for graphical analysis.
1. All comparisons based upon GE conventional ultrasound versus GE ultrasound featuring the above referenced features
2. Option only available with XDclear upgrade
Easy Workflow

The LOGIQ E9 has features designed to help enhance workflow, mobility, and convenience.

Highly intuitive user interface

We've put controls right where you need them:

Full-sized, floating keyboard allows you to adjust the system to help reduce strain.
Highly intuitive control layout clusters your most-used keys around the trackball to help you focus on the patient instead of searching for the right key.
Customizable touch screen panel enables you to configure the system to your preferences.

Scan Assistant

Scan Assistant anticipates and preps the next step of a scan, helps reduce keystrokes, and frees you to focus on the important exam elements. A GE-commissioned study performed by an independent third party sonographer revealed a 79% reduction in keystrokes and 54% reduction in exam time. Scan Assistant performs the following tasks:

Initiates and auto-completes any required measurements.
Automatically steers color Doppler.
Sets up imaging controls and modes.
Inserts comments.
Automatically reorders images to your preference, independent of acquisition sequence.

Ergonomics designed for you

The LOGIQ E9 is 20% smaller and 100 pounds lighter than our previous premium ultrasound systems, and offers remarkable mobility.

Motorized adjustable height enables you to fit the system to your needs with the simple touch of a button.
Monitor tilts completely down to help ensure nothing obstructs your view when transporting the system.
Front and rear handles help make it easier for you to transport and maneuver the system.
E-Series transducers were designed with user input, featuring lighter materials, ridges for improved handling and proper grip, and flexible, lightweight cables.
Education & Training
Knowledge. Power. Confidence.
Our expert team of educators and ultrasound Clinical Application Specialists are committed to helping you provide better patient care on a daily basis through our high performance education programs. Learn more.
Services & Support
Service. Support. Solutions.
Count on GE to help optimize the performance of your vital ultrasound assets. Our maintenance service offerings all deliver one thing-confidence.
Learn more.
Ultrasound IT
Simple, streamlined workflow at your fingertips.
Manage patient information, report data, and images in one flexible and intuitive IT solution. GE's ViewPoint* 6 is one of the most comprehensive, customizable data management tools available. Learn more.
Events
Ultrasound Point of Care Events
New England Chapter of the American Association of Clinical Endocrinologists 2013 Annual Meeting, November 2 - Marlborough, MA Marriott Courtyard Marlborough
ASRA ANES Workshop, November 2-3 - Chicago, IL
NWAS Course, November 6 - Key West, FL Westin
Ohio ACEP, November 6-7 - Columbus, OH
Thyroid Cancer 2013: Advances in the Diagnosis & Treatment of Thyroid Nodular Disease and Cancer, November 8 - Jefferson Medical College of Thomas Jefferson University
Mayo Clinic Symposium on Sports Medicine, November 8-9 - Rochester, MN Kahler Grand Hotel
ASC Annual Meeting, November 9-11 - Orlando, FL Hilton Bonnet Creek
AAPMU, November 9 - Los Angeles, CA Manhattan Beach Marriott
Intermediate ultrasound guided peripheral nerve block workshop, November 15 - Monterey, California UC Davis Health SystemMonterey Plaza Hotel
NWAS Course, November 18 - Las Vegas, NV Paris Hotel
ASRA Fall Pain Meeting, November 21-23 - Phoenix, AZ The Arizona Bitmore Hotel Booth #201
New England Orthopedic Society Fall meeting, November 22-23 - Boston, MA Omni Parker House Hotel
Ohio ACEP, December 4-5 - Columbus, OH
NYPGA Annual Meeting, December 13-17 - New York, NY Marriott Marquis
healthymagination
A focus on improving healthcare.
Healthymagination is our commitment to continuously develop innovations focused on reducing cost, increasing access, and improving quality of patient care. LOGIQ E9 Volume Navigation is healthymagination validated. This validation helps ensure that you can increase quality of care through improved visualization.
Learn more at www.healthymagination.com

ecomagination
High efficiency ultrasound.
LOGIQ E9 and LOGIQ S8 are among the most energy efficient in the industry. That means with every image you'll be using less energy, saving money, and contributing to a better environment. It's part of the GE commitment to invest in innovative solutions to environmental challenges, while empowering you with advanced tools for healthcare delivery.
Learn more at www.ecomagination.com