Labor and Delivery
---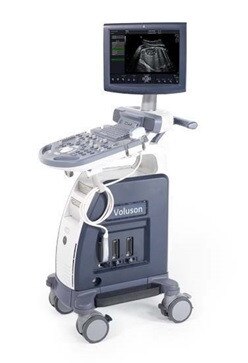 Maximize your insights during Labor and Delivery
There are many steps in the Labor and Delivery process - from visualizing fetal position and placenta location to evaluating amniotic fluid and fetal cardiac activity. Ultrasound plays an important role in assessing labor progression. Let us deliver for you - with ultrasound systems that are designed for your needs in Labor and Delivery.
GE offers a range of ultrasound systems that meet your clinical and budgetary needs:
Portability and battery backup to move from room to room as needed
Great 2D imaging for Labor and Delivery needs
Help and guidance with onboard assistance, or through our dedicated Valued Connections - just dial (844) 593-SONO to contact our dedicated support team
Evaluating fetal head progression manually is second nature for experienced clinicians - but results can be subjective and vary, particularly during prolonged labor. Supplement your skills with SonoL&D, the VolusonTM ultrasound imaging tool to help evaluate the labor progression. SonoL&D, based on 2D ultrasound, automatically measures the angle of fetal head as labor progresses - this objective, quantitative ultrasound data helps guide clinical decision-making.
Did you know GE has a dedicated team for L&D? Reach out to the team today to find out how you can enhance productivity and improve patient care.
Our Products
Image. Measure. Assess.
What's important to you when it comes to looking for a new ultrasound system? Are you looking for…
A lightweight, portable system that can move from room to room without having to be shut down?
A clear image to help you make clinical decisions quickly and accurately?
Automation and consistency in measurements, including fetal head progression measurements?
An intuitive interface that's easy to master, so you can focus on your patients, not the system?
Animation to provide patients a clear picture of fetal head progression? This helps the patient understand how labor is progressing and enhance understanding why clinical decisions are being made.
Then look at GE. Learn how the features and benefits of these systems can help Labor and Delivery departments like yours.
Image Quality
High quality images for high pressure situations.
Whether it's your patient's first or fifth delivery, getting a clear image can help you make decisions quickly and accurately, and help reduce anxiety and pressure for your patients. Our systems have great 2D imaging with features like Auto-Optimization, allowing you to get an optimized image with just the touch of a button. With a dedication to all the specialties of Women's Health, GE has an ultrasound system with the image quality you're looking for.
Support

Whether you need help enhancing image quality or have a question regarding a specific technology - we're here for you. When you need us.

Clinical applications team members are available from 8am-7pm EST to help answer your questions:

Setting up protocols
Assistance with using a specific feature
Optimizing an image for your preference
Training on automated programs, like SonoL&D

No question is too big or small for our Valued Connections team. And it's not just phone support - we can use a number of technologies to help answer your questions:

InSite™ - to remotely access your system if connected to Ethernet, where we can see exactly what you see on the screen
Virtual meetings - to provide training and support in an interactive setting. Use the camera on your laptop or mobile device to interact live with our specialists.

Your system also has an on-board help program that provides interactive access to information on settings, operation, connectivity, and maintenance. Or log on to the LOGIQ Club or Voluson Club, with online access to tools and resources to help you experience the full power of your system.
Contact Us
How can we help YOU? Do you need…
A question answered about a product or solution?
Product information, like a brochure or a datasheet?
A quote for one of our solutions?
More details on financing or service options?
An Online Product Introduction scheduled with you and your team?
Let us know how we can help serve you and your patients. Whatever the reason, we want to hear from you. Click here.