Giraffe Shuttle
The power to provide continuity of care
---
Seamless care, from one environment to another. The Giraffe Shuttle is a portable power source that connects to GE Healthcare's Giraffe family. It provides electrical power to the bed and other auxiliary equipment, as well as provisions for medical gas management. The Giraffe Shuttle facilitates the mobility of these beds within a hospital building, reducing the potential for clinical problems associated with intra-hospital transport that result from interrupted patient thermalregulation and intrahospital transport.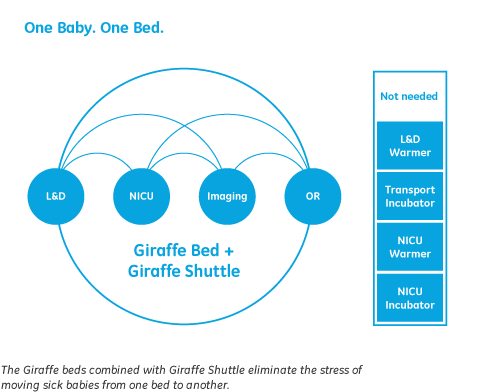 Benefits
Provide continuity of care for your smallest patients.
Simpler, safer infant transport

With Giraffe Shuttle, you no longer need to move babies to and from a transport incubator. By eliminating the need to transfer a baby from bed to bed, the Giraffe Shuttle, in combination with the Giraffe or Panda bed, helps reduce the potential for clinical problems that can result from interrupted patient thermal regulation, patient touch, handling, and movement—all of which potentially challenge physiological stability.

Broad compatibility with your care environment

Designed to maximize your investment, the Giraffe Shuttle can power various accessories and auxiliary equipment. When paired with existing Giraffe and Panda iRes beds, Giraffe Shuttle extends the use of these products while potentially improving intra-hospital transport outcomes.

Greater maneuverability

The Giraffe Shuttle connects smoothly with any Giraffe or Panda bed. Its slim silhouette is designed to make It easier for you to steer the bed in tight spaces, through doorways, down hallways, and around corners.

Greater workflow efficiency

In addition to all of its clinical advantages, the Giraffe Shuttle can help save time spent on transferring a baby from one bed to another and cleaning those beds.

Greater peace of mind

The Giraffe Shuttle supports the One Baby, One Bed concept originally introduced with the Giraffe OmniBed to extend to the intra-hospital movement of the baby. Knowing that babies can now be supported fully in the Giraffe or Panda bed, even when moving through the hospital, provides greater peace of mind for caregivers and parents.
Technology
Designed to meet your infant care needs.
Longer-life battery

The Giraffe Shuttle offers up to 45 minutes and 365 cycles of electrical power to Giraffe or Panda beds and compatible accessories, allowing you to transport infants safely within a hospital building. Battery indicators provide guidance on the time remaining on a single charge, as well as the life of the batteries.

Auxillary support

The Giraffe Shuttle can support the power needs of the Giraffe Incubator, Giraffe Warmer, Giraffe Omnibed, and other compatible devices.

Ergonomic frame

In addition to easy, secure compatibililty with Giraffe and Panda iRes beds, Giraffe Shuttle offers increased bed maneuverability to help ease the challenge of navigating through the hospital. It also features provisions for medical gas management—crucial for providing patient stability during intra-hospital transport.
Specifications
Battery Specifications
12 volt, 42 Ah, valve regulated, sealed (nonspillable), lead acid battery quantity 2, connected in series
Mechanical Specifications
Height: 1367 mm
Width: 638 mm
Length: 890 mm
Weight: 126 kg
Input Power Requirements
VACVoltage               Frequency in Hz ±3Hz         Max. Current (Amperes)
115 ±10%                           50 & 60                                    12
220~240 ±10%                 50  & 60                                    9
Giraffe Shuttle Output Power
The maximum power output of the Giraffe Shuttle is 775 VA.
Giraffe Shuttle Output Voltage (Battery)
VAC Voltage               Frequency in Hz ±3Hz
115 ±5%                            50 & 60
230 ±5%                            50 & 60
While operating off wall power, input voltage and frequency is passed through the Giraffe Shuttle. No power conditioning occurs. The Giraffe Shuttle will generate AC power only if the AC main voltage drops below 50% of the input voltage.
Tour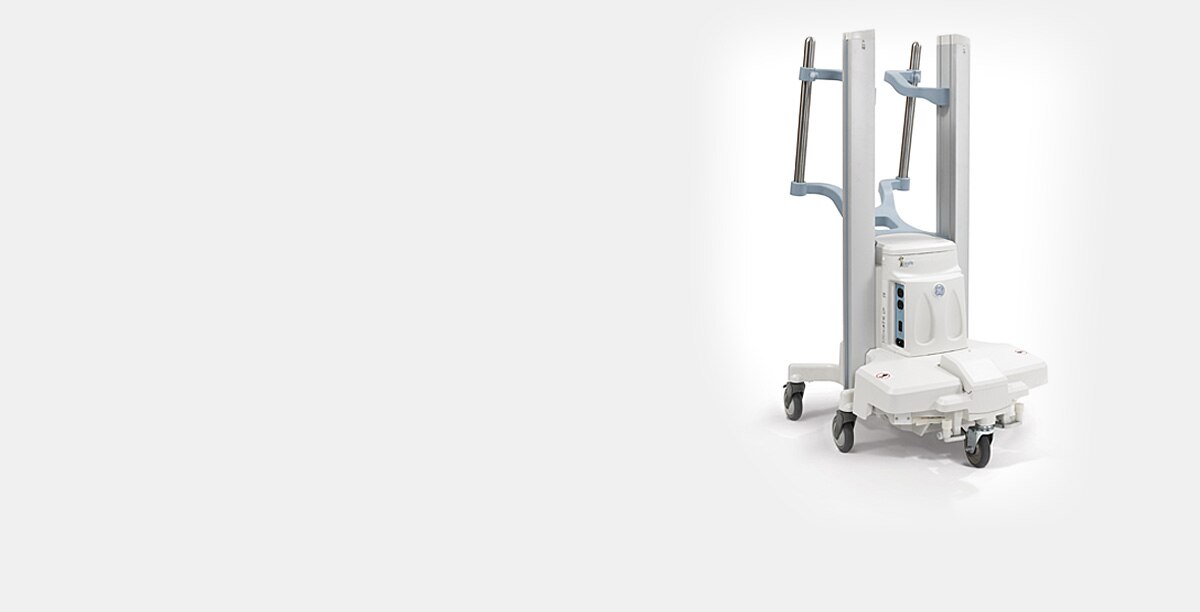 Education & Training
The GiraffeCare ™ Clinical Education Program is designed to enhance the knowledge of caregivers about how the microenvironment promotes clinical outcomes and builds a stronger foundation for evidence-based "best practices."
Related Content
Giraffe Omnibed & Giraffe Shuttle Case Study: Baptist Hospital Foundation, Nashville, TN

Download