Oncology Solutions
What does precision cancer care mean to you?
---
Perhaps it's as simple as improved clinical detection, or real-time data
sharing? Whatever your definition of precision cancer care is, we know the
end goal is always the best possible outcome for your patients.
For this reason, GE supports cancer centers and hospitals all over the world
to help improve cancer care from screening to treatment through advanced
medical technologies, providing physicians and technicians with greater
clinical insights. We work with you to address your specific clinical and
operational challenges to achieve the best possible patient outcome
through the most precise treatment available.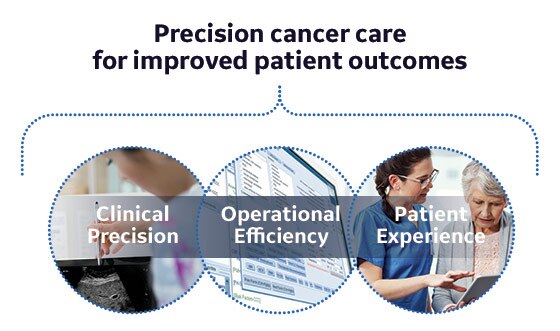 Screening | Diagnostic Imaging | Staging | Radiotherapy Planning | Precision Treatment | Active Surveillance | Training

GE Healthcare and Roche enter partnership to develop integrated digital diagnostics platform for enabling precision cancer care at a personal level.
Our mission is to help improve clinical efficiency and accuracy by building upon each other's strengths to develop clinical decision support software for faster, more accurate, more confident decision-making, enabling earlier diagnosis and individualized treatment. This dynamic partnership will apply advanced analytics to in-vivo data from GE's medical imaging and monitoring equipment with in-vitro data from Roche's biomarker, tissue pathology, genomics and sequencing portfolio for the next level of precision cancer care.