IWS Bassinets
Our bassinets are almost as beautiful as the babies they hold.
---
When choosing bassinets for your labor & delivery department or nursery, there are many things to consider. Quality, care, durability, comfort, ease of use, storage space and versatility are just a few of the important considerations.
If you choose our bassinets, you'll get all of that and more. A lot more. And on top of it all, you'll get beautiful furniture that will complement any room design.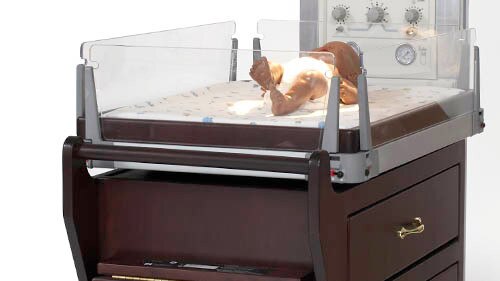 Benefits
Our well baby bassinets offer many features, such as:
High-quality, solid-wood construction
A choice of four wood stains to compliment your décor

We offer natural oak, natural maple, medium oak, and cherry stains.

A comfortable baby bed

The thick mattress provides a soft bed for your newborn patients.

A choice of bed styles

To fit your care needs, we offer two bed options: choose from a tub style bed or bed with fold down side panels.

A versatile workstation

Our well baby bassinets make it easy to care for your patients by providing a workstation with a chart holder and an integrated flip top writing surface.

A tilt feature

All well baby bassinets include a bed tilt feature that allows you to easily tilt the bed into the Trendelenburg position.