Innova™ IGS 6
View the anatomy in details
---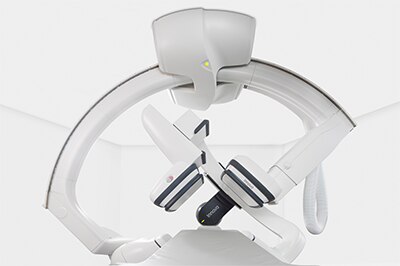 The Innova IGS 6 biplane system is designed to support a variety of procedures such as pediatrics, Electrophysiology, neuro interventions and body imaging procedures. It is designed from the ground up to provide the im age clarity you need while helping you keep dose as low as possible.
It includes features like Dose Personalization, which gives you the tools to choose from up to four autom atic exposure preferences for your system . You can also m odify any of these preferences2 in any clinical protocol to enable multi-procedure, multi-user custom ization and thus support well-informed decisions.
The system features 3DCT HD3, GE's next generation of 3D imaging, providing fine image details for visualizing soft tissues and small devices such as intracranial stent struts. With the new generation of GE's advanced interventional im aging software solutions, ASSIST, you can expand your clinical versatility and successfully plan, guide and assess increasingly sophisticated procedures with greater precision and dose efficiency.
Superb image quality with high Detective Quantum Efficiency (DQE)The proprietary angiography flat-panel detector offers one of the industry's highest ratings for Detective Quantum Efficiency (DQE), a parameter internationally acknowledged as an index of detector performance in contrast-and dose-limited imaging performed in clinical studies. High DQE enables better-quality images at the same dose, or the same quality image at a lower dose.

Offset C-arm

With its unique offset C-Arm, the Innova IGS 6 enables improved access to patient head in complex interventions and helps cover head to groin without moving the gantry.

Clear access to patients during interventions

Thanks to the exclusive design of the C-arm, you get unrestricted access to the patient's head for anesthesia and nursing. In addition, the C-arm design allows you to perform 3D rotational acquisitions of the spine and torso as well as patients' head while intubated.
3DCT HD

3DCT HD provides fine image details simultaneously on cross-sections and volume rendered to help you clearly visualize vessels, small devices and soft tissues.3

Specific acquisition parameters and automatic artifact reduction algorithms can improves image quality and increase your clinical confidence for each application.

3DCT HD MAR reduces streak artifacts induced by the presence of small metallic devices such as coils or clips within the 3D field of view.6

3DCT HD Motion Freeze1 is designed to reduce artefacts caused by involuntary respiratory motion during the rotational acquisition and recover small detail visibility impacted by motion.6

InnovaSpin

The offset C-arm permits fast-spin rotational angiography over a maximum range of 200° at variable speeds from 20° to 40°/sec (maximum speed of 30°/s from LAO to RAO) with flexible cranio/caudal oblique angulations. The enhanced InnovaSpinTM trajectories are not constrained to a single transverse plane and can be used at oblique angulations within physical constraints.1
In clinical use, the results of the application of dose reduction techniques will vary depending on the clinical task, patient size, anatomical location and clinical practice. The Interventional radiologist, assisted by a physicist as necessary has to determine the appropriate settings for each specific clinical task.
1 – Option may not be available in all countries, nor all systems, check with your local representative
2 – Modification of preferences by requesting it to your entity responsible for the servicing of your equipment.
3 - 3DCT HD is an option sold separately. Includes 3DXR. Requires AW workstation and Volume Viewer.
4 - Collision management features are not intended to be a substitute for careful equipment operation
5- InnovaBreeze is optional on IGS 630 configuration and it requires an AW Workstation. Advantage paste is included in InnovaBreeze.
6- MAR & Motion Freeze are optional features of 3DXR. Sold separately. The improvement related to Motion Freeze depends on the acquisition conditions, table position, patient, type of motion, anatomical location and clinical practice, it has been assessed visually on a physical phantom.