Centricity Universal Viewer 100 edition
---
The 100 edition is a turnkey web-based PACS designed to view, store and distribute images for providers who perform up to 100,000 exams a year. The same clinically rich tools and diagnostic functionality used by large hospitals is now compact, robust and affordable.
The 100 edition introduces the next- generation viewing experience, offering flexibility and versatility with a wide range of primary diagnostic image review and analysis tools that are part of the core product including: CR-Computed Radiography; CT-Computed Tomography (view 3D MIP/MPR); MR- Magnetic Resonance (view 3D MIP/MPR); DX-Digital X-ray; XA-X-ray Angiography; RF - Radio Fluoroscopy, PET/CT, US-Ultrasound (view 3D MIP/MPR) and PET-Positron emission tomography (view 3D MIP/MPR). Other DICOM image objects that can be displayed in Universal Viewer include DICOM SR (plain text); DICOM GSPS (presentation state) and DICOM KIN (key images notes).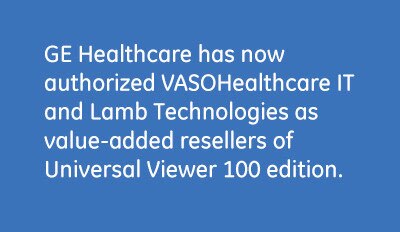 Customer Value
View images anywhere the Internet is available on a device of choice using Centricity Universal Viewer Zero Footprint1 viewer that requires no installation or complex software downloads. It includes native advanced visualization tools, offering a single source for MIP/MPR and PET-CT. This allows specialists or radiologists to do immediate preliminary reads in an emergency using their device of choice
Comes with an embedded HL7 engine to support integration workflow such as shared patient demographics and imaging orders
Helps increase clinician efficiency because it is preconfigured with excellent workflows and best practice hanging protocols to view images for these studies and many others
Provides referring physicians and clinicians with direct access to images with a single click through from an EMR, RIS or physician portal. Helps organizations to Image Enable their EMR to meet Meaningful Use requirements set by the American Recovery and Reinvestment Act of 2009
Requires little or no IT resources and is quick to install and simple to operate
Supports at home reading for radiologists who need that flexibility, and the ability to route images to Night Hawk service providers to read imaging studies off-peak hours and to deliver diagnostic reports back to your facility
Provides greater peace of mind because the 100 edition manages your back-up, storage, and continuity needs, limiting the loss of critical patient data
Includes affordable and simple payment methods to help hospitals and radiology centers realize a remarkably fast return on investment. Payment choices include both capital and monthly subscription
1 Universal Viewer ZFP client has been validated and cleared for diagnostic use Microsoft® Windows® and Apple® Mac® products. ZFP has also received CE Mark for diagnostic use. As regulatory clearance requirements differ by country and region, GE Healthcare must obtain clearance in countries where local specific regulatory approvals are required. Your sales representative can provide information on the status of availability in your area. ZFP can also be used on the Apple® iPad,® Samsung Galaxy Note® 10.1 and Galaxy Tab® 4 in a review only mode and is not meant for primary diagnosis on these devices. Please refer to the product datasheet for a list of operating systems and browsers supported on these devices.
Outcomes
Optimize their workflow to be able to do more with less
Have better tools to deliver exemplary patient care and help improve patient diagnosis
Collaborate and confer with the clinicians participating in the patient care pathway
Have technology that is simple to install and easy to maintain and operate
Spend less time worrying about disaster recovery or data and image storage and more time with patients
The 100 edition:
Helps save up to 19% of radiologist's time, yielding $60K per radiologist per year by using a single viewer solution1 instead of multiple viewers
Removes the time it takes to arrange images on the screen with patented technology that can save up to 15 minutes per day1
Helps increase diagnostic confidence by up to 10% by providing enhanced collaboration among care teams2 and to help strengthen referral networks by providing ease of access to information and images anywhere3
Helps reduce the cost to store and archive images by up to 20%4 by helping collapse multiple image archives into one single archive and making use of more cost effective cloud archive technology
Helps reduce the cost to install and operate diagnostic imaging software by delivering a turnkey solution that will allow you to start using the solution within 5 days5
Helps connect diagnostic imaging into your existing patient workflow by integrating images and diagnostic reports where you need them in your EMR, HIS, RIS, Patient Portal, Image Archive and clinician mobile devices
1Source: Radiologists' Burden of Inefficiency Using Conventional Imaging Workstations, Dr. Bruce Hillman and Dr. Bhavik Pandya, Journal of the American College of Radiology. November 2013.
2Multidisciplinary Team Redesigns Care Processes and Systems, Leading to Significantly Improved Performance on Core Measures in Four Clinical Areas, Phyllis Justus, RN, MSN, NE-BC Director of Nursing, professional Practice; Carolinas Medical Center-University; Rose Brandau, RN, MSN Vice President/Chief Nurse Executive Carolinas Medical Center-University.
3Wherever there is an internet connection.
4We calculate a 74% Reduction, But It's Hard To Compare Apples To Apples by Andrew Reichman, August 25, 2011.
5Software is pre-installed using automated scripts on pre-specified hardware. Five days includes standard interfaces to 3rd party systems. Non-standard workflows will increase the number of days to install.
Find a Reseller
GE Healthcare IT Authorized Value-Added Resellers
GE Healthcare partners with knowledgeable and experienced value-added resellers to understand your needs and provide an exceptional solution to address those needs.
Are you interested in becoming a reseller partner and/or receiving information on the Centricity Channel Partner Program? Contact Us
VASOHealthcare IT
www.vasohealthcareit.com
sales@vhcit.com
615-828-9850
Demos
Centricity™ Universal Viewer 100 edition Autodemo
Centricity Universal Viewer 100 edition is designed for small and medium size providers with little to no IT resources. It functions as a turnkey web-based PACS to view, store and distribute images to help radiologists and clinicians optimize productivity. With the 100 edition, the same clinically rich tools and diagnostic functionality used by large hospitals is now compact, robust and affordable.