Centricity Perinatal Software
---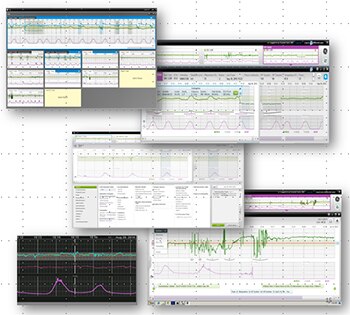 Designed specifically for the perinatal suite, Centricity Perinatal helps elevate performance and drive quality outcomes across the departments.

View a Centricity Perinatal product demonstration here.

View a Centricity Perinatal Connect product demonstration here, to see how Centricity Perinatal Connect enables a new level of EMR workflow interoperability.
"As healthcare is changing and evolving, there are some very key points that we have to stay focused on, The documentation needs to be clear, it needs to be concise and it needs to be data-driven. We are able to mine and abstract quite a bit of data out of the CPN system. It gives us the information we need. And because it is in a clear, concise, easy-to-use format, it keeps the nurse at the bedside."

Randi Elliott, RN
Chief Nursing Officer
Baylor Frisco, Frisco TX

Read the Baylor Frisco Case Study
Centricity Perinatal Connect Module
Lives can change in a heartbeat when it comes to perinatal care. With the Centricity Perinatal Connect module, it's like having an extra set of eyes on your patients.
Delivering an emerging level of workflow interoperability, the module integrates perinatal information in context with other clinical data including the fetal monitoring strip—continuously and on one screen. This enables you to see your critical perinatal information and enterprise EMR clinical data at the same time—helping to make faster, more informed decisions, and enhance your workflow and patient care.
Perinatal information flows freely from Centricity Perinatal Connect module into and out of your enterprise EMR, in an integrated view, so there is no need to document in both places.
Unlike other Labor & Delivery solutions, you won't have to trade off ease of use for enterprise EMR integration. You're provided with a proven and robust Labor & Delivery solution, advanced fetal surveillance on a historical time continuum, and the ability to document on the fetal monitoring strip with two way data flow to your enterprise EMR. Clinicians can also review this information remotely.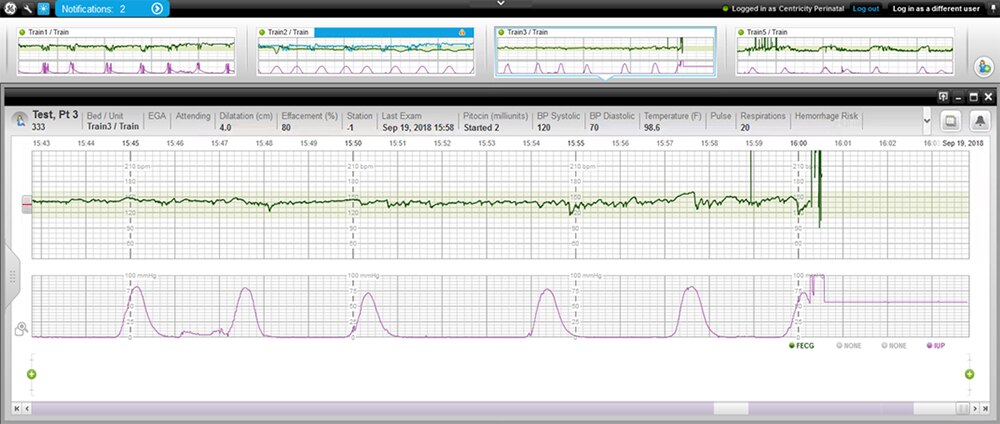 Centricity Perinatal Connect module provides:
Innovative, continuous unobstructed visibility of up to four fetal monitoring strips from different units on one screen while enabling bi-directional documentation in your enterprise EMR or other system
Distinctive side-by-side view of the fetal strips on a historical time continuum throughout the pregnancy
Research-driven, contemporary user interface designed to optimize usability and workflow
In an environment where every second counts, Centricity Perinatal Connect module provides you peace of mind knowing you're relying on a system that has helped deliver over 45 million babies. It helps your clinicians deliver their best care to every mother and baby.
Applications
Document in the EMR while monitoring laboring mothers at the same time.
See information in one place at one time—without having to search other hospital systems or paper files.
Access information as you need it—view the whole strip or focus on just one short time segment.
Review annotations charted in other systems on the fetal strip, whether or not a fetal monitor is connected.
See trends by reviewing compressed data of the current and historical fetal strip on one display
Centricity Perinatal Connect Web Module

Centricity Perinatal Web module enables near real time analysis of the fetal monitor strip via the Web. This technology allows quick access to the fetal strip via a tablet from virtually anywhere — when and where you need it. You can view the strip, record a comment, and review annotations, whether inside or outside of the hospital. The module helps you increase your efficiency and optimize communication between caregivers, ultimately helping you to make faster, more informed decisions to enhance patient care.

Applications

View the fetal monitoring strip via your tablet from virtually anywhere
Review annotations documented on the fetal monitoring strip
Record a comment on the fetal monitoring strip

Key Features

View near real-time fetal monitoring data for your patients
Review historical fetal monitoring data for your patients across multiple visits
View annotations made in Centricity Perinatal, Centricity Perinatal Connect module, or Centricity Perinatal Web module
View documentation made in your HIS/EMR system and inbounded via a discrete interface to Centricity Perinatal

Download the Centricity Perinatal Web Module brochure
Centricity Perinatal - Connect Module with Fetal Strip Analytics
Centricity Perinatal Fetal Strip Analytics, an add-on module to the Centricity Perinatal Connect module, is a clinical decision support tool that provides automated analysis of fetal heart rate patterns. Analytics helps with risk mitigation on Labor and Delivery by providing an automated analysis of fetal heart rate patterns. It supports your pattern recognition and analysis at the bedside and presents visual cues when waveform patterns indicate issues that might need clinical interventions.
Fetal Strip Analytics
Provides on-demand information about your patients to help you prepare for most situations. The Fetal Strip Analytics can feed directly into patient documentation, once reviewed by the RN, so you get the information and documentation you need to help you provide excellent patient care. It accrues data up to 24 hours from initiation – and allows you to request analytics retroactively for up to 24 hours. The flexible summary function enables users to review data in expanded view or historical shade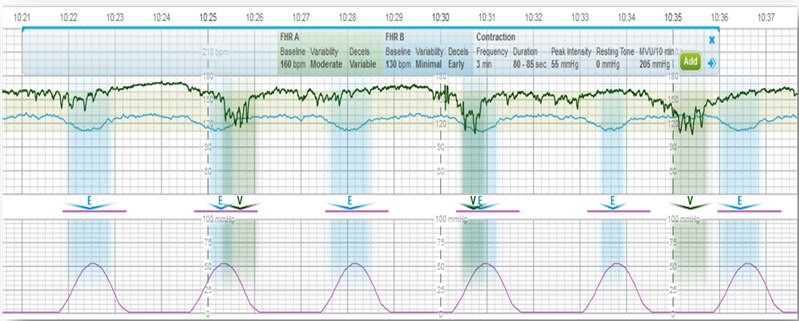 Data integration
Centricity Perinatal Connect module supports a high level of workflow interoperability by integrating perinatal information in context with other clinical data continuously on one screen. The system interfaces with multiple devices. The result is a consolidated view to help you make faster, more informed decisions, and enhance your workflow and patient care.
Document in the EMR while viewing the fetal monitor strip at the same time
Access information as you need it – view the whole strip or focus on just one short time segment
Review annotations charted in other systems on the fetal strip, while using a bi-directional interface
See trends by reviewing compressed data of the current and historical fetal strip on one display
Download the Centricity Perinatal Fetal Strip Analytics Brochure
Centricity Perinatal Central Surveillance

We reimagined the central surveillance experience. A fresh new visual design provides caregivers a modern toolset to monitor their patients at a glance.

Central surveillance is vital for clinicians in a busy labor and delivery environment. The multi-bed display is optimized around the workflow of the clinician who needs to quickly recognize potential areas of concern for a single patient as well as all active FMS within the entire unit. Central provides new visual and audible notifications to draw the clinician's attention to possible trends in fetal monitoring activity.

Features
Innovative new features include:

Enhanced clinical decision support with visual Fetal Monitor Strip Analytics and hi/low notifications
Ability to prioritize strips of interest for greater visibility
Scrollable strip review on screen with live surveillance for quick convenient assessment
Dynamic display showing active fetal monitoring across multiple units
Touch screen compatibility to give more data at the swipe of a finger
New options for visual arrangement and bed configuration

Download the Centricity Perinatal Surveillance Brochure
Benefits
Centricity Perinatal is an industry leader that was created with critical input from Perinatal clinicians and technologists who understand the specialized workflow within Labor and Delivery, PP, NSY, and NICU. Its designed to allow practitioners to focus on their patients vs the computer.
Help to enhance staff efficiency and satisfaction plus care quality
32 minutes saved per delivery while using both Centricity Perinatal and Centricity Perinatal - Connect Module1
Helps to eliminate errors through decreasing double documentation and toggling between two systems
Helps improve transparancy between the care delivery team
single point of data entry
Support reporting & enterprise goals
Managers report improved reporting accuracy by 22%3 while using Centricity Perinatal metric tools
interfaces with multiple devices and systems
Minimal scheduled downtime for upgrades
Meets criteria to demonstrate meaningful use and drive incentive payments with modular HER certification
Help to maximize investment
Enhanced nursing efficiency up to 40%4 with greater access to patient data
Reduced costs by 15%5 which could potentially represent ~$2.2M6
Disaster recovery system helps ensure critical business and patient care continuity
avoids the costs associated with changing software systems and implementing new hardware and training for staff
Help to enhance patient care
View EMR documentation and fetal surveillance on one screen
Provides transparancy of communication to deliver coordinated care
Enables instant and remote access to vital patient records
workflows designed specifically for the perinatal clinician to enable fast access to information and documentation of data
EMR Interoperability
The issue isn't about department versus enterprise level offerings. Its about improving your hospitals clinical and economic performance by creating the best experiences for mothers, babies and their care teams. Centricity Perinatal makes it easy to integrate department needs with the overall enterprise scale.
Enable your care teams to spend more time caring for mothers and their babies and less time caring for their computers. Simplify your workflow, and allow your care teams to spend time where it matters most, with mom and baby. Make it easier to assure critical data is viewable where its needed most.

Services
Amid industry upheaval, healthcare organizations are under greater pressure than ever to be productive. Only by getting the most out of every tool can you deliver the care patients need with the efficiency the market demands.
GE Healthcare's IT Services are designed to connect productivity with care by increasing usability, enhancing performance, and optimizing a solution's return on investment.

Consultation
Helps increase employee and IT system productivity with Workflow Consulting, Regulatory Consulting, Technical Consulting, or Productivity Assessment.






Education
Helps drive understanding and increases adoption by leaders and staff through Master Trainer Education and/or End User Education services.

Implementation
Helps deliver high adoption right from the start with Software Implementation, Upgrade Implementation, or Data Migration services.

Support
Helps reduce unplanned downtime, promotes resilience, and enhances usability throughout your IT systems lifecycle with Software Maintenance and Dedicated Support services.

Visit the Healthcare IT Service Portal



Customization
Helps diminish disruptions, responds to required changes, and optimizes productivity through Application Customization, Interface Customization, Report Customization, or Custom Integration services.

Enablement
Helps reduce uncertainty and long-term expenses while staying focused on your organization's patient care mission through Asset Management, Remote Monitoring, or Business Continuity services.
Some services may not be available for specific products.
Be Social with GE
Engage, share and follow GE Healthcare
Talk to us on Healthcare IT Blog
Follow us on LinkedIn
Join the conversation on Twitter
Request a demo
Stay up-to-date with Smart Mail
Upcoming Events

AWHONN 2019

June 8-12, 2019
Atlanta, GA


Going to AWHONN? Join us first!

CPNUG and GE are co-sponsoring an educational day in Atlanta on
Saturday, June 8th from 8:30am to 4:30pm
. There will be a variety of speakers with the opportunity to earn CEUs and an interactive lab available throughout the day. Lunch will be provided. Nominal fee to attend will be collected by the CPNUG.
Click here to register!
User Community

Centricity Perinatal Users Group (CPNUG) is a supportive professional community

The Centricity Perinatal Users Group is an independent organization composed of professionals with backgrounds in nursing, administration, and information technology. This group represents a variety of healthcare systems internationally, with the majority located throughout the United States and Canada.

CPNUG provides an online forum to share best practices, promote the professional development of our members, and contribute to enhancements related to the Centricity Perinatal system. It's one more way to connect with your peers and enhance your professional resources.

Visit www.cpnug.org to access valuable tools that can maximize the Centricity Perinatal system experience.
Results are unique to Samaritan Healthcare and do not offer any guarantees
Rockford Medical System, Rockford IL. Epic post go-live survey, 2013. Clinical staff satisfaction 14% above Epic® national average. Centricity Perinatal integration cited as key to this success in post go-live survey.
Oxford Anlaytica, December 29, 2011. Centricity Perinatal Healthymagination, GE Medical Systems Information Technology: 'Clear Lake Improves Statistical Accuracy and Reporting Productivity.'
Oxford Analytica. December 29, 2011. Centricity Perinatal Healthymagination validation https://www3.gehealthcare.com/en/Products/Categories/Healthcare_IT/Departmentals/~/media/Downloads/us/Product/Product-Categories/Healthcare IT/Centricty-Perinatal/Centricity-Perinatal-Healthymagination-Validation-Final.PDF Hillestad R, Bigelow J, Bower A, Girosi F, Meili R,
Scoville R, and Taylor R: "Can Electronic Medical Record Systems Transform Health Care? Potential Health Benefits, Savings and Costs", Health Affairs, Volume 24, Number 5, 2005.
Oxford Analytica. December 29, 2011. Centricity Perinatal Healthymagination validation. Estimated 15% decreased costs.
GE analysis of 330 sites with HIMSS and Medicare cost report (2013) comparing total labor costs per discharge. $7,345.90: average labor costs per discharge. $7,345.90 x .15 (15% cost reduction) = $1,101.88 savings per discharge. $1,101.88 x 2000 average births/year = $2.2M
** The number shown on the Baby Ticker is calculated using an algorithm compromised of various factors to estimate the arrival of Centricity Perinatal babies, and as such, may not display an accurate day or time for the arrival of each baby. GE makes no representation or warranties of any kind, express or implied, with respect to the Baby Ticker, and specifically, does not represent or warrant that the information displayed by the Baby Ticker is accurate, complete or current. GE disclaims loss for which may arise from the reliance on or use of information displayed on the Baby Tracker.
*GE, the GE Monogram, Centricity and imagination at work are trademarks of the General Electric Company.
Estimated US birthrate is based on data from Centers from Disease Control and Prevention (CDC) and applicable customer data.
General Electric Company, by and through its GE Healthcare division