CASE Exercise Testing System
A broader perspective on cardiac patient management
---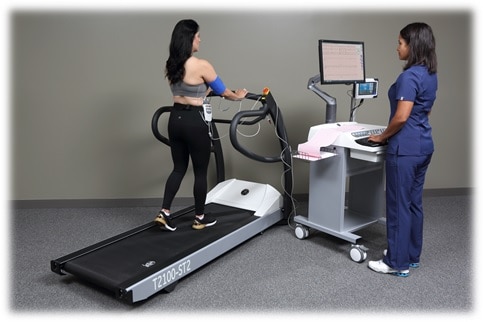 Get proven clinical excellence.
Assess cardiac function conveniently during exercise.
Innovative algorithms offer great diagnostic confidence.
Maximize efficiency and enhance productivity.
Connect your CASE system to a Local Area Network (LAN), and store patient data and test results to a central database.
Physicians can review, edit and print data remotely, so the stress lab can concentrate on testing.
Expand your networking options.
Enhance your digital workflow with connectivity to EMR, MUSE™ Cardiology Information System and PACS.
Whether you use a standalone system, a group of workstations or a complete enterprise solution, we have the scalable solution that fits your needs today and tomorrow.
Analysis Programs

A broader view. Insight enhanced.

The CASE Cardiac Assessment System for Exercise Testing goes beyond conventional ST segment assessment to enable advanced analysis of patient risk, functional response, and ST changes. .

Spectrum of decision support data
Identifying Coronary Artery Disease (CAD) in women
Assessing risk of sudden cardiac death
Exercise capacity as an indicator of mortality

Workflow

Workflow simplified. Productivity elevated.

The CASE system's streamlined workflow and digital connectivity help speed patient care and increase staff productivity.

Adjustable monitor for comfort and productivity
Proven clinical quality
Eliminate manual measurements
Remote review
Fast access to results
Streamlined paperwork
Treadmill

Advanced performance and reliability in exercise testing

Feature highlights

Smooth, quiet, zero-start , 4 HP(6 HP peak) hi-torque drive
Smooth, quiet linear actuator elevation system
Low-to-the floor, cushioned deck for patient comfort and safety.
Provides defined workload22'' x 63'' (56 cm x 160 cm) running belt and handrails
All steel chassis with powder coat finish
Patented MasterTrack® belt alignment system eliminates off-center running belts
Exceptionally accurate, self-calibrating speed and elevation
Prominent emergency stop button and patient safety tether can be installed on either the left or right treadmill handle
Minimum maintenance
Optional height adjustable front handrail