CT Upgrade
---
Revolutionize your Discovery CT750 HD
Helping you achieve desired outcomes by:
A better patient care at a lower dose



ASiR-V reconstruction technology reduces noise even at very low signal levels. This technology is designed to deliver reduced noise levels, improve low-contrast detectability and routinely reduce dose up to 82% for all exams and all patients1,2.
1. In clinical practice, the use of ASiR-V may reduce CT patient dose depending on the clinical task, patient size, anatomical location and clinical practice. A consultation with a radiologist and a physicist should be made to determine the appropriate dose to obtain diagnostic image quality for the particular clinical task.
2. Low contrast detectability (LCD), image noise, spatial resolution and artifacts were assessed using reference factory protocols comparing ASiR-V and FBP. The LCD measured in 0.625 mm slices and tested for both head and body modes using the MITA CT IQ Phantom (CCT183, The Phantom Laboratory), using model observer method.
Clinical Excellence
Revolutionize your Discovery CT750 HD
Helping you achieve desired outcomes by:
Exceptional CT image quality with innovative projection- based method

Smart Metal Artifact Reduction (MAR) is designed to reveal anatomic details obscured by metal artifacts, helping clinicians utilize CT scans, diagnose disease and contour targets with greater confidence.

Diagnostic Confidence
Revolutionize your Discovery CT750 HD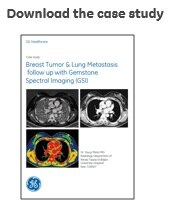 Helping you achieve desired outcomes by:
A more confident diagnosis thanks to Spectral Imaging

Gemstone™ Spectral Imaging (GSI) enables you to take CT beyond classical anatomical assessment to quantitative tissue characterization and advanced functional imaging. More than 15 applications are now in routine use including oncology, cardiology, neurology, spine, urology and musculoskeletal.
To learn more about GSI clinical benefits, visit the GSI image gallery and the GSI education center.

Pre-treatment: Thrombosis Image
(Effective-Z)


Pre-treatment: 60 keV with MD Iodine overlay


GSI cardiac iodine overlay


GSI short axis view with iodine overlay
Productivity
A free upgrade* to increase your operational efficiency
The new ergonomic CT operator console is designed to help you and your staff improve productivity by streamlining user workflow and access to information.
Reconstruction of images in real time helps you focus solely on the diagnosis of your patient. With Image Check, up to 70 images are reconstructed and available per second.
Free upgrade to improve your operational efficiency with the purchase of SmartMAR and ASiR-V.

"The improved speed of the image reconstruction with the HDe 5 upgrade is very impressive. It has improved workflow, making it faster to review the images prior to completion of examination and is particularly useful in Emergency cases."
Niamh Moore
Radiographer at CUH - Ireland
*With the purchase of Smart MAR and ASiR-V orders.