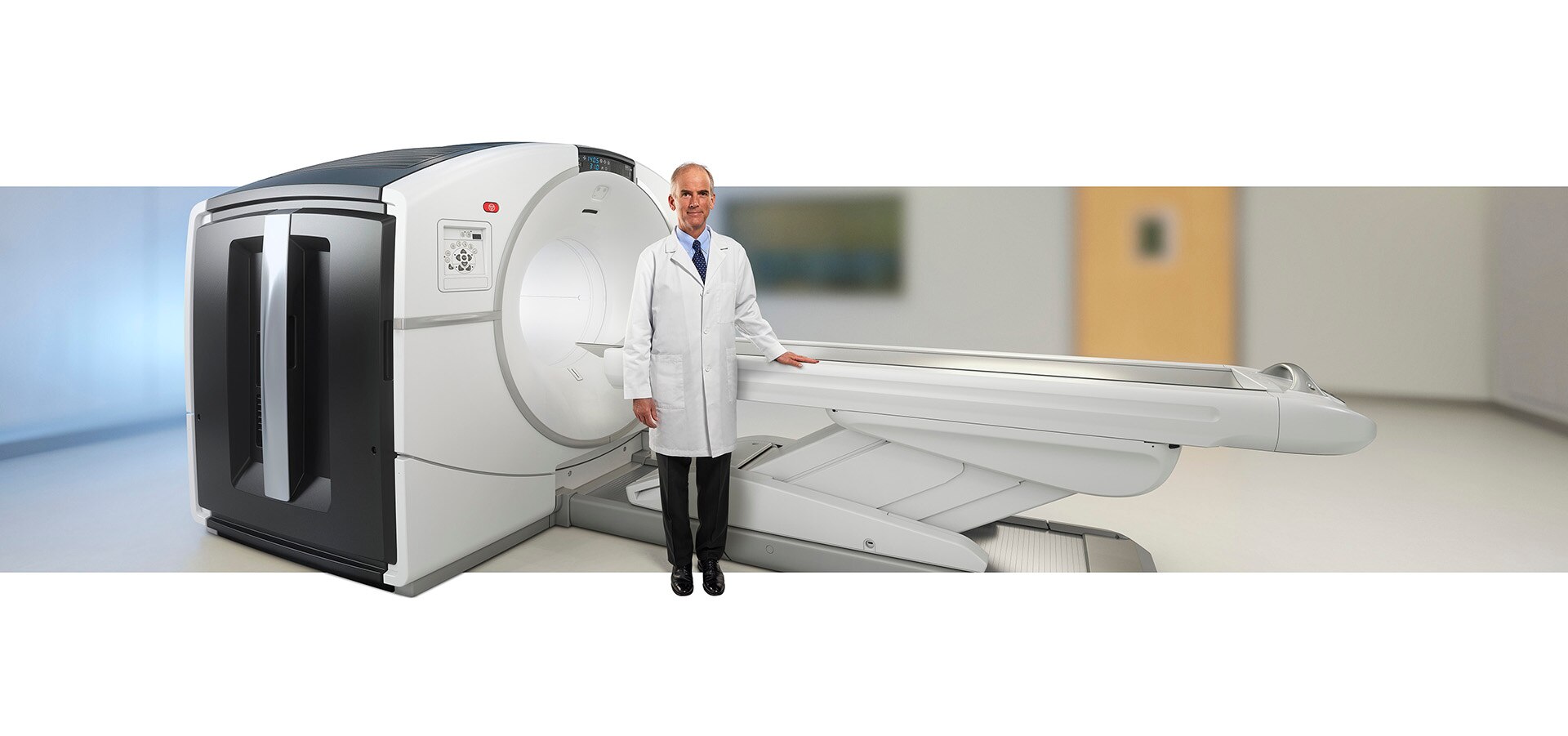 PET/CT: Discovery MI
Meaningful Insights. From Your Patient to Every Patient.
---
CAPABILITY – IMPACT ONE LIFE AT A TIME WHILE WORKING TO CHANGE EVERY LIFE FOR THE BETTER
Your work is multifaceted. Not only do you work every day to impact the lives of your patients for the better, you are looking for insights that will have a greater impact on the lives of every patient. You may be correcting the course of treatment for a cancer patient one day and looking for a new clinical indication for a high count-rate tracer the next. We understand. It's why, after collaborating with leading clinicians and institutions across the globe, we designed Discovery MI to give you the flexibility to balance the quest for true discoveries with great clinical work.

CLINICAL WORK THAT EXCELS BEYOND WHAT YOU THOUGHT WAS POSSIBLE
• Continue your efforts to diagnose and stage disease earlier with technology that detects smaller lesions1
• Increase the number of successful CT scans of patients with metal implants, with Smart MAR
• Expand your diagnostic service offerings
• Enhance utilization of limited-access tracers, such as 68Ga, with the highest NEMA sensitivity of any TOF PET/CT system2
• Provide a more comfortable patient experience with short scan times

THE OPPORTUNITY TO INFLUENCE THE FUTURE OF MEDICINE
• Conduct more compelling research, such as quantitative brain studies, facilitated by an expanded FOV
• Pursue improvement of PET/CT practice guidelines to better reflect capabilities in imaging small nodules
• Explore PET capabilities in cardiac imaging, leveraging high sensitivity and small lesion detectability1
• Increase low-yield tracer capability with protocols that reduce dose by up to 50 percent without impacting image quality and small lesion detectability1

DISCOVERY MI TECHNOLOGY – ENGINEERED FOR PRECISION
An introduction to all that Discovery MI can do:
• Up to 2x improvement in volumetric resolution1
• Half the time, or half the dose3
• Highest NEMA sensitivity of any TOF PET/CT system2
• Significantly better small lesion detectability1
• Highest NECR2 of any TOF PET/CT system
Fast Facts
Features LightBurst Digital Detector for high NEMA sensitivity of 13.5 cps/kBq and a large 20 cm extended axial FOV.

Only PET/CT system that brings together the sensitivity of digital detection with the most innovative reconstruction technology available, the combination of Time-of-Flight and Q.Clear.

Excellent clinical resolution for small bone lesion detection.

Provides more confidence when looking for small metastatic disease in difficult areas such as the liver.

Enhance your clinical excellence in oncology, or expand PET's impact on neurology and cardiology and beyond.
1. Improved detectability as demonstrated in phantom testing.
2.
Comparing Discovery MI to other TOF PET/CT scanners reported in ITN Online comparison charts (May 2016). Up to 20 kBq/ml.
3. Compared to Discovery PET/CT 710.