DentaScan
---
Dental implants are rapidly gaining acceptance as the replacement therapy of choice in orthodontic surgery. In order for implants to be successful, the orthodontic surgeon needs a thorough understanding of the underlying bone structure and its viability. CT scanning offers detailed information on orthodontic anatomy that can aid in developing an effective therapy.
DentaScan performs real time Oblique and Panorex reformations specific to CT dental imaging. DentaScan offers innovative features that assist clinicians with both routine and difficult clinical cases.
Highlights
Curve used to generate Panorex and Oblique views is drawn on selected axial views which can remain cross-referenced on the screen.
Supports gantry-tilt for greater flexibility in difficult cases.
Oblique and Panorex views feature mm-scale for direct measurement from film.
Automatically annotates studies to assist in film interpretation.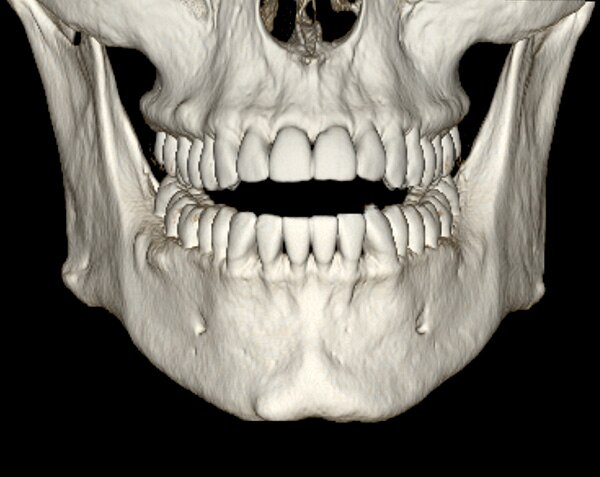 Features
With DentaScan, film composition is automatic and menu functions remain easy to use with each step of the program.
Curve used to generate Panorex and Oblique views is drawn on selected axial views and can be adjusted or redrawn at any time during the procedure.
Axial, Panorex, and Oblique views remain cross referenced on the screen. When the cursor is moved on one view, the remaining two views are refreshed in real time to correspond.
Filming is automatic when you select the film key. You can adjust parameters using the film menu.
You can batch film with most laser camera configurations.
Save Oblique and Panorex views in the Advantage Workstation database.
User interface is mouse driven, letting you complete an entire study in just a few minutes.
System Requirements
Minimum platform release
Pre-requisite software
AW VolumeShare 2 or later
Intended Use
The DentaScan is a software package used to create a cross referenced set of composite axial, Panorex, and Oblique planar images of the mandible and maxilla from computed tomography x–ray scans of the jaw and mouth area. It is intended for use in pre-surgical evaluation for dental implants, and for diagnosis of diseases of the mandible and maxilla.
DentaScan is a software visualization tool which provides Oblique and Panorex real time reformation of CT dental images. It is used to assist Radiologists with mandibular and maxillar 2D viewing.
Find More Imaging Software by Modality
Find More Imaging Software by Clinical Area