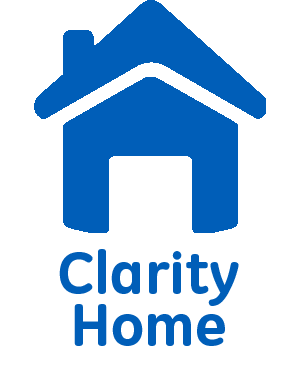 "Our goal is to be a premier facility in diagnostic and therapeutic nuclear medicine services through extraordinary patient care, innovation, education and research."
Bangalore - The Cancer Capital of India
With 35,000 new cancer cases being detected each year, the Indian state of Karnataka has the highest cancer incidence (126.25/100,000 population) when compared to other metropolitan cities in India.1
Karnataka is an information technology (IT) hub and one of the most developed urban areas in southern India. Despite being a hub for diagnostic solutions, which draws in cancer cases from adjoining areas such as Shimoga, Davangere, Hassan and Chikmagloor, Bangalore has just a few large corporate hospitals. This, in turn, has reduced patient access to on-time diagnosis and treatment.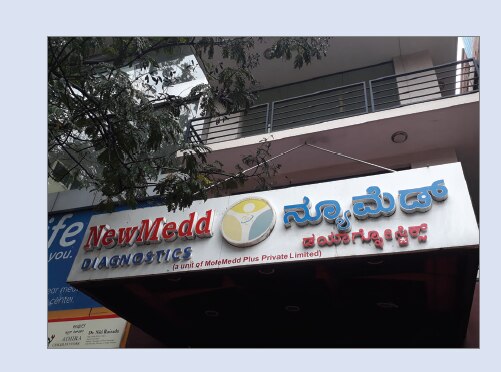 Furthermore, the cost of screening and diagnostic tests across corporate hospitals is high (INR 23,000 - INR 35,000).5 Thus, intermediary facilities that provide comprehensive diagnostic solutions at lower overheads continue to be in demand.
NewMedd Diagnostics - A premier nuclear medicine, molecular imaging and therapeutic center
NewMedd Diagnostics provides holistic nuclear medicine solutions under one roof. In addition to Discovery™ IQ PET/CT from GE Healthcare, the stand-alone Nuclear Medicine center also has an Optima™ NM 630 SPECT from GE Healthcare. In addition, the center conducts radionuclide therapy, myocardial perfusion imaging, bone scans and thyroid scans, etc. With the installation of Discovery™ IQ PET/CT in 2015, the center started advanced cancer detection, with about 60 patients/month.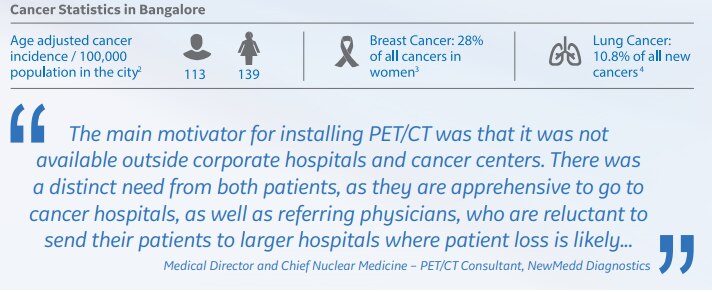 After six months, NewMedd Diagnostics was scanning about 200 patients/month. The center currently receives 270-280 patients per month for PET/CT scans.
Advantages of installing a PET/CT at a standalone diagnostic center
Increased patient comfort: Reduced hesitation among patients to visit stand-alone diagnostic center
Quick corroboration before radical surgery: Prompt referral and shorter turnaround time (~ 1 day), ensuring timely treatment
High acceptance towards contract-out approach: Economies of scale, efficiency and expertise drive referrals
Addressing the need for low-cost diagnosis:
High procedural volume enables cost-effective services for patients from all economic backgrounds
Clinical cases at NewMedd Diagnostic Center
Case 1. Malignancy of unknown origin
A 66-year-old male patient presented with left cervical swelling or left neck lymphadenopathy. Upon clinical examination and Fine Needle Aspiration Cytology (FNAC), an impression of poorly differentiated carcinoma was reported. However, the primary site of cancer was unknown. Upon referral to NewMedd Diagnostics, the patient underwent CT as well as a PET/CT scan from head to mid-thigh with Discovery™ IQ PET/CT. Images were reviewed after normal and Q.Clear iterative reconstruction techniques. Q.Clear is a Bayesian penalized-likelihood reconstruction algorithm for PET. It was introduced in 2014, by GE Healthcare on their PET scanners to improve clinical image quality and quantification.
A heterogeneously enhancing FDG avid thickening was noted in the left tonsillar fossa involving anterior and posterior fauces, measuring 12 mm x 14 mm x 24 mm with SUVmax 7.4. A few enlarged FDG avid necrotic lymph nodes were also noted in the left level II, level III and level IV regions. The lymph nodes were seen compressing the internal jugular vein, however, with definite thrombus. Thus, the PET/CT study showed metabolically active lesions in the left tonsillar fossa with left cervical lymph nodes, likely representing carcinoma in the left tonsil with metastases. The study further ruled out visceral or skeletal metastasis.
How did the PET/CT system help?,
While the CT scan did not reveal any masses, the PET/CT scan showed both structural as well as functional changes. While there were multiple metastatic nodes, PET/CT revealed high signal activity in the left tonsillar area. Although the length of the tumor was less than 1 cm, highly metabolic regions were highlighted using Discovery™ IQ PET/CT (see Figure 1).
Thus, a single PET/CT scan helped detect primary lesions and decipher the origin of malignancy, thereby aiding targeted therapy.
Case 2. Diagnosing synchronous second malignancy
A 76-year-old female patient presented with a breast lump that had already infiltrated the overlying skin. Since the cancer was locally advanced, the possibility of metastases was considered high. Hence, the patient was referred to NewMedd Diagnostics for evaluation and staging. The patient underwent CT as well as a PET/CT scan from head to mid-thigh with Discovery IQ PET/CT.

A heterogeneously enhancing FDG avid lesion with areas of necrosis was noted in the upper inner quadrant of the left breast, measuring 46 mm x 35 mm x 59 mm with SUVmax 8.5. Mild perilesional stranding was observed to be infiltrating the overlying skin. A few FDG avid enlarged left axillary lymph nodes were also observed.

Furthermore, a heterogeneously enhancing irregular spiculated lesion was noted in the right upper lobe (measuring 20 mm x 17 mm x 19 mm with SUVmax 8.9), along with a 3 mm nodule in the left lung lower lobe. Enlarged FDG avid right hilar and right lower paratracheal lymph nodes were also seen, with the largest measuring 23 mm x 17 mm with SUVmax 8.9. Thus, the PET/CT study showed metabolically active lesions in the upper lobe of the right lung with metastases at right hilar and right lower paratracheal lymph nodes. Based on the PET/CT scan, differential diagnosis of synchronous second primary was reported. Further biopsy with immunohistochemistry (IHC) correlation was recommended to confirm second primary site as left lung.

Case 3. Response assessment to treatment
A 61-year-old male patient was diagnosed with carcinoma nasopharynx. The case was referred to NewMedd Diagnostics to understand the response to chemoradiation treatment. A PET/CT scan procured on an earlier date was used to compare the response to treatment. The patient underwent CT as well as PET/CT scan from head to mid-thigh with Discovery IQ PET/CT.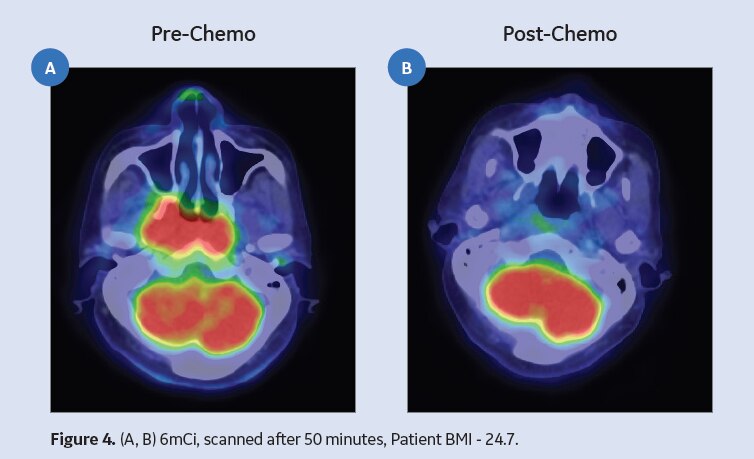 Significant interval decrease in the size and resolution of FDG uptake was noted in the lesion in the nasopharynx, measuring 18 mm x 15mm. SUVmax was reported to be nil (previously measured 34 mm x 52 mm x 71 mm with SUVmax 18.8). While mild mucosal thickening was noted in the sphenoid sinus, as well as the right lateral pharyngeal wall, no significant FDG uptake was observed.
Significant interval decrease in the size and resolution of FDG uptake was noted in the bilateral level II, left level III and IV cervical lymph nodes. The largest right level II cervical lymph node measured 11 mm x 8 mm with SUVmax nil (previously measured 29 mm x 17 mm with SUVmax 10.3).
Thus, with the help of PET/CT, it was further corroborated that the patient was responding well to the treatment.
Improving patient comfort
NewMedd Diagnostics adds value by creating an environment that is soothing for the patient. The center has mounted a themed ceiling to help relax patients as they undergo their PET/CT scan. This patient-centric feature exemplifies the ability of stand-alone PET/CT centers to enhance patient comfort.
The growth and contribution of NewMedd diagnostics towards early cancer diagnosis has clearly demonstrated the need for intermediary stand-alone PET/CT centers. For its PET/CT patients, the centre has been able to reduce costs by about 50% (as compared to other corporate hospitals). It also continues to provide the scan report within a short turnaround time (<24 hours). Moreover, by leveraging economies of scale, the center has been able to cater to a low socioeconomic patient population that typically depends on government facilities. About 60% to 70% of the patient pool at NewMedd is referred by government facilities such as Kidwai Memorial Institute of Oncology.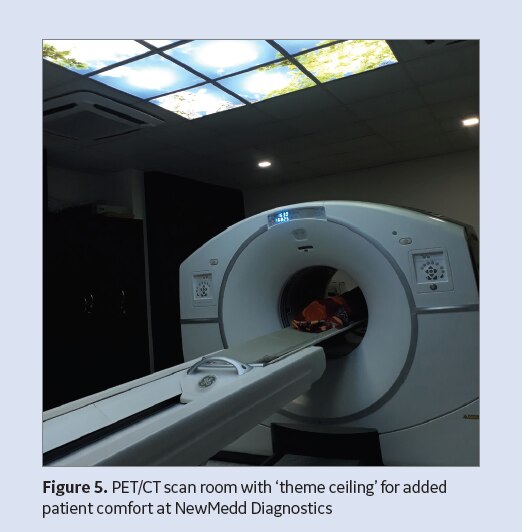 Reduction in patient refer-outs at corporate hospitals without PET/CT
In the past, corporate hospitals without PET/CT would be required to refer patients to another corporate hospital or cancer center. With PET/CT at stand-alone centers, the referring physician can increase the retention of these patients.
Improving awareness and brand visibility
Continuing Medical Education (CME) has been the primary source of promotion and awareness for the center among physicians. In 2016, the centre started conducting various CMEs not only in oncology, but other relevant topics including general surgery, endocrinology, etc., every month. Distant medical colleges in tier II and tier III towns outside Bangalore are also being tapped. This has further assisted the center in increasing brand visibility and improving overall awareness around the advantages of conducting PET/CT scans.
With the help of dedicated nuclear medicine experts and the installation of DiscoveryTM IQ PET/CT and Optima NM 630 SPECT, the center has been able to create a niche for itself.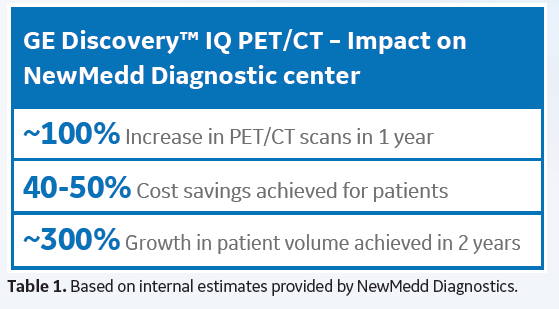 With only SPECT installed previously, the center could serve just a small segment of the larger cancer population. Installing DiscoveryTM IQ PET/CT helped the center position itself as a leader in accurate cancer diagnosis. In the next few years, the center aims to improve awareness and increase patient volume by another 50%.
With PET/CT, the diagnostic center has been able to boost clinician's confidence around diagnosis and treatment decisions.
PET/CT now allows higher diagnostic confidence for clinicians.5
Diagnosing malignancies of unknown origin
Confirming metastases detected by other limited investigations/FNAC/biopsy/surgery
Distinguishing synchronous second malignancy primary
Detecting regional/generalized lymphadenopathy/ organomegaly
Detecting skip lesions, especially in colon cancer
Corroborating treatment plan before radical surgery
Overcoming diagnostic challenges
Confirming suspected neuroendocrine tumors, including: pheochromocytoma, neuroblastoma, carcinoid, insulinoma, VIPOMA, glucaganoma, gastrinoma, ZE syndrome, etc.
Staging work-up of patients with several cancers
Study conducted on behalf of Wipro GE Healthcare Pvt. Ltd.
By Ethnographic Medical Research Group (EMeRG),www.emerg-inc.com.
1. http://www.kidwai.kar.nic.in/statistics.htm
2. Breast Cancer India – www.breastcancerindia.net/statistics/stat_bhopal.html
3. https://timesofindia.indiatimes.com/city/bengaluru/Bangalore-is-cancer-capital-of-India/articleshow/18637570.cms
4. http://www.breastcancerindia.net/statistics/stat_bengaluru.html
5. http://www.thehindu.com/news/cities/bangalore/steady-rise-in-incidence-of-lung-cancer/article8190986.ece
6. Based on discussions conducted at NewMedd Diagnostics.