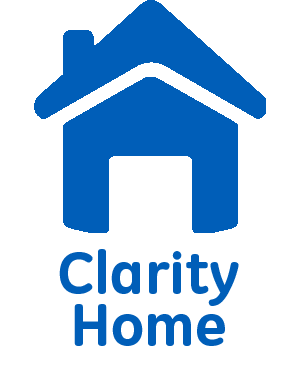 An Initiative by Chirayu Medical College & Hospital (CMCH), Bhopal
Battling the cancer burden in Bhopal
With one in four males over the age of 15 consuming tobacco, the city of Bhopal now accounts for one of the highest incidence rates for oral cancer in India. At 2.97%, the cancer incidence rate in Bhopal exceeds that of much larger cities Delhi (2.93%) and Mumbai (1.35%).1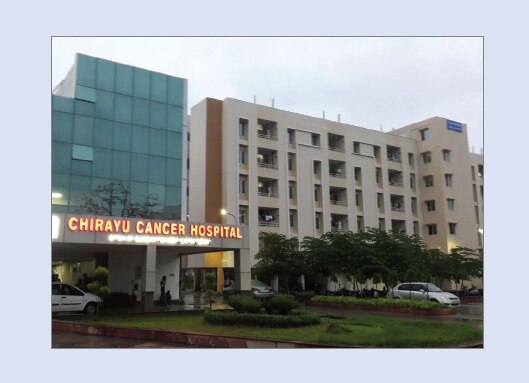 A rapid increase in various cancer cases in the city, combined with limited cancer care infrastructure in adjoining towns such as Jabalpur, Gwalior and Ujjain, is driving the need for early detection in the region.
A pioneering cancer center in Central India
CMCH offers quality diagnostic and therapeutic services to patients in Bhopal and beyond, with a mission to become a tertiary care facility of choice in central India. Since its establishment in 2011, the hospital has expanded into a 975- bed facility with a dedicated cancer center that caters to over 2,000 new cancer patients every year.
In addition to DiscoveryTM IQ PET/CT, the nuclear medicine department at CMCH also has a DiscoveryTM NM 630 SPECT this is utilized for oncology cases, bone scans and renal and cardiac studies. The radiology department at the hospital has a linear accelerator (LINAC) that enables image-guided radiotherapy of the head and neck, brain, pancreas and other abdominal malignancies. Complemented by a diagnostic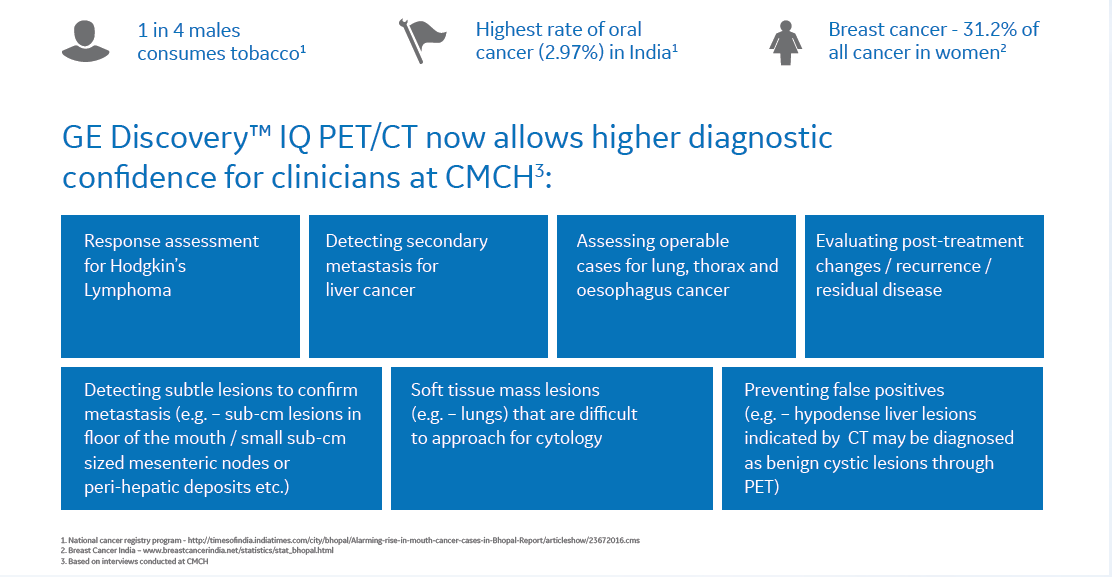 radiology department, the hospital's surgical oncology team has been involved in surgical management of various cancer types for patients in the region.
Prior to installing Discovery TM IQ PET/CT in 2016, the hospital faced multiple challenges in accurately and quickly detecting cancer. With about 35-40% of its cancer patients being head and neck cases, the ability to detect primary cancer sites was challenging. The majority of patients presented at CMCH would typically undergo ultrasound or CT exams, which limited CMCH's ability to detect complex cases in a single attempt.
Furthermore, about 7-10% of the patients visiting CMCH for oncology consultations had to be referred to other centers for nuclear medicine evaluation.
With GE DiscoveryTM IQ PET/CT, CMCH has improved its accuracy and clinical confidence in diagnosing and treating complex cancer types.
Clinical case studies at CMCH
Case 1. Detecting primary sub-sites while staging cancer
A patient with severe back pain had undergone an MRI scan of the spine and was diagnosed with metastatic spine lesions. Upon referral to CMCH, a whole-body PET/CT was performed on the patient from the vertex to mid-thigh on the DiscoveryTM IQ PET/CT system.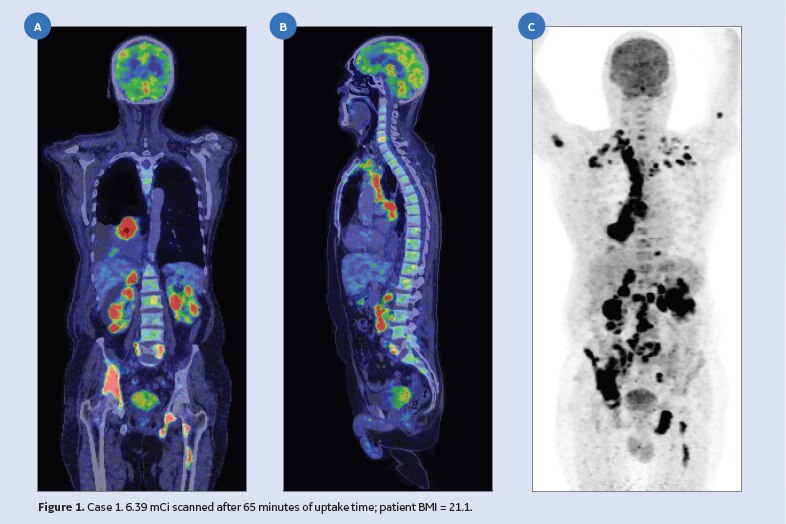 The images of the lower lobe of the right lung revealed a metabolically active and partially necrotic soft-tissue mass lesion (7.9 cm x 6.5 cm, SUVmax 18.7). Metabolically active sub-cm to mildly enlarged multiple lymph nodes were seen in bilateral axillary and retro pectoral regions.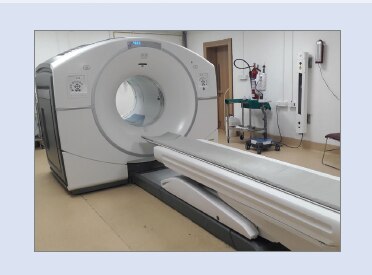 The images further revealed an enlarged right adrenal gland, while indicating metabolically active hypodense lesion (3.5 cm x 2.1 cm, SUVmax 17.1). Both kidneys showed metabolically active hypodense cortical lesions, with the largest in the right kidney measuring about 3.7 cm x 3.4 cm (SUVmax 23.2). Metabolically active lesions were also detected in the musculoskeletal regions.
A single whole-body PET/CT helped detect primary lesions with proper staging work-up.
Case 2. Spotting diminutive cancer sites with clinically challenging cytology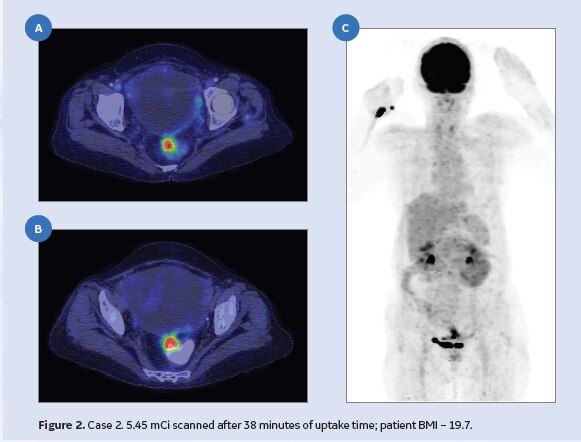 A 58-year-old female presented with malignant ascites and high CA 125 levels while being initially diagnosed using a CT scanner. Without a PET/CT scan, the patient was likely to be treated for suspected ovarian cancer. Upon referral to CMCH, a wholebody PET/CT was done with the DiscoveryTM IQ system.
While the images indicated moderate ascites, a tiny sub-cm lesion was spotted in the recto-sigmoid region.

With Q.Clear, DiscoveryTM IQ's reconstruction technology, a metabolically active circumferential wall thickening (SUVmax 10.9) was observed in the recto-sigmoid region. Furthermore, a mildly metabolically active sub-cm sized pre-cranial lymph node was also observed (SUVmax 4.3).
Following the change in diagnosis, the patient was treated for rectal cancer.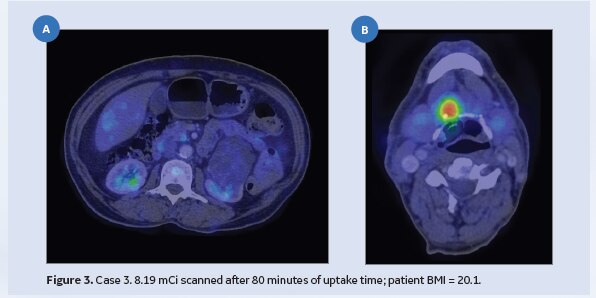 Case 3. Detecting soft-tissue lesions in the tongue
A 52-year-old patient was diagnosed with renal cell carcinoma using ultrasound. In the absence of metastasis, nephrectomy was recommended for the patient. When referred to CMCH, a whole-body PET/CT was conducted. There was no evidence of abnormal FDG uptake in the bilateral kidneys (Figure 3a), which confirmed the renal mass to be fibromatosis. However, a metabolically active soft-tissue lesion was observed involving the right base of the tongue (1.9 cm x 1.8 cm x 2.4 cm, SUVmax 29.1, Figure 3b).
Aided by DiscoveryTM IQ's high sensitivity, metabolically active sub-centimeter sized lymph nodes were also observed (SUVmax 9.3). With triple-vessel disease, surgery was ruled out and a precise radiotherapy regime was initiated for the malignancy of the tongue.
Improving patient volume and equipment utilization
In addition to increasing clinical confidence, DiscoveryTM IQ PET/ CT at CMCH has helped improve patient volume in the facility.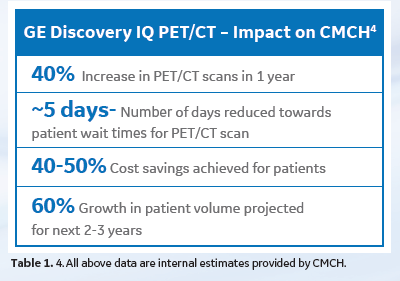 Within one year of installation, the number of patients being scanned on PET/CT has increased by almost 40%. The hospital now conducts PET/CT scans for over 90 patients every month.
CMCH has been able to serve a larger pool of patients throughout the patient journey, and consultation, diagnosis and therapy has improved during this period. To optimize equipment utilization and procurement

of radioactive consumables, the hospital currently conducts PET/CT scans every other day. In pursuit of improved patient care for the anticipated 60% growth in new cancer patients over the next two to three years, the center plans to conduct PET/CT scans every day
Improving patient comfort and access across Central India
Prior to installation of DiscoveryTM IQ PET/CT, patients had to either travel to a limited number of nuclear medicine facilities in Bhopal or to cities such as Mumbai, Delhi and Nagpur for a scan. With the hospital conducting PET/CT scans every other day, the waiting time for patients has been reduced from one week to about one to two days, thus reducing financial burden and improving timely diagnosis. The hospital now caters to patients from Jabalpur and Ujjain, as well as from Tier II/III towns that are over 400 km away. With its commitment to serve the entire socioeconomic spectrum of cancer patients in the region, the hospital has also been able to generate about 40-50% cost savings for patients in terms of disease evaluation and staging through PET/CT.
Raising qwareness in Tier II/III towns
The hospital continues to raise awareness about nuclear medicine and early diagnosis through Continuous Medical Education programs across regions such as Lalitpur that may typically only have general practitioners. With its efforts towards creating awareness through various mass-media channels, including radio, patients across central India now know they have faster access to early detection of cancer.
Study conducted on behalf of Wipro GE Healthcare Pvt. Ltd. by Ethnographic Medical Research Group (EMeRG), www.emerg-inc.com.